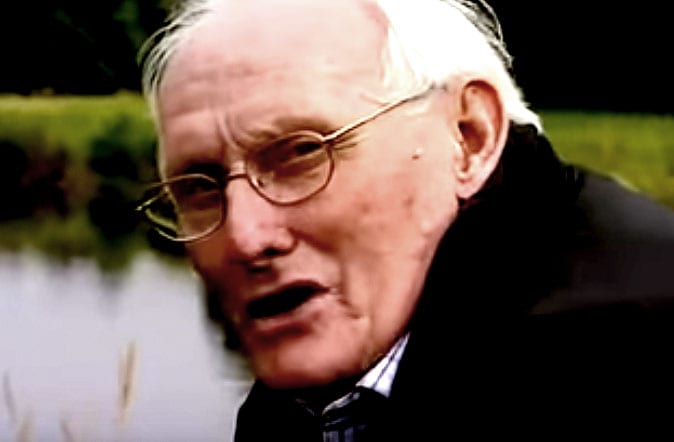 QUESTIONS are being asked about the millions given by the owners of a bankrupt Northern Ireland bus company, Wrightbus, to 'fund the group's commitment to Christian, evangelical and other charitable activities' – including a massive 'Jesus centre' run by the evangelical son of Wrightbus founder Sir William Wright, above.
The Green Pastures charity, which is led by Wrightbus's majority shareholder pastor Jeff Wright, received £15-million over six years.
Green Pastures runs The Gateway in Ballymena. It was first called Project Nehemiah and is essentially a self-contained "holy village" with the slogan "Loving Jesus, transforming communities, inspiring a nation".
And here'a a thing: The land on which Green Pastures stands was owned by the Northern Irish goverment and, in 2012, was reportedly worth around £75-million. It was sold to the church for just £4-million!
The company created the the notorious "Boris bus" which, ahead of the EU referendum in the UK, was used by the now Prime Minister (for the present) Boris Johnson, who used it carry trumpet a slogan which lied about Britain's "£350-million a week contribution" to the European Union.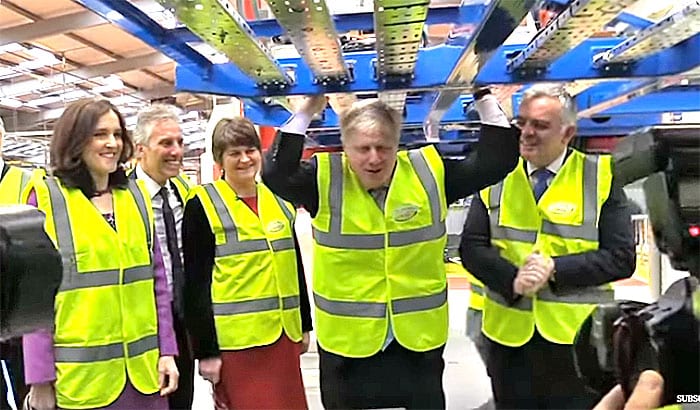 And speaking of lies, Johnson – after learning of Wrightbus's financial difficulties – told parliament his government would do "everything we can" to help the company.
Ian Paisley, the MP for North Antrim, also told the Guardian he believed the government had already demonstrated it could help the stricken manufacturer without breaching state aid rules by directing state-controlled companies to place orders with Wrightbus.
However, a government source strenuously denied that any such assurances had been given. A source close to the company's board also denied that government support had been offered.
Oh, and for the record, Sir William is an ardent Brexit supporter. In 2016 he said:
I am totally in favour of getting out.
At that time the Wrights Group's turnover was almost £300m a year and it employed more than 1,500 people
Ironically, "Alt-DUP" suggested last week that Brexit played a part in the company's collapse in this tweet.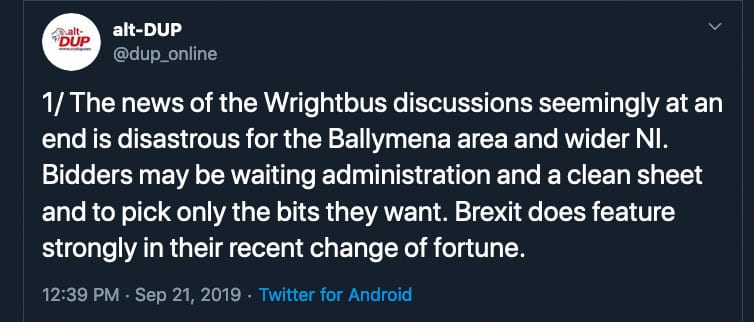 Thought and prayers for Wrightbus and those who have lost their jobs.

Advance Engineering is part of the Wrightbus Group, and it and says on its website that it supports Green Pastures and it has "donated over £430K" to the outfit.
In June this year, Protestant Revival suggested that the whole Green Pastures thing reeks to high heaven:
There is a proliferation of charismatic churches springing up and, on the face of it, prospering throughout Northern Ireland at present, and among the most notable of these is Green Pastures, based in the Ballymena area in County Antrim.

Like many of the more notable of these movements, leading figures within them have close familial links to very high ranking and well to do businessmen, and Green Pastures is no exception.

Jeff Wright via Protestant Revival

Lead pastor, Jeff Wright, is the son of Wrightbus founder, Sir William Wright, a major figure in Northern Ireland industry.

And that same business acumen is carried over into the church, as Green Pastures was able to stump up £4 million a number of years ago to purchase a huge 97 acre site just outside Ballymena.

As well as building a church there, the plans also include, according to the Belfast Telegraph,'social housing, a hotel, car showroom, riverside restaurants, an outdoor pursuits centre, a training and education centre, student accommodation, a nursing home, an all-weather football pitch and a wedding chapel.'

Plans to also build a supermarket had to be abandoned last year following an outcry from business owners in the town centre who were concerned that such a move would have a detrimental effect on businesses in the town.
Hat tip: BarrieJohn.