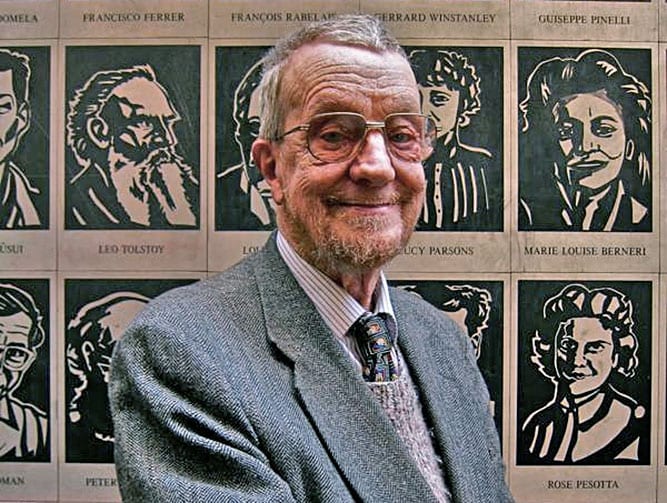 I HAVE just learned with sadness that Donald Rooum, above, whose work appeared periodically in print editions of the Freethinker over many decades, died in London on August 31.
I was alerted to the fact that Rooum had died by another longtime Freethinker contributor, Professor John Radford, author of  Don't You Believe It!: Sixty things everybody knows that actually AIN'T SO!, a book that Rooum illustrated.
Rooum's career and colourful life was affectionately documented in a blog called Spitalsfield Life in 2012. The author wrote:
In spite of the fearsome reputation acquired by Anarchists, Donald possesses a quiet nature, almost unassuming, and he has not been on a demonstration since 1963 when he was framed by the police for having a brick in his pocket. A brick which the police inadvertently – and famously – forgot to plant. It amounted to a national scandal at the time. Since then, Donald prefers to stay at home and seek his political influence indirectly by working on his long-running cartoon series, leaving it to younger Anarchists to take to the street.
Rooum, who in 1963 was working as a cartoonist for Peace News, was arrested by a violent and racist London policeman, detective sergeant Harold Challoner. On July 11 of that year, Rooum was demonstrating outside Claridge's Hotel against a visit to the UK of Queen Frederika of Greece. Challoner told Rooum:
You're fucking nicked, my beauty. Boo the Queen, would you?.
After hitting Rooum on the head, the copper went through Rooum's possessions, claimed to find a half-brick and said:
There you are, me old darling. Carrying an offensive weapon. You can get two years for that.
Rooum, a member of the National Council for Civil Liberties who had read about forensic science, handed his clothes to his solicitor for testing. No brick dust or appropriate wear and tear were found and Rooum was acquitted, although other people Challenor arrested at the demonstration were still convicted on his evidence.
By the time Challenor appeared at the Old Bailey in 1964, charged with conspiracy to pervert the course of justice, he was deemed to be unfit to plead and was sent to Netherne mental hospital with a diagnosis of paranoid schizophrenia. Three other detectives involved in the arrest of protesters – David Oakley, Frank Battes and Keith Goldsmith – were sentenced to three years in prison.
Rooum told Spitalsfield Life:
When I was sixteen, I thought a free society would be easy to get. Now I don't think things are going to be easy, but the civil rights movement has been good. There have been improvements. There's no longer any law against homosexuality and no longer any corporal punishment in schools. There was an awful attitude that people who weren't white were inferior. When I first came to London in 1944, I phoned up a boarding house and they asked me to come round in person, because there was a no coloureds policy.

To me, Anarchism is an ethical stance, a point of view which regards coercion of any kind as wrong.
Rooum edited the London-based anarchist paper, Freedom, for many years. He became lecturer in typography at the London College of Printing, took an Open University Degree in Life Sciences and was elected a member of the Institute of Biology at eighty.
Spitalsfield Life said:
His endeavours have spanned the political, the literary, the artistic and the scientific, yet it is in the levity of cartoons that he has found his ideal medium.
You can see a collection of his cartoons in Peace News.