A FEW things you should know about Cameron (Cam) Jerrell Newton. He is is an American football quarterback for the National Football League's Carolina Panthers, he's a devout Christian, he likes flamboyant outfits … and he's heterosexual. 
But apparently he's become weaponised by the LGBT community "to further its agenda."
How so? According to North Carolina Bishop Patrick Wooden Sr, founder of the Upper Room Church of God in Christ in Raleigh, Newton dresses "like a woman."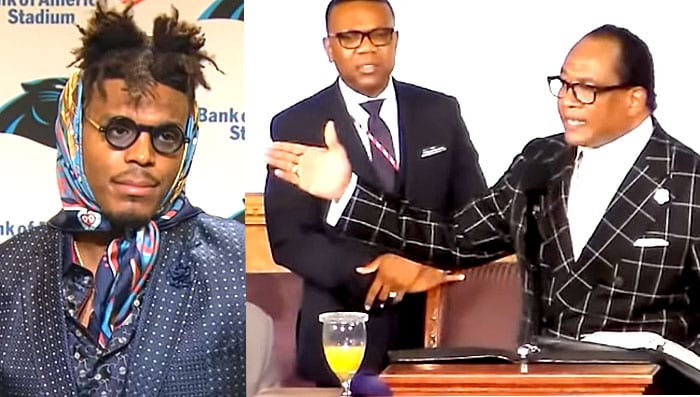 Wooden went on a rant after Newton appeared at a recent news conference wearing a headscarf, a silky blue suit, and gold shoes, and he claimed that popular sportscasters have refused to acknowledge that Newtown's sartorial choices are part of a larger plan to condition the public to be more accepting of the LGBT community.
They talk about Cam Newton, they talk about his shoulder, they talk about his foot. How he's not throwing the ball right and all that. A man's standing there in a scarf, dressed like a woman, 6-foot 5-inches tall, built like a Greek god, 250 pounds, maybe 1 or 2 percent body fat, muscles everywhere, dressed like woman.

And when they talk about it, they bring up everything but the obvious thing.
The "obvious thing" is that Newton, in Wooden's eyes, is deliberately blurring the distinction between the sexes with his apparel. And he 's not the only one.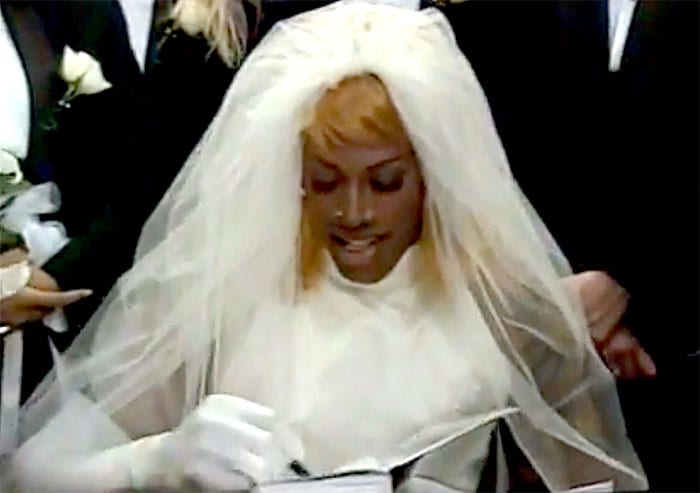 Citing other black athletes, such as flamboyant former Chicago Bulls forward Dennis Rodman, above, who enjoyed cross-dressing and once wore a bridal gown, make-up and bright red lipstick to promote his best-selling autobiography Bad As I Wanna Be, the preacher further argued that the LGBT community has been using black men in particular to further their agenda and  that he was:
Ashamed. Men don't dress like that. You know what I'm ashamed of? I'm ashamed, let me get racial on you, I'm ashamed that it had to be a black guy. I'm ashamed. Why did we have to produce the Dennis Rodmans? Why now Cam Newton? Why our men got to be the first ones in leotards? There's something wrong.
He also complained:
BMW had two men kissing in one of their car commercials. Then Mercedes gave a salute to a homosexual marriage. And I did a post, I said, I thank God I don't get my morals from a car company. I don't need a car company to teach me my morals. I get my morals from the Bible. You don't get your morals from an athlete, you don't get your morals from an entertainer.
When Christians start getting the moral code from anywhere but the Bible he added:
Is the day you begin to backslide. Satan has begun to move in.