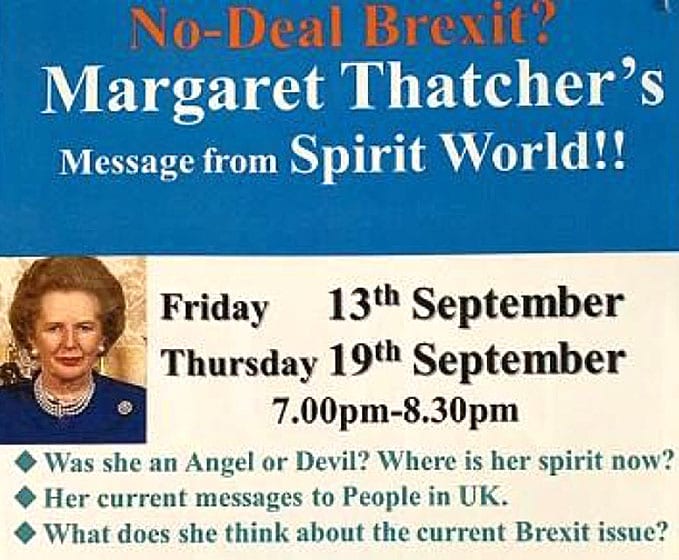 EARLIER this month we carried a piece entitled 'Thatcher to give her views on Brexit … from beyond the grave'. Happy Science, the Japanese outfit that was organising a series of seances aimed at conveying the late British Prime Minister's views on Brexit, took grave offence at our report and demanded its deletion. We published their complaint as an update to the original report, as well as on our Facebook page (please feel free to like it). Freethinker contributor ROBERT STOVOLD offers his thoughts on the issue.
THE Patheos website as a whole brings together a range of articles about religion, and Patheos's articles collectively may be said to contain "credible and balanced information". It doesn't logically follow from this, however, that every individual article within Patheos site must be "balanced".  To assume that every article must be balanced from a claim that the site itself is balanced commits what philosophers call the Fallacy of Division (assuming the parts must resemble the whole).
The Freethinker article is one part of the Patheos whole, and the Freethinker describes that part as "Cutting", "abrasive", "sarcastic" and "offensive".
An appeal for "balance" sounds fair-minded, but as Richard Dawkins and Jerry Coyne point out (in response to the Creationist clamour for "equal time" in science classrooms):
When two opposite points of view are expressed with equal intensity, the truth does not necessarily lie exactly half way between. It is possible for one side simply to be wrong … In a class on 20th-century European history, who would demand equal time for the theory that the Holocaust never happened?
Balancing time spent defending truth with time spend promoting falsehood is a false equivalence. But how do I know "Happy Science" to be false?  I don't have to know "Happy Science" (or any other remarkable claim) to be false in order to be sceptical of the plea for "balance"; it's enough for me that I've been given no good reason to suppose that its remarkable claims are true.
Its claim to be an "authentic international religion" raises many interesting questions. Which religions (other than their own, of course …) do "Happy Scientists" regard as "authentic"? By what objective criteria are we to distinguish an "authentic" religion from an "inauthentic" one?  Assuming, for the sake of argument, that Christianity and Judaism are both "authentic" religions, how do "Happy Scientists" square their claimed ability of channelling Margaret Thatcher with the fact that both Christianity and Judaism condemn the use of mediums (Leviticus 19:31)?
An article on Happy Science's website raises this question, but tellingly fails to answer it, playing the persecution card instead ("sometimes very serious and devout followers persecute such a person").  Perhaps they do – but they are supposedly acting on God's orders! Why, if God exists and inspired Leviticus, would he put one law there that prohibits the methods now employed by Happy Science? It's almost as though God didn't see Happy Science coming ….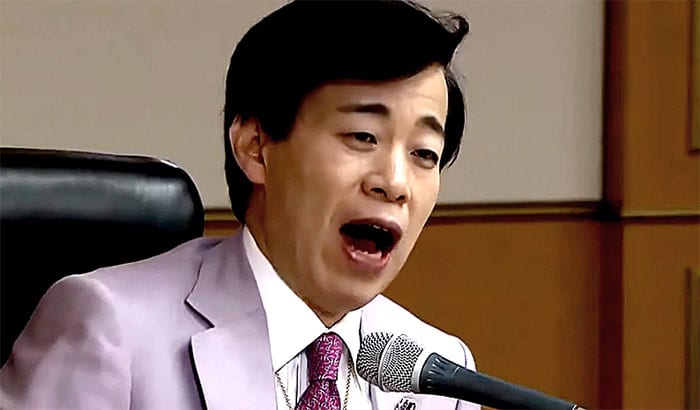 The Freethinker's post centred on the incredible claim that Margaret Thatcher spoke through Happy Science's founder Ryuho Okawa, above, "the reincarnation of the highly revered Shakyamuni Buddha" – despite the little matter of Mrs Thatcher having died in 2013.  An incredible claim like this requires incredible amounts of evidence before it can reasonably be believed; disbelief in such claims, as reflected in the Freethinker article, is the rational and credible response, unless or until high quality evidence is offered to substantiate the unlikely claims.
The Freethinker article's author expressed reasonable grounds for scepticism within the article itself, pointing to the fact that Mrs Thatcher usually referred to her husband as "DT" and not as "Denis, Denis!" as she did at Okawa's seance. The complainant, Taku Igata, rather than actually addressing this objection or offering evidence to back up their remarkable claims, simply asserted without evidence that the Freethinker article was "biased".
The complainant condemned the use of material from RationalWiki, which he wrongly identified as coming from Wikipedia. Perhaps he would prefer Wikipedia as an alternative; their article on Happy Science describes the organisation as "controversial", notes that it has been "characterized as a cult", and adds that its political wing engages in "denial of historical events".