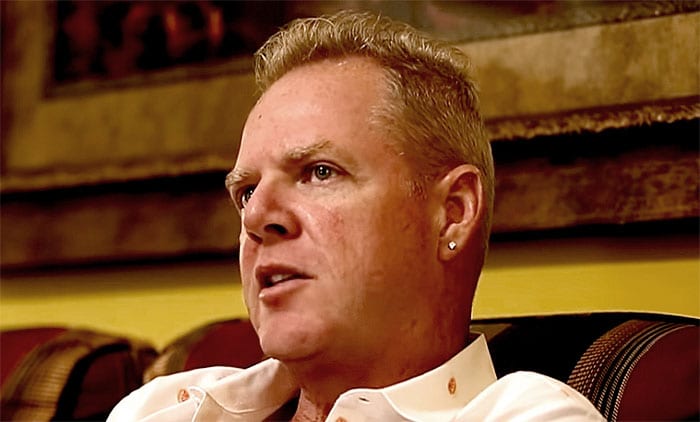 MCKRAE Game, above, the South Carolina-based Christian founder of one of America's largest 'gay conversion' programmes – Hope for Wholeness – has issued an apology to all those harmed by so-called reparative therapy.
Describing himself as "a religious zealot that hurt people", Game, 51, who is gay himself, said:
People said they attempted suicide over me and the things I said to them. People, I know, are in therapy because of me. Why would I want that to continue?
Game founded Hope for Wholeness in his home state in 1999. Initially called Truth Ministry, his outfit group was conceived as an offshoot of the now defunct Exodus International, a network of organisations that targeted:
People who wished to limit their homosexual desires.
Almost two years after being fired from Hope for Wholeness, Game came out as gay in June. He and his wife, Julie, have been married since 1996 and remain together, though Julie is aware of her husband's sexuality.
In a lengthy Facebook post last month he asked members of the LGBTQ community for forgiveness.
Today, I'm thankful to have it all behind me. I'll take advantage of any opportunity I get to share my experiences, and my belief that ex-gay ministry and conversion therapy IS HARMFUL.

It's all in my past, but many, way TOO MANY continue believing that there is something wrong with themselves and wrong with people that choose to live their lives honestly and open as gay, lesbian, [or] trans. The very harmful cycle of self shame and condemnation has to stop. It's literally killing people!! Learn to love.
In a follow-up post, Game announced he was now committed to raising money for LGBT organisations and that he:
NEVER believed you could pray the gay away or change someone's attractions!!! I've ALWAYS had gay attractions and ALWAYS believed that 'pray the gay away' or attempts to alter someone's attractions was impossible despite what many of my former colleagues believed. I do regret much of what I said and did and led for 20 years.
Referring to the all the press attention he's received and the interviews he's given since he issued his apology, Game said:
The reason I'm doing these interviews is to drive that point home, tell my story, ban conversion therapy wholesale!, and get people to love people for WHO THEY ARE and NOT who they want or thing they should be based on their belief system or their comfortability.

I'm making NO $ off these interviews. I've committed to give any $ gained by any efforts to LGBTQ charities. Please give me a chance to now do some good. I'm not an evil narcissist as so many have said. I want to drive this message home that I had started to drive home in the last part of my days in ministry before I was removed. — Live your life and let others live theirs. Live life through love!! Your (sic) hurting others and yourself by doing anything other than accepting and loving people as they are!
Game praised the LGBTQ community for having treated him "ridiculously kind", stressing that he'll likely be apologising for his ex-gay ministry work for the rest of his life.
In the video below, Game says he was a "mess for 26 years", but now enjoys more peace than he ever did.
Game is not the first member of the movement to come out as LGBTQ. In January, David Matheson – who once ran a full-time therapy practice in New Jersey with a roster of about 50 clients – announced he was:
Choosing to pursue life as a gay man.
Former Love In Action Director John Smid, who was previously considered one of the foremost leaders of reparative ex-gay therapy, married husband Larry McQueen in 2014.
Hope for Wholeness says on its website:
Our desire is to shed light on the complicated issues of sexual and relational brokenness with special expertise on homosexuality and transgenderism. We hope you will find comfort and guidance through this ministry by a personal relationship with Jesus Christ, and through godly love demonstrated by God's people. We share the freedom in Christ we've experienced from homosexuality, transgenderism, and other forms of brokenness.