'Go into all the world and preach the gospel to all creation. Whoever believes and is baptized will be saved, but whoever does not believe will be condemned. And these signs will accompany those who believe: In my name they will drive out demons; they will speak in new tongues; they will pick up snakes with their hands; and when they drink deadly poison, it will not hurt them at all; they will place their hands on sick people, and they will get well.'
Beloved faithless, today I use the Gospel of Mark 16:15-18 to illustrate that Jesus, between the time he allegedly rose from the dead and ascended to heaven, was being a tad economical with the truth.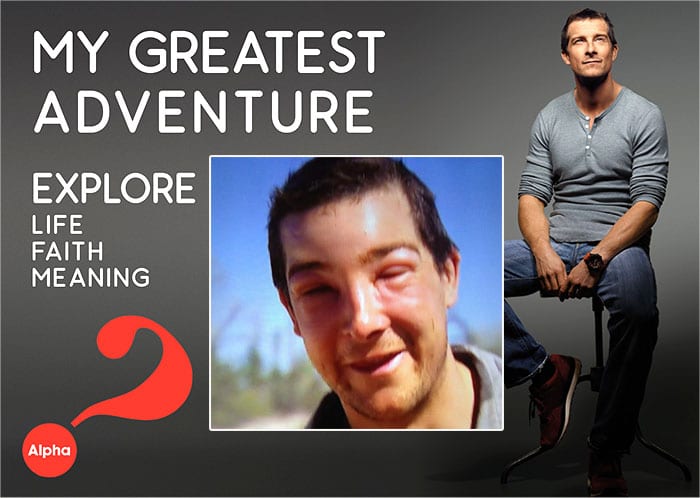 We know this because of various media reports this week that Bear Grylls, above, the born-again Christian, adventurer, TV presenter and poster-boy for the "cynical and manipulative" Alpha Course, almost died after he was stung by a bee.
The father of three sons – Jesse, Marmaduke and Huckleberry – Edward Michael "Bear" Grylls got himself entangled with the Alpha Course a few years back.
So did a friend of mine, Robert Stovold, who was chucked out of the course.
I was thrown off an Alpha Course at Church of Christ the King (CCK) for asking critical (but perfectly reasonable) questions. People who favour biblical literalism and the idea that the Earth is only 6-10,000 years old don't take kindly to an informed sceptic such as myself (I have three degrees in the biological sciences, and attend such courses in order to debunk pseudoscientific nonsense). I'll never forget the 'Holy Spirit night' I attended on my first Alpha Course. One of the organisers came to me with a message from God: 'God wants you to be less critical'. I'll bet he does! As Corporal Jones would say, 'They don't like it up 'em!' 
Grylls, before he got born-again,
was a very naughty boy.
I behaved badly at school, perhaps in part because Dad was working very hard, and often late. My mum, as his assistant, worked beside him.  I remember once biting a boy so hard that I drew blood, and then watching as the teachers rang my father to say they didn't know what to do with me. My father said he knew what to do, and came to the school at once. With a chair placed in the middle of the gym, and all the other children sitting cross-legged on the floor around him, he whacked me until my backside was black and blue.
The American Entomologist offers this explanation:
Gods punish people with insects for bad behavior.
Notwithstanding that observation, I end this short sermon, brothers and sisters in reason, with the opening of It Ain't Necessarily So, written by Ira Gershwin:
It ain't necessarily so
It ain't necessarily so
The t'ings dat yo' li'ble
To read in de Bible
It ain't necessarily so.
Oh, and with this "Bible is bullshit" video:
• My thanks to Robert Stovold for inspiring this sermon by providing the opening biblical verse.