Japan's 'biggest and the most influential religion' – Happy Science – has announced an event in London in which 'The Iron Lady' will expand on her views of the EU expressed immediately after her death in 2013.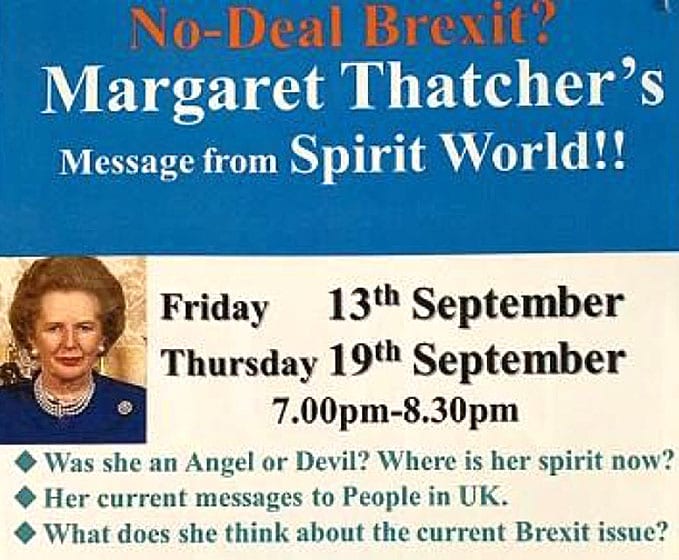 The day after she fell off her perch, Thatcher – refusing to believe she was dead – spoke through Happy Science founder Ryuho Okawa. Her first words were:
I'm still alive … I'm the Prime Minister … Denis! Denis!
The charlatan clearly hadn't done his homework. From personal experience (I once found myself trapped in the company of the Thatchers for almost eight hours) not once did she refer to him as anything than "DT". The fact that Maggie called her husband "DT" is confimed by the Telegraph.
In a video of the seance, Thatcher says she is not just the "Iron Lady" but the "hot Iron Lady", which to me suggests she's in hell, which, if it exists, is a damned good place for her.
Referring to the EU, she said:
I couldn't understand the EU system and I've heard the EU is falling apart now.
Sh added that both Germany and France are the problem.
RationalWiki says this about Happy Science:
Happy Science is a Japanese doomsday cult which is every bit as demented and psychotic as its name, and then some. It claims 11 million members worldwide in more than 50 countries, operates a publishing company and several film/animation studios, funds a political wing that fields candidates in Japan, runs a system of unaccredited "universities" and holds events and enlightening seminars.

Formerly known as The Institute for Research in Human Happiness, Happy Science is one of a large number of new religions which have sprouted up in post-war Japan, generally regarded derisively and suspiciously by most Japanese, particularly after a 1995 terrorist attack perpetrated by a cult in Tokyo's subway.

The group's English-language reading materials seem benign enough, but the group's far-right political agenda is expressed much more openly and unambiguously in their Japanese-language media, which espouses extreme Japanese nationalism, social conservatism and xenophobia.
Hat tip: BarrieJohn