DECLARING that lesbians kissing 'offended her beliefs,' an hysterical New Jersey Uber driver ordered two women out of her car.
The driver, identified only as "Cynthia", is now seeking new employment after the company said:
Uber does not tolerate discrimination in any form and we have been in contact with this rider. We removed the driver's access to the app as soon as we were made aware of this incident.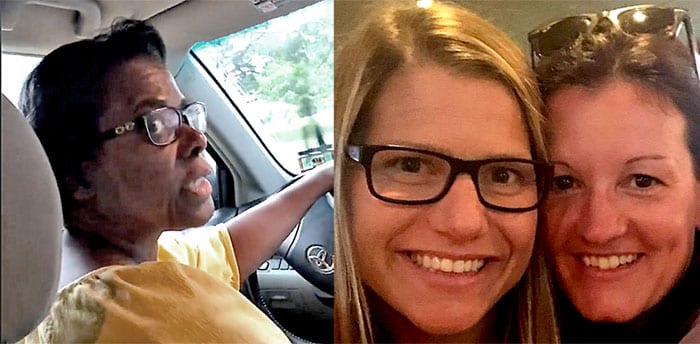 One of the woman involved – Kristin Michele, above left, with Jenn Marie – filmed the driver going postal, and posted it on her Facebook page, saying:
This woman picked me up as my uber driver. We took off. I gave my girlfriend a kiss on the cheek and she pulled the car over and said 'you need to get out of my car.' I asked why. She said 'I won't have that in my car.' I asked what she was referring to. She said 'you need to get out of my car because you are gay.'
The women were on their way to a Zac Brown Band concert Friday night in Camden when one of the women leaned over and gave the other woman a kiss on the cheek.
After that, the driver pulled over and demanded they get out.