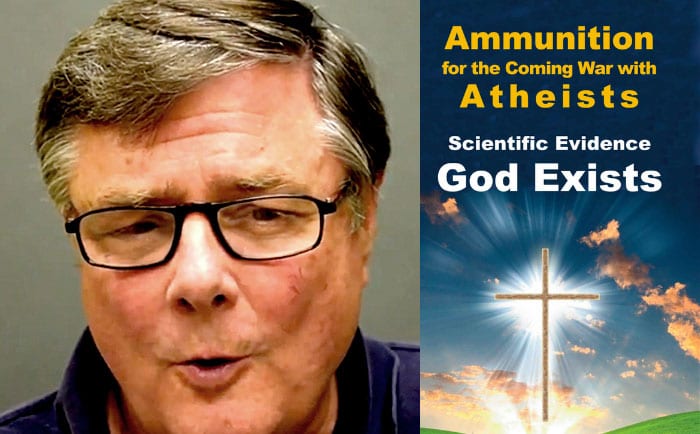 US WRITER  Stephen Hawley Martin, above, who 'proved' the existence of an afterlife in Life After Death: Proof You Will Never Die, is back with a new book that he claims will 'turn the tables' on the growing number of non-believers in America whose hostility towards Christianity increasing at an alarming rate.

In Scientific Evidence God Exists: Ammunition for the Coming War with Atheists, Martin notes that at least one contestant for the Democrat nomination for President "wants to tax Christian institutions that do not agree with him."
That, presumably, would be Beto O'Rourke.
Martin asserts that if – (heaven forbid!) – a Progressive wins the White House in 2020 and Democrats keep the House and take the Senate, "an all-out war on Christianity could break out."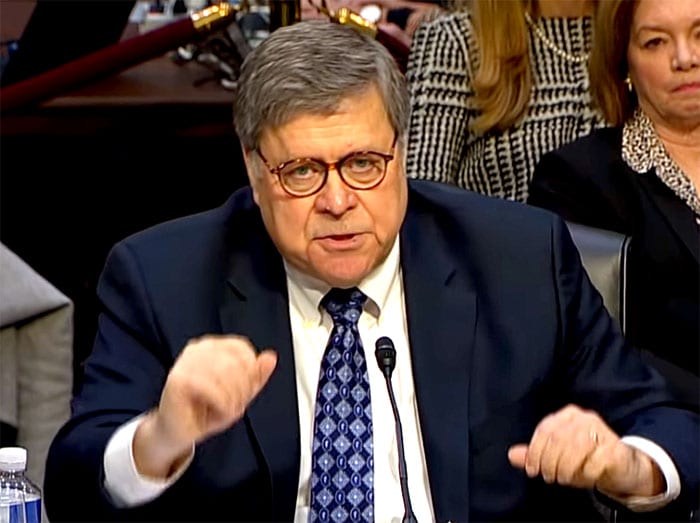 He cites a speech given recently at Notre Dame by Attorney General William Barr, above, who blasted "militant secularists" and their attacks on Judeo-Christian values. Barr is quoted as having said:
This is organized destruction. Secular forces and their allies have marshaled all the forces of mass communication, popular culture, the entertainment industry, and academia, in an unremitting assault on religion and traditional values.
Martin's new book, an exercise in rampant paranoia, was written to counter what he believes is:
An upcoming secular offensive. Secularists have been waging war on Christianity for years. They use Scientific Materialism to refute the existence of God, and more and more people believe them. According to just-released Pew Research data, those who say they are atheist, agnostic, or 'nothing in particular', now stand at 26%, up from 17% in 2009.
But this book can turn the tables because it shows Scientific Materialism is based on false premises, and it contains "irrefutable evidence" that God exists. Christians need to know these facts and use them to bring God back into schools and to give the general public a wake-up call.
Martin said his book contains:
• Evidence the universe had a beginning and a creator
• Evidence the universe was carefully crafted to be hospitable to life
• Evidence that after the universe came into being, genetic information similar to computer code came about in DNA that makes life possible, indicating a highly-intelligent programmer – in other words, God
• Evidence from quantum physics and other sources that mind is a medium present everywhere that enables believers to communicate with God via prayer and the Holy Spirit
• Evidence the brain does not create consciousness, but rather, that consciousness originates elsewhere – he says a person's soul – and that the brain receives and integrates it with the body. (He says, this is why life after death is a reality.
• Evidence from double-blind studies that prayer works.
Martin is urging Christians to rally and work together to have this information taught in schools and for the" pseudo science of Scientific Materialism" to be updated or replaced.
He said everyone can judge the veracity of the evidence themselves at no cost because the Kindle edition of his book will be free to download from Amazon until tomorrow (Friday).
All one needs to do is follow this link and click "Buy Now" for $0.00.
The blurb for the book says:
Atheists do not want you or anyone else to read this book as you can see from the one-star reviews they have posted on this page, and it's no wonder. This book not only shows that Darwin's theory of evolution is totally incapable of explaining how life came about and evolved, it shows that their religion, Scientific Materialism, is based on false premises and needs to be replaced with science that is based on facts rather than falsehoods.

The time has come for believers to fight back. This book was written in an effort to give Christians the ammunition that will be needed to prevent atheists from pushing religion underground. Currently, far-left Democrats are doing everything in their power to impeach a duly-elected Republican president of the United States, and whether or not they like President Trump, most Christians would agree the Republican Party is the one party that stands up for God and Christian values.

Because of the Democrat's impeachment efforts and the enabling left-wing media, public opinion could take a dramatic turn against the president and his party, resulting in a landslide victory for the Left—and a bonanza for their cause. With a radical Progressive in the White House, and a Democrat majority in the House and Senate, the Left will begin to systematically impose its will, and near the top of their agenda is the total eradication of God and religion.
Wrote one 0ne-star reviewer:
I have read this before, and can only assume it received so many bad reviews that it was pulled and re-uploaded, in order to get around all of the 1-stars … Science seeks out to prove what is true and can be demonstrated. Spirituality and the so-called spiritual realm is non-existent. If it does exist, it hasn't been proven yet … especially by this book … There is no war on Christianity. There is no spiritual realm.
Another one-starrer wrote:
I was willing to look at this with an open mind based on the title, but couldn't even get past the first 2 pages when I realized this isn't really a book about God being real or not: it's a book for hardline conservatives, and especially Trump supporters to (presumably, I didn't read enough to really know) bolster their support for the 'Judeo Christian foundations' of this country.

Which, in itself, is EXTREMELY ironic, considering mister Trump doesn't even go to church, had an affair with a pornstar, uses explicatives constantly, lies, etc etc – don't think he's really the model 'Christian.' Yet evangelicals love him. Go figure that one out. In any case, this book isn't about God, it's about political beliefs. And $0 is too much to pay – I feel like they should pay me for the time I wasted even looking at it lol.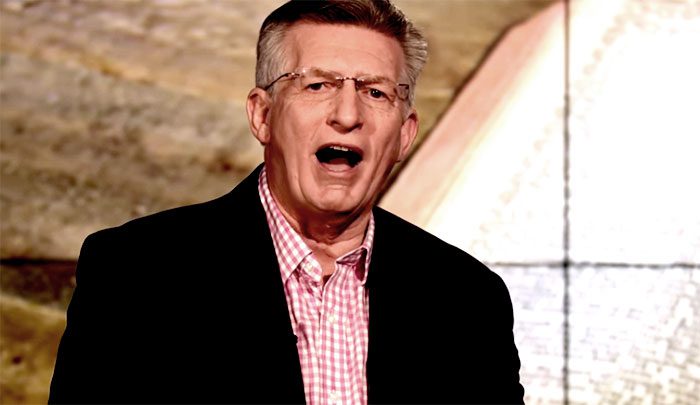 Meanwhile, if you want evidence of genuine aggression – aggression aimed at those who oppose the POTUS and his boot-licking band of evangelical sycophants– read the words of pastor Rick Wiles, above, who warned that "there's gonna be violence in America" if President Donald Trump is removed from office.
Wiles, the senior pastor at Flowing Streams Church in Florida, made the remarks on his right-wing TruNews programme on Tuesday evening. He claimed "guys that know how to fight" would start attacking and "hunting down" Democrats.
I believe there are people in this country, veterans, there are cowboys, mountain men, I mean guys that know how to fight, and they're going to make a decision that people who did this to Donald Trump are not gonna get away with it.