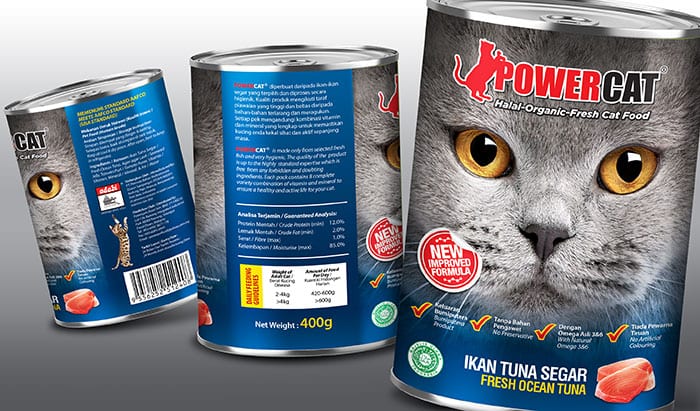 CAT Food produced in compliance with Islamic rules is included in an ever-widening range of halal products on sale to Muslims in Indonesia.
Why on earth should cats have to eat halal food?
The distributor of Powercat, who requested anonymity, explained:
I will tell them [customers] it's not that the cats need to be fed with halal food. It is for us, the cat owners, who have physical contact with the food when we feed them or when we clean their bowls. If the food is not halal, and we touch it, we will have to wash our hands as a form of purification.
He says he has been marketing the product for nearly four years, mainly by setting up stalls at events and getting in touch with pet shop owners.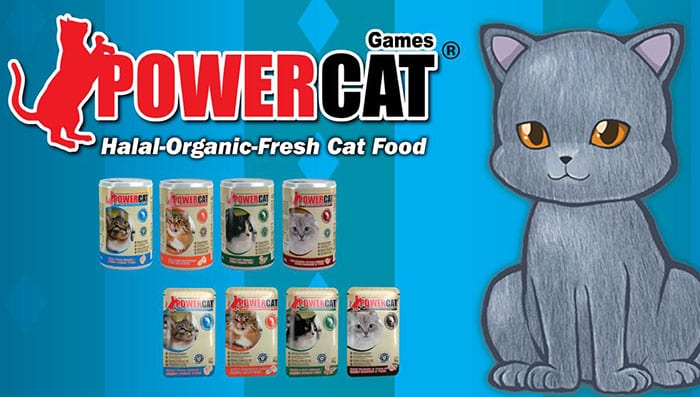 Despite being a leading brand of cat food in Malaysia, Powercat – which offers Android phone app games – is not yet hugely popular in Indonesia, he says.
But the sales have been steady. And my customers are happy. They told me that once fed with Powercat, their cats refused to eat food of other brands.
What about dogs? While The South China Morning Post does not mention canines, I found that one can buy halal dog food – Lon Sen – online from Alibaba.com ($900-$2,000 per ton).
So what else in included in the Indonesian government's drive to expand the the country range of halal goods?
Bizarrely, hijabs.  One trader claimed to be the first seller of such garments in Indonesia, and the company encouraged Muslim women to ensure they covered their hair and necks with "permissible" headscarves, rather than those during whose manufacture non-halal substances were used.
Said university student Annisa Harniati.
I can totally understand that Muslims need to make sure that the food and drinks they consume are halal. But for clothing, I think it's irrelevant. I wear a hijab myself, but colours and patterns are the main things I consider when buying one.
Other products include cotton buds, laundry detergent, fabric softener, hijabs (hair and neck scarves) and shoes.
And fridges. Home appliances brand Sharp launched new halal refrigerators in Jakarta last year. At an event timed to coincide with the beginning of Islam's holy month of Ramadan, the appliances were introduced as the "first halal-certified refrigerators in Indonesia".
Exclaimed Miranti Widjoko, 45 and a mother of two:
What? Does it mean that fridges can be haram [forbidden under Islamic law]?. How does that work?
The Sharp representative told her that the materials usually used to produce fridge compartments could contain traces of animal products that are forbidden to Muslims.
She was happy with the explanation, and said:
When it was time to replace my old fridge, I didn't hesitate to choose this [halal] fridge,
Afka Adhitya, Product Strategy Manager for Sharp in Indonesia said consumers have become more aware and critical of the products they use, including the component materials and the manufacturing process.
Miranti says she always makes sure the homewares she buys for her family are permitted under Islamic law, especially products that are known to commonly contain non-halal substances.
But back to the cat food. The distributor says there are other brands in the market labelled halal, but their certification had not been approved by the Indonesian Ulema Council (MUI), the nation's highest Islamic authority.
To the best of my knowledge, ours is the first and the only one so far in Indonesia to be certified by the MUI.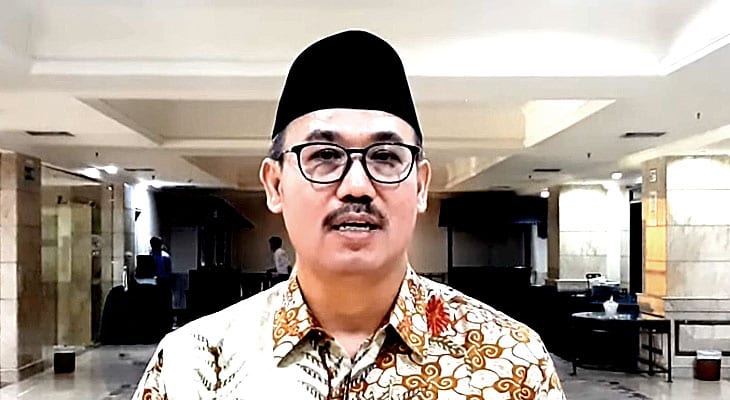 Lukmanul Hakim, Director of MUI's Assessment Institute for Foods, Drugs and Cosmetics, above, says not all products can be granted halal certificates by his organisation.
He cites one rejected request from a natural gas company that wanted to get halal certification for its product. The company, he says, argued that the natural gas would be used in the production of halal make-up and therefore required certification. The MUI, however, did not agree. Lukmanal said:
We won't say you need the certificate if you don't. What would people say about us if we did? They would say we just like to make things up.
Lukmanul, who insists that Islam should not make Islam "complicated" and that the MUI was "moderate" was asked whether his own refrigerator was halal. He laughed and said:
I have no idea. I don't pay attention to that.
In 2015 in the UK a row broke out when pet food manufacturers were accused of allowing inhumanely slaughtered halal meat to be used in their products.
John Blackwell, from the British Veterinary Association, said:
Consumers who care about what they put on their own plates will also want to know about the welfare standards of the food they are feeding their cats and dogs.
And an RSPCA spokesman added:
Our concern has nothing to do with the expression of religious belief but with the practice of killing by throat cutting without pre-stunning, which can cause considerable suffering.