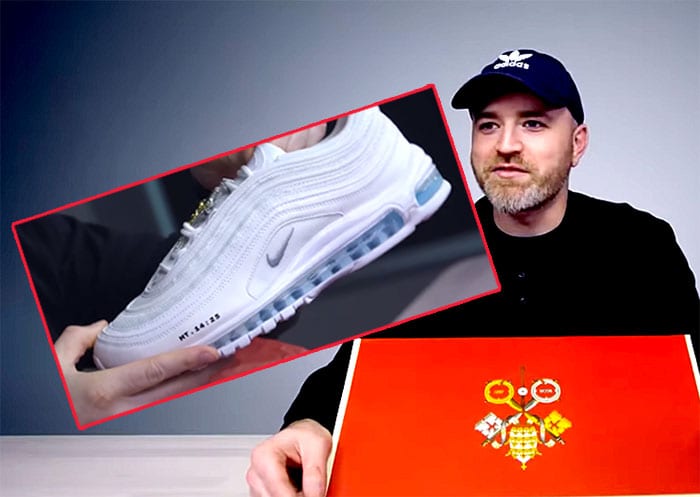 OVER on YouTube, a video of a fella from Saving Health Ministries unboxing a pair of  'Jesus Shoes' filled with 'holy water' from the River Jordan has attracted an angry response, with people calling the product 'blasphemous.'
Some outraged commenters are saying they will now boycott Nike – despite the fact that they have nothing whatsoever to do with the company. Instead, another enterprise –Brooklyn-based creative label MSCHF – took several pairs of  Nike Air Max 97s, and customised them by injecting the soles with water, and rebranded them "Jesus Shoes" (motto: "Walk on water".)
The shoes – less than two dozen limited editions were produced and immediately sold out within minutes at $3,000 a pair – also featured the Bible verse Matthew 14:25, which is the passage describing Jesus walking on water, and a single blood drop to represent the blood of Christ.
Among the other religious details are the frankincense-scented insoles, a crucifix threaded through the laces, and a red sole, which references the red shoes traditionally worn by past Popes.
There are no plans to create more, according to MSCHF.  But Gabriel Whaley, founder of the brand, hinted there may be a "second coming" in the future.
Meanwhile, I'm pleased to see that Atheist Shoes, a brand created by an Irishman a few years back, and manufactured in Germany, is still going strong. I have owned a pair for almost six years, and they are my favourite footwear.