BACK in 2014, the Kellogg's experienced a backlash from Christian consumers who vowed they'd no longer buy the company's products after it helped sponsor the Atlanta Gay Pride march by using the Frosted Flakes mascot, Tony the Tiger, in  an advertisement in the event's pride guide.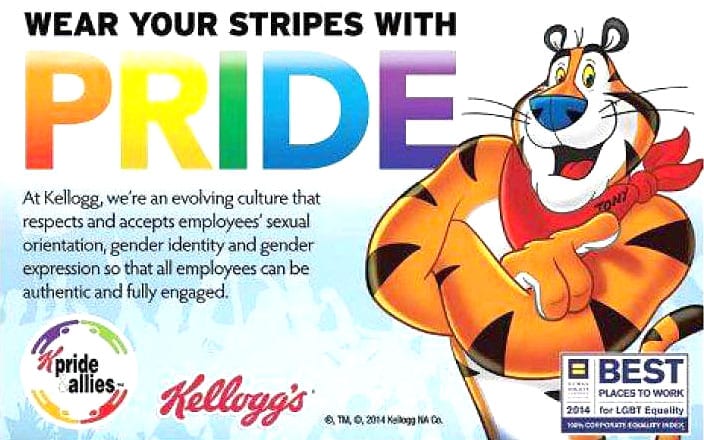 Hate group The American Family Association posted a picture of the Tony the Tiger advertisement to its Facebook page, and hundreds reacted by saying they would boycott Kellogg's for using its much-loved  a cartoon character "to promote homosexuality."
Well, the company is again in the firing line as a result of its latest offering – "All Together Cereal". Far-right Trump-lovin' anti-gay US radio presenter Todd Starnes was one of the first to lay into the company:
One of the nation's largest makers of cereal wants you to have a breakfast time conversation with your kids about sex and gender.

There's nothing quite like starting your day with a great big bowl of LGBTQIA+ indoctrination (If I left out a letter, it was not intentional).

It's a bright purple box that features Tony the Tiger and Toucan Sam on the cover frolicking about with a number of other cereal mascots.

Their pro-gay cereal box is meant to celebrate Spirit Day – no matter who you love.

The all-new gay variety pack includes individual boxes of Rice Krispies, Frosted Flakes and (wait for it) Froot Loops.

Well, snap, crackle, pop, America.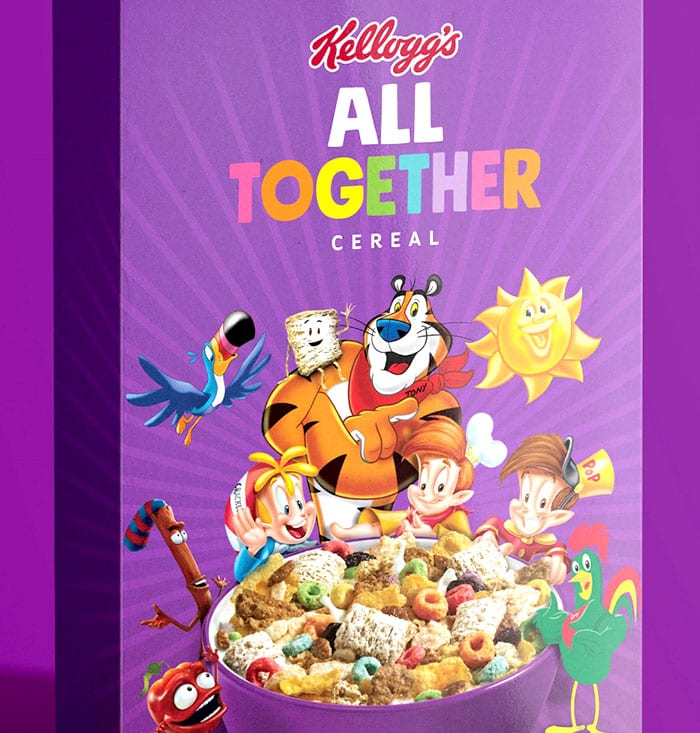 Incidentally, Starnes' lunacy proved even too much for Fox News, which sacked him at the beginning of the October for saying that Democrats do not believe in the Christian God and instead may worship Moloch, a pagan god often associated with child sacrifice.
My search for other expressions of rage over the new limited edition product –
launched in association with the Gay and Lesbian Alliance Against Defamation (GLAAD) which will get $50,000 out of the promotion
  –  produced
this gem of an item
with a great illustration on
Genesius Times
under the headline:
Kellogg's new LGTB cereal comes with a personal cop to force feed the disgusting mix down your throat.
Exavier Saskagoochie wrote:
Kellogg's cereal company has teamed up with GLAAD for a new disgusting mix of cereal which includes several of its less healthy brands like Lucky Charms, Fruit Loops, and Frosted Flakes. It's guaranteed to give you diabetes in just three bowls!
The best part about it is that each purchase of the "All Together" cereal comes with a personal morality police officer ready to force feed the distasteful mix of gluten and sugar down your throat whenever you don't feel like it.
Just had some delicious eggs and bacon? Get ready for a mouthful of All Together! Ready to sink your teeth into a juicy sirloin? Not before an entire box of this gay cereal!
And you don't even have to buy the box to get this royal treatment. Thousands of people across the United States have reported that they were just walking down the street minding their own business when these morality police shoved the All Together mix down their gullet.
One of the morality cops was overheard saying "You're going to love this damned cereal you bigot, whether you like it or not!"
"We really wanted to showcase the best of our brands in this new cereal," Kellogg's CEO Danny Jackace said in an exclusive interview with Genesius Times, "and make sure people accepted our idea of what's good whether people like it or not!"
Satire? Of course. But sometimes it's sooo hard to tell.