A DAFT decision to allow a student to install a 'prayer locker' on school premises landed Pike County Central High in trouble with Americans United for Separation of Church and State.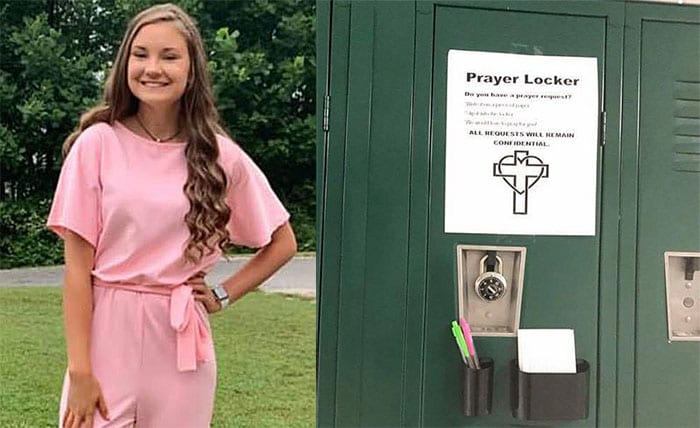 The locker was the brainchild of devout Christian sophomore Emily Chaney, above, who was given permission to set up the thing in the Pikeville, Kentucky, school. The idea was that students would drop their prayers into the locker, and that these would then be taken to her church where they would be given  individual attention.
This silliness thankfully came to an end when the school was told in no uncertain terms by AUSCS that this was "a clear violation of the separation of church and state."
This made Chaney very sad.
She told Fox News:
I hope they realize how beneficial this was to so many people. I hope they realize they're taking a huge blessing away.
In a post on her Facebook page, she said:
I want to let everyone know that being the keeper of this prayer locker has been the biggest blessing to me. My church and I have prayed for every need that was placed in this locker. However, after tomorrow, there will be some changes to the way I collect people's prayer needs.

After tomorrow, prayer needs will need to be given to me personally rather than in the locker. To make things easier, the first 5 minutes of break I will be in the cafeteria and can take any prayer requests cards you may have.

Thank you to everyone who has trusted me with your prayer needs, and please continue to bring those needs to me personally. I love everyone and will keep praying because that is my religious freedom!
Pike County Schools Superintendent Reed Adkins sent a letter to the schools, in which he agreed that:
Erecting a 'Prayer Locker' is a clear violation of the separation of church and state.
But Hiram Sasser, General Counsel for First Liberty Institute, a far-right "religious liberty" law firm, told Fox News the school is in trouble for kowtowing to the Washington DC-based AUSCS.
It appears this would be a violation of the Free Exercise Clause of the First Amendment and blatant viewpoint discrimination to ban students from a clear opportunity to share their faith. Indeed, it appears that this violates the Department of Education guidelines on prayer in public schools.
Sophomore Zack Mason, who intends helping Chaney said:
I mean, we weren't forcing anybody to put a prayer in that locker. I just don't see how anybody could see anything wrong with this. It's just a wonderful person, doing something wonderful. And it's just somebody taking a blessing away.