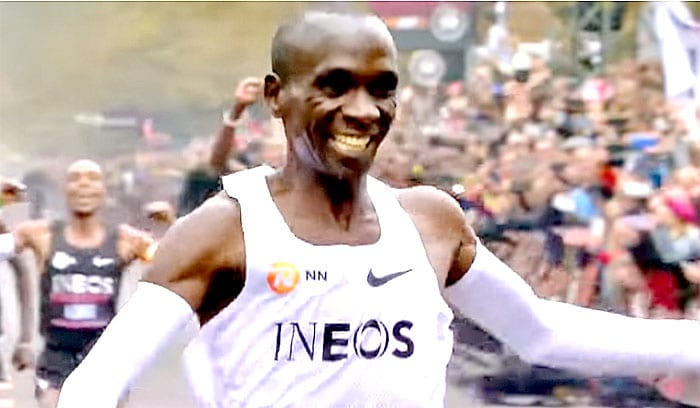 EARLIER this month Eliud Kipchoge made history by becoming the first person to run a marathon distance in under two hours in Vienna, Austria.
Since the 1960 Rome Olympics, according to this report, Kenyans have dominated long-distance running, from 800-meters to marathons, in the Olympics, World Cross Country Championships and the world road racing circuit.
This, it's generally thought, is due to Kenyans' physical attributes, their diet and an ingrained culture of running.
But now preachers are claiming that it's all down to God's intervention.
When Kipchoge – a Catholic – arrived back home in Nairobi on October 16 religious leaders quickly began prattling about the "hand of God" in his record-breaking run.
Rev Nicholas Makau, a Roman Catholic priest in Nairobi said:
I think he made it by trusting in God that all is possible. He seemed [to] challenge a widely held view that humanity is limited, but he has shown that when people try, they can succeed. I think he is a religious person by upbringing who was doing it for his belief.
The Rev Wilybard Lagho, Vicar General of the Mombasa Roman Catholic Archdiocese, added:
This means we can achieve more than we have always thought,. Faith contributes to the success of human beings in mysterious ways we may not be able to quantify. But I think Kipchoge knows how to balance between spiritual and physical ability.
And retired Anglican Bishop Julius Kalu of Mombasa said:
The race has set a good example for humanity. I was impressed by the pacesetters, who I think did a good job. They supported Kipchoge to the end. This is what we should do as Christians – support each other in both good and bad times.
Kipchoge himself compared his achievement to Neil Armstrong's landing on the moon in 1969.
In April this year, Kipchoge told Running Coach, a blog for runners, that religion played an important role in his life.
It keeps me from doing things that could keep me [away] from my goals. On Sundays, I go to church with my family, and I pray regularly, even in the morning before a race.
On Sunday, many Kenyans went to church and thanked God for his achievement. They praised it as the work of a Christian role model. And The St. Paul's University Catholic Chapel at the University of Nairobi held special prayers for Kipchoge.
His elderly mother said:
I prayed and fasted for him so that he achieves what God had planned.
She said she had been waking up every morning at 3 am to pray for her son.
The record-breaking run in Austria does not count as an official record. The "race" was designed specifically for Kipchoge and for the goal of finishing in under two hours. There were no other competitors in the run, the date was chosen for optimal weather and he was supported by a rotating team of pacesetters as well as a car that used lasers to show the best place to run. These advantages are not allowed during typical marathon running and will keep this achievement off any official records.
But, according to the runner, that was not his goal. He wanted, simply, to see if it could be done. In his tweet before the race, Kipchoge wrote:
I don't know where the limits are, but I would like to go there.
After his run he said:
I expect more people all over the world to run under 2 hours after today.