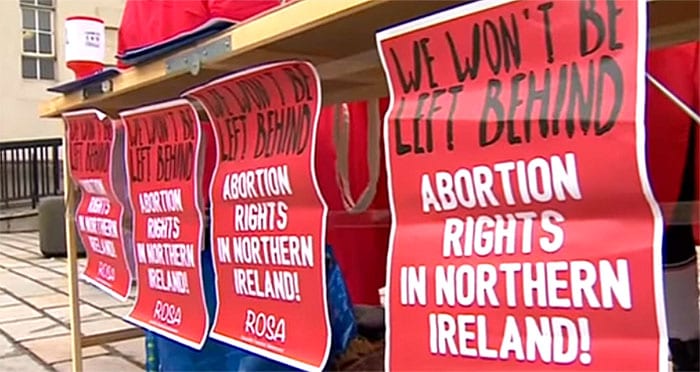 A MOVE that may have blocked the imposition of abortion and gay marriage on Northern Ireland by the UK government failed today because of an abortive attempt to reconvene the province's Assembly.
As a result gay marriage and abortion will be legal in the province for the first time – and, predictably there are howls of outrage from the many conservative Christians who infest N Ireland.
A last ditch attempt to restore the Stormont Assembly, which hasn't sat for almost three years, collapsed when the Social Democratic and Labour Party walked out of the reconvened Assembly, leaving no nationalist representatives in the chamber. This meant no speaker could be elected.
The Democratic Unionist Party (DUP) also walked out.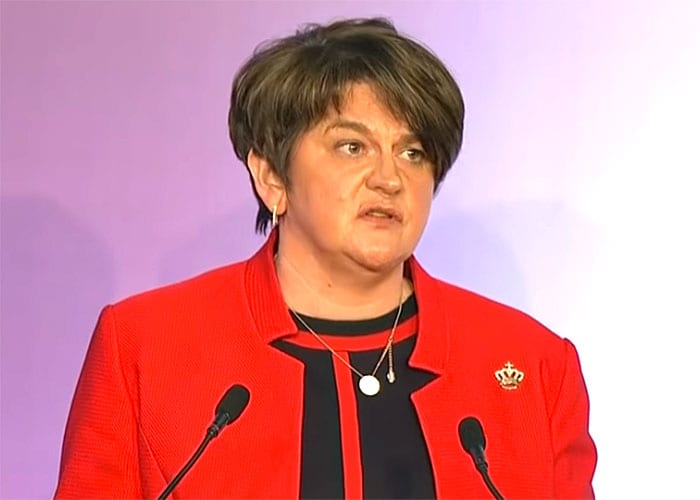 DUP leader Arlene Foster, above, said it was a "shameful day" and Northern Ireland would now:
Have the most liberal abortion laws anywhere in Europe.
Pro-life groups and churches argued that the changes were being imposed without anyone in Northern Ireland having voted for them.
But campaigners for social choice called it "a watershed moment" that would bring Northern Ireland into line with the rest of the UK and Republic of Ireland.
The DUP had obtained enough signatures for a recall of the Northern Ireland Assembly on Monday but could not form a government alone.
Stormont sat briefly today in an attempt to block the new laws, but the outgoing speaker, Robin Newton, said the parties behind it were acting "out of hand".
Newton said a new speaker would need to be in place before any legislation can be put, and the sitting ended when it became clear that task could not happen today.
Last month, the High Court in Belfast ruled that Northern Ireland's abortion law was in breach of the UK's human rights commitments.
Until next April, when new regulations are expected to be in place, women will be offered free transport to England for termination services.
Same-sex marriage will become legal in Northern Ireland next January. The first marriage is expected in February.
Last year, voters in the Republic of Ireland voted by a landslide to end the country's constitutional ban on abortion.
Hat tip: BarrieJohn