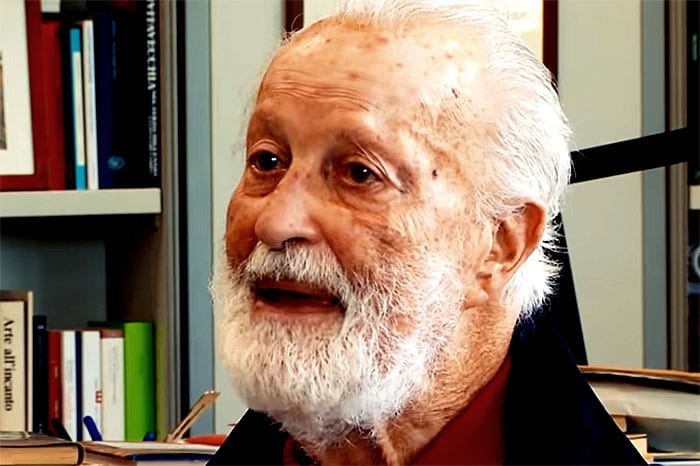 EXASPERATED Catholic commentators are asking why Pope Francis keeps giving interviews to Eugenio Scalfari, the 95-year-old atheist founder of La Repubblica who, in an October 8 editorial, claimed the Pope denied Jesus's divinity.
According to Church Militant, Scalfari wrote:
Francis told me, 'They are the proven proof that Jesus of Nazareth, once having become a man, was, though a man of exceptional virtues, not at all a God.'
And further in the article, Scalfari gives his interpretation of what Pope Francis meant, based on what he calls their greatest cultural intimacy:
Pope Francis conceives Christ as Jesus of Nazareth, man, not God incarnate. Once incarnate, Jesus stops being a God and becomes a man until his death on the cross.
What that means I haven't the foggiest idea.
Amidst a tsunami of outrage expressed in the Catholic media, the harshest condemnation comes from Steve Skojec, of OnePeterFive.com, who castigates both the Pope for not denying what he told Scalfari, and the Vatican for issuing a statement that failed to refute Scalfari's assertion that Francis denied Christ's divinity in his presence.
This is how Matteo Bruni, Director of the Holy See's press office reacted:
As already stated on other occasions, the words that Dr Eugenio Scalfari attributes in quotation marks to the Holy Father during talks with him cannot be considered a faithful account of what was actually said but represent a personal and free interpretation of what he heard, as appears completely evident from what is written today regarding the divinity of Jesus Christ.
Skojec wrote:
Those familiar with the controversy over the pope's various interviews with Scalfari, none of which have ever been corrected – and some of which have been published in official Vatican outlets – will recognize a well trod pattern here.

First, the pope says something outrageous to this uniquely unreliable source. Scalfari is known for his atheism, for his age (he's 95), and for his penchant for reconstructing interviews from memory rather than from recordings or notes.

This lays down a basis of deniability, while nevertheless ensuring that these boundary-pushing ideas spread rapidly around the globe.

When Scalfari goes to print with these outrageous statements, a predictable period of controversy ensues. After a sufficient amount of time for the news to spread and spark debate, the Vatican steps in with an artfully constructed non-denial.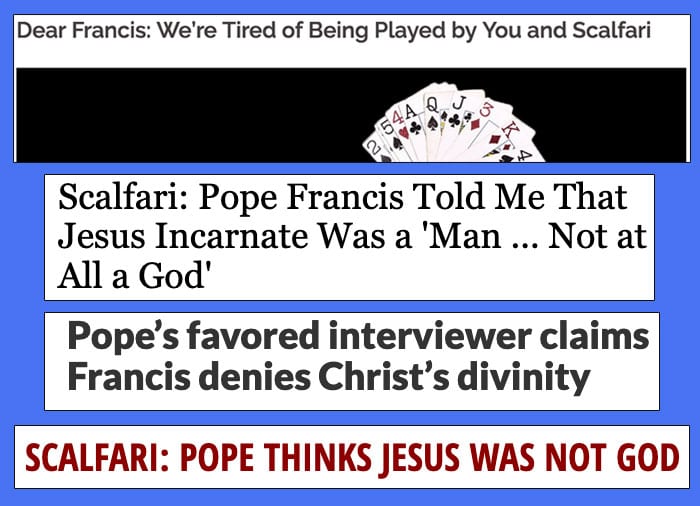 Skojec added:
As I've documented multiple times before – perhaps in greatest detail regarding the several times Francis has allegedly told Scalfari that he does not believe in the existence of Hell – this is a shell game with the truth, and the Vatican knows it …

If Francis thought he had been gravely misrepresented, he would have said so.

So when he doesn't say so, he mustn't believe he was gravely misrepresented.

With that in mind, we return to the matter at hand.

There are only two options: either Francis denied the divinity of Our Lord in his conversations with Scalfari – which would amount to heresy and apostasy – or he was 'gravely misrepresented.'

If he was misrepresented, he has a clear moral duty to correct the record. Scalfari is not just some random blogger making a claim. He has interviewed the pope on more than half a dozen occasions. The two see each other as friends. He has access. He has published the pope's remarks on a number of occasions, and the pope has never – not even once – said his old friend had mistaken something he's said.

In other words, Scalfari, despite his inherent credibility problem, is actually more credible than he might otherwise be considered to be when he reports on the words of the pope. His credibility is bolstered by the pope's evident trust in him, by their repeated interactions, and by the fact that he has never suffered a rebuke or correction from Francis. Francis vouches for his accuracy by never calling it into question, and by going back to him again and again, even after prior controversies were never resolved.

So to repeat: Either Francis said it – with all that it entails – or he did not. There are no other options.

If he said it, that fact must be dealt with. How, I do not know.

If he did not say it, he must correct the record. The scandal of leaving this grave error, proclaimed in his name, is not something he can ignore without gravely harming the faithful. If he 'won't say a single word,' there is no reasonable conclusion to reach except that it is true.

The diabolical genius of this entire episode is that as before, the pope likely will just ignore this. He'll have effectively planted the seed of Arianism anew, will be guilty of grave scandal, but won't be able to be pinned down on the obvious heresy and apostasy such a statement represents.
LifeSiteNews quotes Italian journalist, Christopher Altieri of the Catholic Herald as saying:
Why on earth does Pope Francis still trust Eugenio Scalfari?
And he called upon Francis to:
Disown not only the precise verbiage Scalfari reported in his piece, but the ideas foisted upon him therein – at least the ones that are manifestly heretical. The longer he does not, the stronger the case becomes for believing he cannot.
In an updated report, Church Militant points out:
Because of the many controversies engendered by each Scalfari interview, Catholics have wondered why the pope keeps granting them, forcing the Vatican press office to issue quick retractions and clarifications each time.

Scalfari was a founder of Italy's far-left Radical Party, which supports abortion and euthanasia, and once associated with the Italian fascists, before leaving the movement to join the communists, with a brief stint supporting the Christian Democrats.