AFTER facing a massive backlash for suggesting that the upcoming UK general election should be held on a day that Muslims can't vote, associate editor of the Spectator Rod Liddle claimed that his column was 'satirical'.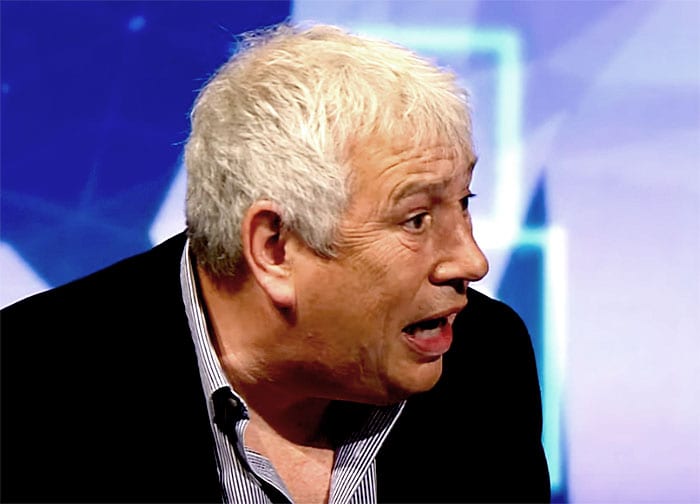 In an article headlined "If you do one thing this election, stop your kids voting", Liddle (above), a spittle-flecked Brexiteering lunatic, wrote:
My own choice of election date would be a day when universities are closed and Muslims are forbidden to do anything on pain of hell, or something … There must be at least one day like that in the Muslim calendar, surely? That would deliver at least 40 seats to the Tories, I reckon.
This sparked outrage among many Muslim groups as well as Jewish community leaders.
Jewish Board of Deputies President Marie van der Zyl criticised Liddle, saying:
This is not just hate speech, it is an affront to democracy to speak about disenfranchising whole groups like this. Well done to Tell Mama for calling this out.
Tell Mama, a charity which supports victims of anti-Muslim hate, said in a statement on Twitter that the column was:
Appalling … His suggestions are that Muslims should be unable to vote. What do we call that – outright prejudice. This in 2019, when 3 Muslims have been murdered since 2013 for being – British Muslims.
Meanwhile, Rabbi Charley Baginsky of Liberal Judaism added:
We stand in solidarity with those targeted in Rod Liddle's latest Spectator column. His words are Islamaphobic and misogynist. Liberal Judaism unequivocally, and will always, condemn this language and hatred.
Also adding his criticism was Chancellor Sajid Javid, who is of Muslim heritage, and who tweeted:
Not clear if the Rod Liddle comment is supposed to be a joke – but it's not funny and not acceptable. No community in our country should be put down that way.
The Spectator's assistant editor Isabel Hardman also said she "profoundly disagrees" with Liddle's piece and was "hugely upset" by it, adding she has "nothing to do" with pieces in the magazine except those she writes herself.
Responding to his critics Liddle wrote in
a blog on the Spectator website
on yesterday afternoon (Friday) , claiming his words had been:
Taken out of context. There was no hate speech or Islamophobia whatsoever in my piece. It was a very light-hearted series of suggestions about when to hold an election, based upon the silly dispute over the proposed dates for the election.

They were very obviously ludicrous suggestions, satirical in manner, about how to reduce the Labour vote by targeting groups which traditionally vote Labour and occasioned by the wrangling over whether the election should be on December 9 or 12 and the reasons for that wrangling.
The New Statesman said of Liddle's piece:
It is both horrifically and unnecessarily offensive, and deeply irresponsible when hate crimes against Muslims are on the rise …

The former Guardian editor, Alan Rusbridger, has suggested on Twitter that Spectator editor Fraser Nelson will have to say something to defend or excuse the piece, and quickly.
Well he did. Beneath Liddle's blog Nelson wrote:
If one of our columnists seriously suggested that Muslims and students should be prevented from voting, then of course I would denounce it. It would be a disgusting thing to say. But Rod Liddle wasn't doing that. He was satirising the wrangle over the two election dates by making deliberately absurd suggestions.

At the Spectator, we have writers who disagree passionately with each other: they often make jokes. But this one was too easily misrepresented and should not have been published in the form that it was.
In June this year Liddle was accused of racism. In a column published by the The Sunday Times he wrote about the Peterborough by-election, in which Labour narrowly defeated Nigel Farage's Brexit Party by 683 votes. Liddle offered a take on the result:
My suspicion is that quite a few of those who voted by post in Peterborough, with help from community leaders, may have been people who do not speak English and may well have thought they were ticking a box to choose their favourite vegetable side dish — tarka dal, brinjal bhaji or Bombay aloo.

I suppose this last comment will be considered a racist aside.
It was.
The journalist was referring to accusations of foul play during the Peterborough election.