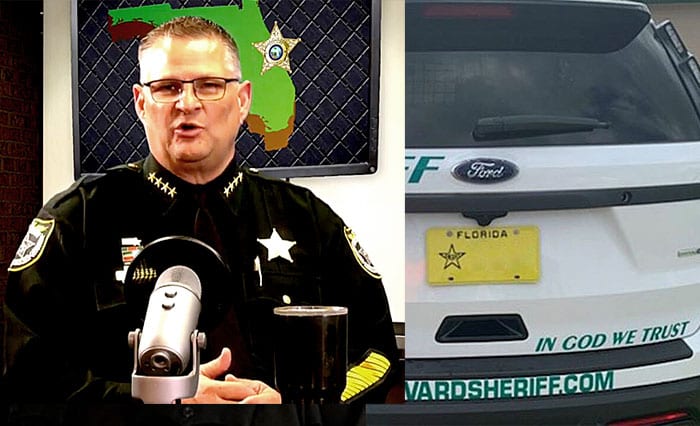 A NEW fleet of cop cars in Brevard County, Florida, are festooned with the American flag and 'In God We Trust" decals – and that's the way they'll stay says local sheriff  Wayne Ivey, above,

Reacting to a recent request from the Freedom From Religion Foundation to have the goddy decals removed, the portly Ivey said:
They have a better chance of me waking up thin tomorrow morning than they do of me taking that motto off our cars!
The FFRF, in its letter, insisted that the decals imply "a religious test for employment" and send non-religious citizens an "appearance of bias."
Annie Laurie Gaylor, Co-President of the organisation, wrote:
Citizens should not be made to feel offended, excluded, and like political outsiders because the local government they support with their taxes oversteps its power by prominently placing a religious statement on Office vehicles.
Ivey, on Facebook, said the "suggestion for the patriotic theme was submitted" by a "very proud veteran" who:
Made mention of the idea after sharing with me how proud he is of our agency and how passionately we support our veterans. The idea was then presented to other members of our outstanding active, reserve and veteran military community who all loved the idea and new design!!
In reiterating his determination last Friday to keep the decals, Ivey warned:
I personally believe that our country is at a tipping point, and if we, as strong patriotic Americans, don't stand for the principles of our great nation, we are going to lose the America we all know and love!
I can assure you that the proud men and women of our agency are forever unwavering in our support of the constitution and the principles of our amazing country.
First Liberty, a legal group "dedicated to religious liberty", said the law backs Ivey. Jeremy Dys, Special Counsel for First Liberty, told
Fox News
:
It is absurd to think that a Florida sheriff would be acting 'inappropriately' for posting the official mottos of both the United States and the State of Florida. This attempt to scold a public servant for acknowledging one of the most cherished traditions of our country is shameful.
In reporting this brouhaha Christian Headines repeatedly calls the FFRF an "atheist group", thus distorting its mission. According to Charity Navigator, which gives a four-star rating to the charity, the FFRF:
Is an educational group promoting the constitutional principle of separation of state and church and educating the public on matters relating to nontheism. Incorporated in 1978, the Foundation is a national membership association of freethinkers: atheists, agnostics and skeptics of any pedigree.

The Foundation acts on countless violations of separation of state and church on behalf of members and the public, including: prayers in public schools, payment of public funds for religious purposes, government funding of pervasively sectarian institutions, and the ongoing campaign against civil rights for women, gays and lesbians led by churches.
Law Enforcement Today got in on the act, and ran this headline: