BACK in 2005, The Ohio House of Representatives approved a new license plate featuring the phrase 'One Nation Under God' and picture of the American flag. No-one was obliged  to choose the plate, but atheist Ben Hart went along with this decision – by choosing a personal plate that declared IM GOD.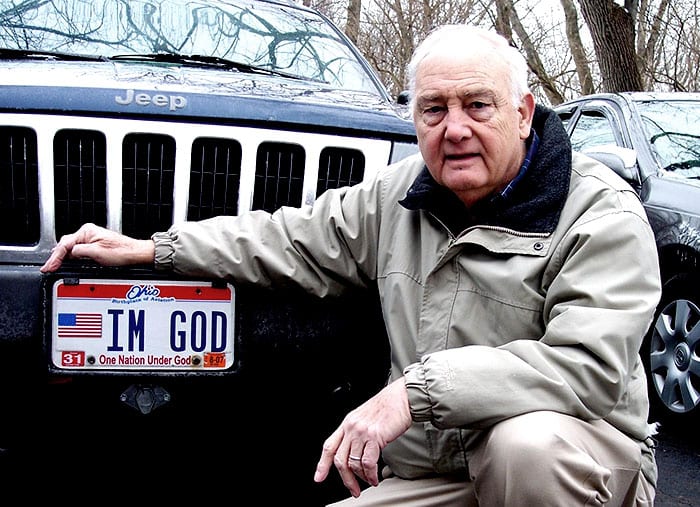 All went well for 12 years until he relocated to Kentucky in 2016, and requested a plate with the same letters.
The authorities turned his request down flat. First they said it was "obscene or vulgar." Later, the state said the plate was rejected because it was "not in good taste," and could distract other drivers or possibly lead to confrontations.
Not one for taking no for an answer, Hart launched a lawsuit against the Kentucky Division of Motor Vehicles – and yesterday it was reported that he'd won his case in a federal court.
US District Judge Gregory Van Tatenhove from the Eastern District of Kentucky found the state Transportation Cabinet violated the First Amendment when it denied Hart's special plate.
He ruled that vanity plates are private speech protected by the First Amendment, thus allowing Hart to display the plate.
The judge said:
The commonwealth does not allow drivers to say anything they want with a license plate message. That's fine, but the First Amendment also imposes limits on the commonwealth.
State law prohibits plates discriminating against any religion or promoting any specific faith, religion or anti-religion. But in denying Hart's plate, Transportation Cabinet employees, the judge said, relied solely:
On their own common sense of what would be religious or anti-religious or not.
Other "God" plates such as GODLVS, TRYGOD, 1GOD, and  NOGOD have been approved, according to court documents.
The American Civil Liberties Union and Freedom From Religion Foundation filed the lawsuit on Hart's behalf.
Corey Shapiro, ACLU of Kentucky Legal Director, said.
Today's ruling makes clear that Mr. Hart's personalized plate request was denied based on reasons that violate the First Amendment of the United States Constitution. In light of the court's ruling, we expect the Transportation Cabinet's license plate review process will respect the First Amendment moving forward.
Hart is a member of both the FFRF and ACLU of Kentucky. Although raised in a religious family, he began to question religion as a child and now identifies as an atheist.
I'm thankful to finally have the same opportunity to select a personal message for my license plate just as any other driver. There is nothing inappropriate about my view that religious beliefs are subject to individual interpretation.
Hart is a postal service retiree who lives in Kenton County, which has a population of 165,410 – and 81 churches.