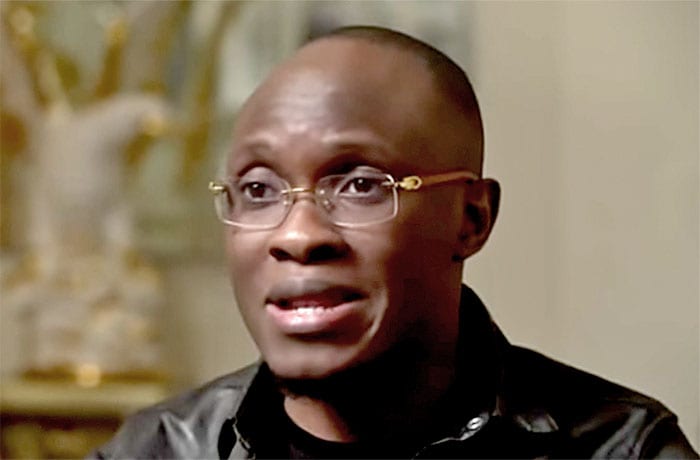 A LONDON church called Salvation Proclaimers Anointed Church (SPAC) described here as being 'a cult' headed by flamboyant pastor Tobi Adegboyega, above, is facing accusations of financial exploitation of its members.
Nigerian-born Adegboyega, 38, lives in a wealthy stockbroker belt in Surrey, wears expensive clothes and has a fleet of luxury cars including a £150,000 Rolls Royce and at least two Range Rovers – and is an ardent supporter of Tory leader Boris Johnson.
Complaints of noisy parties hosted by the self-proclaimed pastor prompted Adegboyega to accuse his neighbours of being "racist."
SPAC Nation has been praised by government ministers for its programmes bringing young people out of a life of crime, but an investigation by the Huffington Post claims some pastors at the church have been targeting vulnerable people and asking them to take out loans of up to £5,000 which are then invested in crypto-currency.
The HuffPost UK investigation found evidence that some pastors at the church – whose leader was pictured in the second row for Boris Johnson's speech at this year's Conservative Party conference – have pressured the young people they supposedly help into taking out loans of up to £5,000.
Once these loans arrive in their bank accounts, the congregation member is asked to transfer the money to the SPAC Nation pastor, sometimes on the basis that the clergymen will set them up as "crypto-traders".
While young people are left in debt, SPAC Nation's pastors put on an extravagant show of wealth – flashing rolls of £50 notes, buying Rolex watches, driving Lamborghinis and other sports cars, buying Louboutin shoes and hosting cash giveaways to tempt more youngsters in.
Toye-Mary Sofidiya, who lives in east London was one of several former members of the church to speak with the online news site. She said:
I feel like I was targeted. I feel like they took advantage of me. I feel like I was deceived, lied to because they knew I trusted them.
Responding in the Huffington Post report, Daniel Ogoloma, a spokesman for SPAC Nation, said:
We see it as an intentional smear campaign also based on gossip. SPAC Nation has never and will never coerce anyone.

We have given to many, we have helped countless people, which we will keep doing and will always focus on doing so.
The report states that all the pastors mentioned by the former members deny the allegations.
Christian site Premier has contacted SPAC Nation for further comment.
Curiously, according to the Charity Commission, Salvation Proclaimers Anointed Church was registered in 2007, but removed from the CC register in 2009 because it no longer operates.