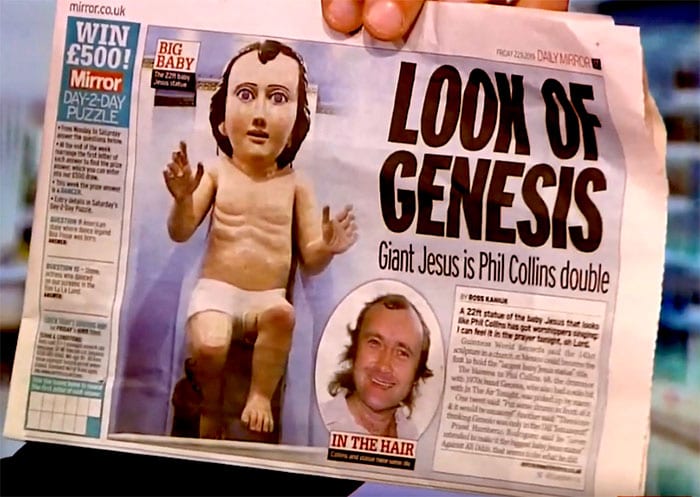 THE  La EpifanÍa del Señor Church in the central Mexican state of Zacatecas made international headlines this week after people spotted that a newly-minted, almost 22-foot-tall statue of the baby Jesus looks a lot like British singer Phil Collins.
The statue, weighing in a 2,000 pound traveled 12 hours from the city of Chimalhuacán, where it was built for the church, according to the New York Post.
The Rev Humberto Rodriguez said he commissiond the statue that would "fit the church" but had nothing to say about the statue's resemblance to Collins, the Genesis frontman and drummer who sported a similar front hair tuft in the mid-1980s.
Today, the 68-year-old Collins is bald  – but still has those big baby blues.
Collins' reps did not immediately reply to The Post's request for comment about this massive – albeit accidental – honour.
Sculptor Roman Salvador says his artwork is made of fiberglass, resin, automotive paste and automotive paint.
Upon its completion, the church began investigating the sizes of other baby Jesus statues around the world and found that the previous record-holder was just 16 feet tall and 661 pounds.
Rodriguez says he's contacted Guinness World Records to confirm their new record-beater.
If the submission is approved, La EpifanÍa del Señor will be the first title-holder for "largest baby Jesus statue," Guinness told  The Post in an email.
The Guinness record-holder for tallest statue of Jesus Christ is Christ the King. It measures 120 feet tall and is located in Swiebodzin, Poland. It was completed on November 6, 2010.
Hat tip: BarrieJohn