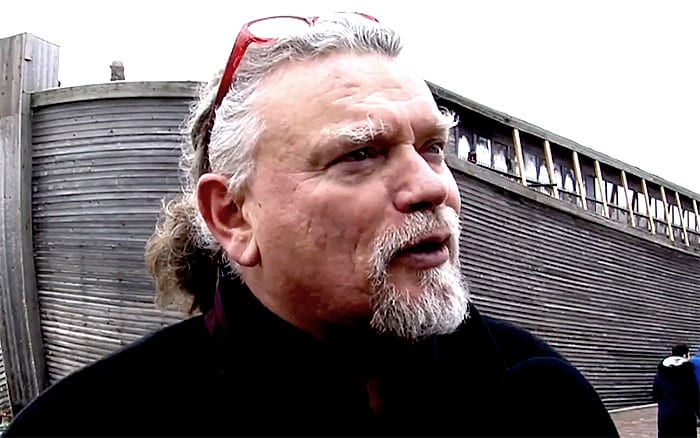 AAD Peters, a Dutch artist, acquired a 'replica' Noah's Ark in 2010 – one that actually floats.
To the delight of those who like this sort of thing, he had the 70-ft Bible museum towed to the Norfolk town of Ipswich this week in the hope it will ease tensions between Brits who want to remain in the European Union and those who want to get the the hell out.
How will the ark  reconcile leavers and remainers and guide the process through exceedingly choppy waters?
Peters explained:
I thought that we have to go to England because I want to make a statement that you guys are not alone. We're here as friends, as brothers, and the Ark is also a sign of hope."

What makes me sad about England is the mistrust which creates all the discussions. You don't see each other anymore. You get into 'this one on this side' and 'that guy and that side'. We have the story here on the ark from King Solomon and I always believe that if the Bible doesn't give a picture to you today, why should I read the Bible?

Peters said the story of Solomon threatening to kill a baby in order to find out who the baby's true mother was, found in 1 Kings 3, is a challenge to today's remainers and leavers to simply get along with each other as well as the rest of Europe.

In the Brexit stuff, don't forget to love each other, don't forget to see each other because you might 'kill the baby'. That Bible story is an amazing story, even in this complication of England or the relationship between each other.

I'm not saying I'm for or against Brexit, I don't care it's up to you guys, but I care if you don't see each other anymore and then we kill the love.
The ark was meant to visit Germany but made a last minute change of direction to England, explained Peters.
According to this report, the ark was built in 2010 by carpenter and evangelist Johan Huibers, and man only marginally less deranged than Ken Ham. It's is built to "half the size of the specifications in the Bible", and proved a tricky task to transport to the UK
Peters said:
This is the only floating ark in the world and it is extremely beautiful – but more than that it is an opportunity to bring people together and simply discuss life.
The thing has  previously been to Germany, Denmark and Norway.
Local businessman Kevin Barber said:
This is a great opportunity show how aspirational Ipswich is as a town. Not only will it help our community, it will also help our local economy which is a fantastic thing.
Adult tickets are priced at £16.50, with children between four and 14 at £9.50 and discounts available for family tickets. A further 20% discount is available on Mondays.
The ark is set to remain at its spot at Orwell Quay for three months.