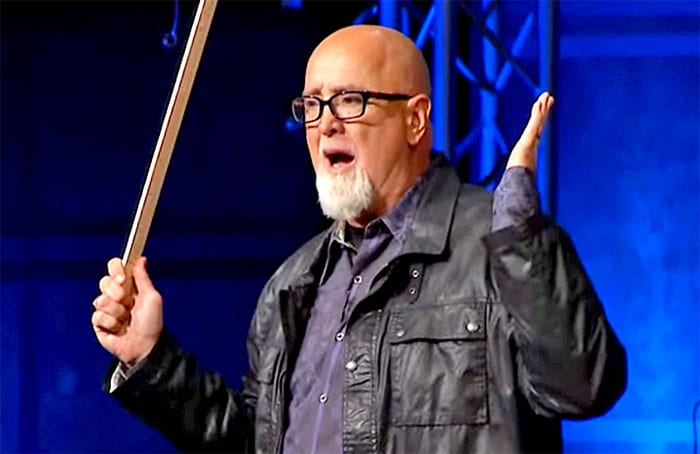 EVANGELICAL pastors, by and large, are thoroughly nasty creatures, but James MacDonald, above, formerly of the megachurch Harvest Chapel, is in a league of his own.
MacDonald was sacked from the church at the beginning of the 2019 for making "crude threats" against certain individuals, bullying and alleged financial mismanagement, but what really showed up his despicable nature was a recording of the pastor  discussing putting kiddie porn on a fellow Christian's computer.
Back in February, blogger and journalist Julie Roys wrote:
I never thought I would hear an evangelical, mega-church pastor talk about planting child pornography on the computer of an executive at a Christian publication. But today, Chicago radio personality Mancow Muller played shocking clips of someone sounding exactly like Harvest Bible Chapel Pastor James MacDonald discussing putting child porn on the computer of Christianity Today CEO Harold Smith.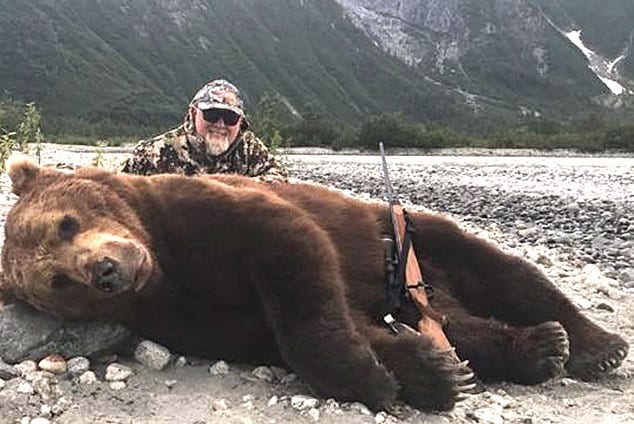 Today (Monday) Christian Headlines reported that MacDonald, who once complained that the church hadn't given him enough cash to kill a "high value animal",  has posted an apology on Facebook. The post, signed by he and his wife Kathy, said:
I was, am, and will remain very sorry for the careless and hurtful words that were illegally recorded and publicized. I immediately sent written apologies where appropriate, grieving what it revealed about the state of my heart at the time, as well as the hurt caused to those who trusted us to be a more consistent example of Christlikeness. I have no excuse and am truly sorry.
They continued in the lengthy response to confess:
A regression into sinful patterns of fleshly anger and self-pity that wounded co-workers and others.
And they conclude:
We look forward to more frequent communication with you as the Lord continues giving light to our next steps. Thank you for your interest and prayers.
Warmly in Christ our Savior, James and Kathy MacDonald.
Yuck!
But, according to Relevant Magazine, several of the people harmed by MacDonald have not received apologies.
Said Roys, who exposed many of the allegations against MacDonald:
I have not received one of these written apologies, though MacDonald mocked me repeatedly on the recording and joked about me having an affair with a Christianity Today editor. I also don't know of anyone else who's received one either, including the more than two dozen sources who went on the record with me with horrific stories about MacDonald.
MacDonald, who was a founder of Harvest Bible Chapel in Chicago, was sacked earlier this year for:
Engaging in conduct … contrary and harmful to the best interests of the church.
The church elders said in a February 13 statement:
It is with great sadness that we as the Elders of Harvest Bible Chapel wish to convey to you a very recent development that has caused us to take immediate action regarding our Senior Pastor, Dr. James MacDonald.

Following a lengthy season of review, reflection, and prayerful discussion, the Elders of Harvest Bible Chapel had determined that Pastor MacDonald should be removed from his role of Senior Pastor. That timeline accelerated, when on Tuesday morning highly inappropriate recorded comments made by Pastor MacDonald were given to media and reported. 

Given that and other conduct under consideration, in accordance with the procedures in our Bylaws, Pastor MacDonald was removed as Senior Pastor and as an Elder of the church for engaging in conduct that the Elders believe is contrary and harmful to the best interests of the church. His employment has been terminated from Harvest Bible Chapel, effective today, February 12, 2019. 

This decision was made with heavy hearts and much time spent in earnest prayer, followed by input from various trusted outside advisors.

Our Elders and Staff are committed to fulfilling our fiduciary duty as the leadership of this congregation, knowing that at times the outcome may be misunderstood or emotionally painful. A more detailed communication regarding next steps for our church will take place in our weekend services.

We sincerely thank you for your prayers, your support, and your patience as we work together to restore a trust in leadership, a humility to surrender to biblical authority, and a firm resolve to move forward as a church family. Please continue to uphold our church, the Elder Board, staff, and the MacDonald family in prayer at this time.