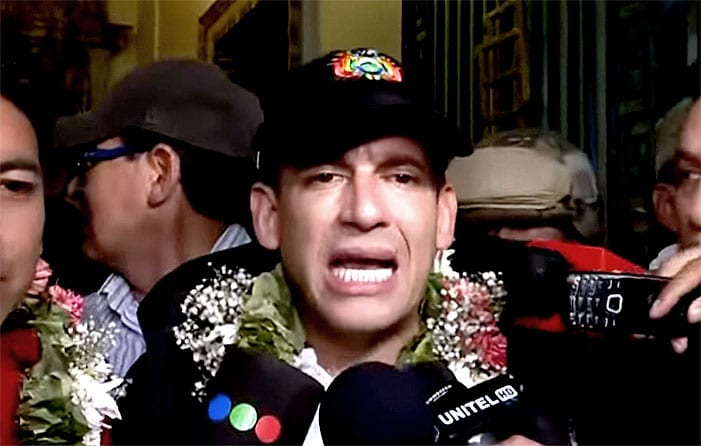 AMERICA hates successful, progressive left-of-centre democracies, so it comes as no surprise that Trump's administration was delighted when Bolivia fell into the hands of Christian fascist Luis Fernando Camacho, above, at the weekend, and the country's deposed President Evo Morales sought asylum in Mexico.
According to the BBC, Trump described Morales's forced resignation as:
A significant moment for democracy in the Western Hemisphere.
This, according to The Grayzone, is what brought great joy to Trump:
Bolivian coup leader Luis Fernando Camacho is a far-right multi-millionaire who arose from fascist movements in the Santa Cruz region, where the US has encouraged separatism. He has courted support from Colombia, Brazil, and the Venezuelan opposition.
When Luis Fernando Camacho stormed into Bolivia's abandoned presidential palace in the hours after President Evo Morales's sudden November 10 resignation, he revealed to the world a side of the country that stood at stark odds with the plurinational spirit its deposed socialist and Indigenous leader had put forward.
With a Bible in one hand and a national flag in the other, Camacho bowed his head in prayer above the presidential seal, fulfilling his vow to purge his country's Native heritage from government and "return God to the burned palace."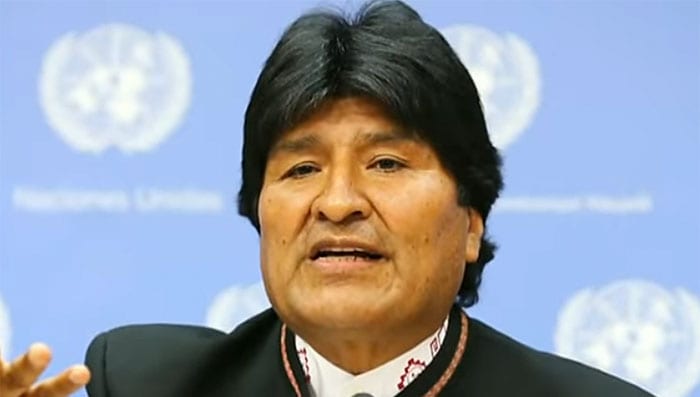 Earlier, in an official White House statement, Trump said:
The resignation yesterday of Bolivian President Evo Morales is a significant moment for democracy in the Western Hemisphere. After nearly 14 years and his recent attempt to override the Bolivian constitution and the will of the people, Morales's departure preserves democracy and paves the way for the Bolivian people to have their voices heard.

The United States applauds the Bolivian people for demanding freedom and the Bolivian military for abiding by its oath to protect not just a single person, but Bolivia's constitution. These events send a strong signal to the illegitimate regimes in Venezuela and Nicaragua that democracy and the will of the people will always prevail. We are now one step closer to a completely democratic, prosperous, and free Western Hemisphere.
According to The Canary,
Morales was the first member of Bolivia's large indigenous population to become president, and he remains deeply popular among many Bolivians. While no government is perfect, many people considered Morales's administration to be the "most successful" left-of-centre government in Latin America – and perhaps even the world.

As The Canary previously reported, his government lifted "millions of people out of poverty" and oversaw very impressive economic growth despite "deep economic crises and an economic slowdown elsewhere in Latin America". For these reasons, Bolivians recently re-elected his government (though with a reduced majority). [UK Labour leader] Corbyn congratulated Morales on his victory and praised his government's achievements.

Morales believed in using Bolivia's natural resources to benefit its inhabitants rather than powerful corporations.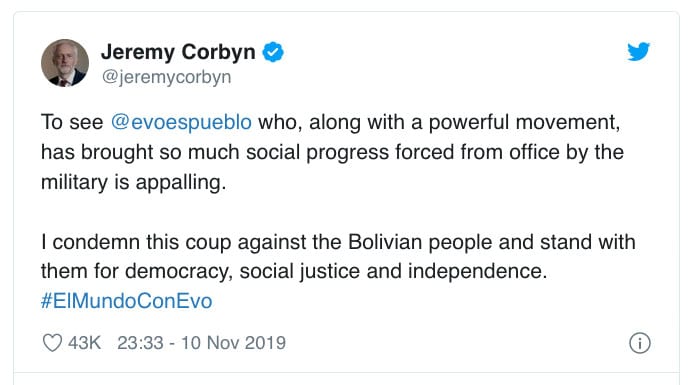 In July this year, Telesur reported that, through state-led investments, Bolivia was making large strides in industrialising the country's natural resources, namely lithium.
Bolivian officials said the state has the reserves and capacity to produce up to 400,000 lithium batteries per year. The announcement signals a departure from the country's exportation of raw materials and the industrialization for the international market …
However, Bolivia's leftist government under President Evo Morales is not simply exporting the raw material to the global north for high-end manufacturing, as has been the case throughout much of the colonized Latin American region for decades. Morales's administration is determined to industrialize Bolivia and has invested huge amounts to ensure that lithium is processed within the country to export it only in value-added form, such as in batteries.
Evo has also turned around the nation's natural gas industry that used to export the raw material and import refined gas for cooking and heating. Since Morales took office in 2006, the now state-owned YPFB exports refined gas to Argentina, Peru and Paraguay, meaning far larger revenues for the public purse.
"Bolivia is now the fastest growing country in the region, has political, economic and social stability for almost a decade and … has the political will to continue growing and developing its productive base using the Bolivian economic model," La Resistencia said.
I have been scouring religious websites for to see whether Christian commentators are as delighted as Trump is over the coup, but so far without success. Even far-right Christian site LifeSiteNews, which, in 2017, blasted Bolivia for legalising "abortion on demand for teenage girls", says nothing about the coup. Strange because, according to this Telesur report (Spanish):
Everything Camacho does has a strong religious bond: he mentions God in all his appearances, took the Bible to the Government Palace … On October 4, he gathered his followers at the foot of the Christ the Redeemer in Santa Cruz, and then published a video on social networks.

Julio Cordova, a Bolivian sociologist specialising in evangelical movements, said Camacho "legitimizes his authoritarian stance with the religious discourse in the style of (Jair) Bolsonaro."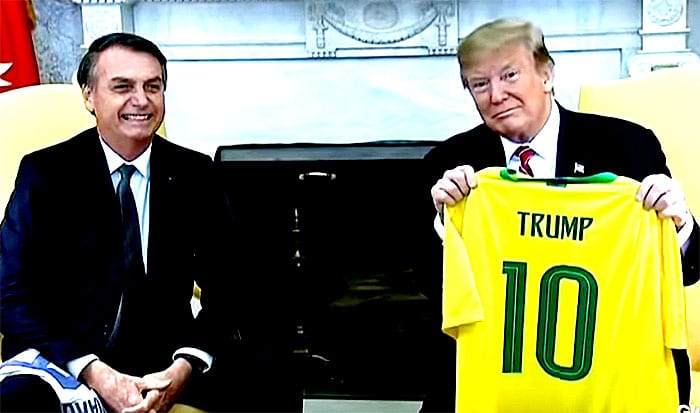 Trump, of course, is a great admirer of Brazil's crazy Christian President Bolsonaro. In a meeting with Trump earlier this year, Bolsonaro said:
Brazil and the United States are tied by the guarantee of liberty, respect for the traditional family, the fear of God our creator, against gender identity, political correctness and fake news.