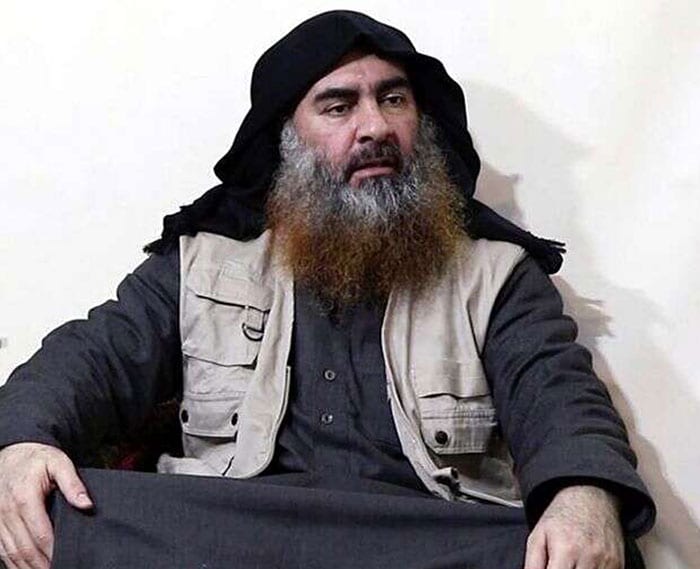 FRANKLY I was sickened and appalled when I heard President Trump's ghoulish description of the death last month of Isis leader Abu Bakr al-Baghdadi, above.

After hearing him gleefully announcing that the terrorist was "whimpering and crying and screaming all the way" to his death I wondered how his lengthy and fantastical account of al-Baghdadi's played out with his many evangelical supporters.
There wasn't much to find. The Christian Post gave the reaction of four religious leaders to the death, but not to Trump sounding like a triumphant playground bully, puffed up with self-aggrandisement.
Evangelist Franklin was delighted:
I am very thankful to God for all those involved in this raid and that none of our troops were killed.
Shane Claiborne, progressive Christian author and activist, was critical of the reaction to the death. He took to his Twitter to quote a 2012 tweet from Donald Trump, in which Trump criticised then President Barack Obama for allegedly taking too much credit for the killing of Osama bin Laden.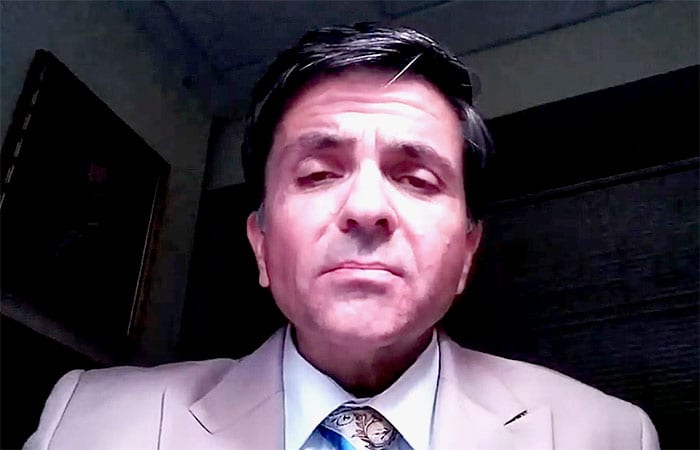 Mark Tooley, above, President of the theologically conservative Institute on Religion & Democracy, argued in Providence Magazine that celebrations over the ISIS leader's death were justifiable – and he slammed Christian pacifists.
Should we celebrate their deaths? To the extent their deaths were righteously executed, satisfy justice, and provide for public order, preventing their further crimes, and perhaps deterring imitators, yes.

In the case of Baghdadi and bin Laden, the government of the United States, with its unique powers, achieved precisely that for which God chiefly ordains government. Christians rightly celebrate when God's will prevails on earth.
Andrew T Walker, Director of Research and Senior Fellow in Christian ethics at the Ethics & Religious Liberty Commission of the Southern Baptist Convention, approved of the action. In a post to his Twitter account, the Southern Baptist Theological Seminary professor cited Scripture as a justification for what happened.
A reminder that government is at its most fulfilled purpose when it is doing, quite literally, what its basic and primary calling is – Noahic preservative justice: 'For rulers are not a terror to good conduct, but to bad.' Romans 13:3.
How, I wonder, will religious leaders now react to news that Trump's gloating account of the terrorist's death was by all accounts pure fantasy. The Independent yesterday reported that:
In the days since President Donald Trump gave the world a graphic account of Abu Bakr al-Baghdadi's last minutes, no evidence has emerged to confirm it. The secretary of defence, the chairman of the joint chiefs of staff and the regional commander who oversaw the operation that killed the leader of Isis all say they have no idea what the president was talking about.
Four other Defence Department officials, speaking on condition of anonymity because they were not authorised to share details of the raid, said they had seen no after-action reports, situation reports or other communications that support Mr Trump's claim. Nor did they have any indication that Mr Trump spoke with any of the Delta Force commandos or ground commanders in the hours between the Saturday night raid and his Sunday morning televised announcement.
One American official who is deeply familiar with the operation dismissed the president's version of events as mere grandstanding. Another senior official briefed extensively on the mission said, "I don't know how he would know that. It sounds like something he made up." The surveillance drone video Mr Trump watched in the Situation Room had no audio.
The Independent'
s reporters Peter Baker and Eric Schmitt added:
That Mr Trump seems to have made up the scene of a whimpering terrorist may be shocking on one level yet not all that surprising from a president who over the years has made a habit of inventing people who do not exist and events that did not happen. Mr Trump's flexibility with fact has become such an established feature of his presidency that polls show most Americans, including even many of his own supporters, do not, as a rule, take him at his word.
What may be most telling about the episode is how little attention it received. In the past, presidential words were scrutinised in forensic detail for precision, and any variance from the established record could do lasting political damage. In the era of Trumpian truth, misstatements and lies are washed away by the next story, prompting Pinocchios from fact-checkers and scolding from Democrats and Never Trumpers while Republicans dismiss them with that's-just-Trump-being-Trump weariness.
Before it came to light that Trump had made up details of the mission, many commentators and political strategists were left deeply uncomfortable by the language he used.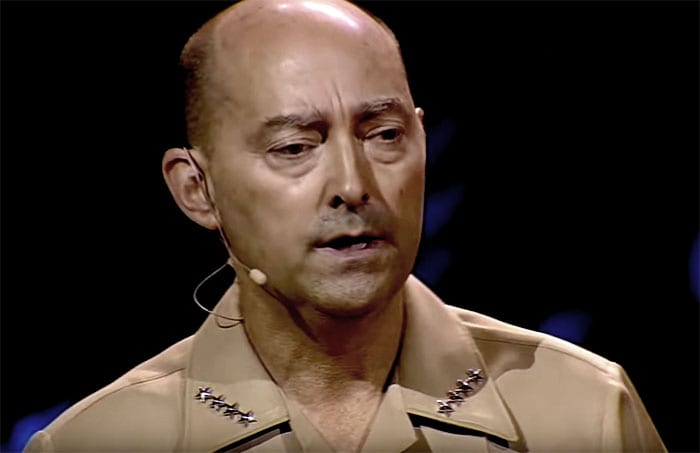 One, former US Navy admiral and NATO Supreme Allied Commander, James George Stavridis, above, called out Trump's "victory lap" as "counterproductive" because it "comes across as unprofessional." However, he pointed out that the "real problem" is that
It's motivational for the other side.
In particular, the use of the word "dog" was very troubling. In Islamic culture, dogs are considered unclean animals and are viewed to be scavengers. Calling al-Baghdadi a dog was especially inflammatory.
Stavridis concluded:
I think it will become a recruiting tool that the Islamic State uses on the Internet, and for the record, I'd say they're better than Donald Trump.
Trump claimed that he was better at using the Internet than terror groups.
They're very technically brilliant.  You know, they use the Internet better than almost anybody in the world, perhaps other than Donald Trump.  But they use the Internet incredibly well.
Stavridis then pointed out that Islamic terrorists are conducting "global operations", and:
They will use this footage to motivate their followers, to recruit more, it's really not how we want to play this.