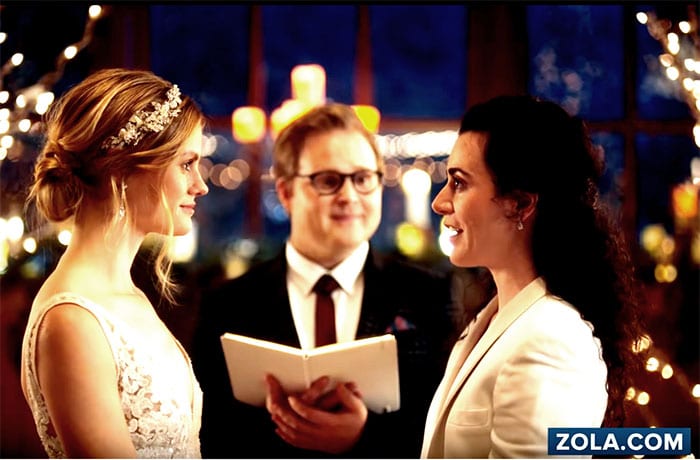 JUST days after US Christian hate group One Million Moms declared victory in their battle against the Hallmark Channel – sparked by the screening of Zola.com wedding planning ads that featured a lesbian couple – the channel yesterday (Sunday) reinstated the commercials.
The reinstatement came just after One Million Moms greeted the ban with the words "Praise the Lord!"
Commenting on the brief ban of the ads, Hallmark CEO Mike Perry said in a statement:
The Crown Media team has been agonizing over this decision as we've seen the hurt it has unintentionally caused. Said simply, they believe this was the wrong decision.

Hallmark will be working with GLAAD [Gay & Lesbian Alliance Against Defamation] to better represent the LGBTQ community across our portfolio of brands. The Hallmark Channel will be reaching out to Zola to reestablish our partnership and reinstate the commercials.
Perry also used the statement to apologise, saying:
Our mission is rooted in helping all people connect, celebrate traditions, and be inspired to capture meaningful moments in their lives. Anything that detracts from this purpose is not who we are. We are truly sorry for the hurt and disappointment this has caused.
It's unclear whether Zola will continue airing ads on the The Hallmark Channel, but they noted they are "relieved" by these recent updates.
Zola Chief Marketing Officer Mike Chi said:
We were deeply troubled when Hallmark rejected our commercials for featuring a lesbian couple celebrating their marriage, and are relieved to see that decision was reversed. We are humbled by everyone who showed support not only for Zola, but for all the LGBTQ couples and families who express their love on their wedding day, and every day.
Late last week, The Hallmark Channel removed multiple Zola ads showing a same-sex couple.
The ban was met with considerable backlash, including from TV host Ellen DeGeneres, who tweeted at The Hallmark Channel and Abbot:
What are you thinking? Please explain. We're all ears.
GLAAD Pesident and CEO Sarah Kate Ellis added:
The Hallmark Channel's decision to correct its mistake sends an important message to LGBTQ people and represents a major loss for fringe organizations, like One Million Moms, whose sole purpose is to hurt families like mine.

LGBTQ people are, and will continue to be a part of advertisements and family programming and that will never change. GLAAD exists to hold brands like The Hallmark Channel accountable when they make discriminatory decisions and to proactively ensure families of all kinds are represented in fair and accurate ways.
One Million Moms said of its campaign to ban the ads:
The Hallmark Channel has always been known for its family friendly movies. Even its commercials are usually safe for family viewing. But unfortunately, that is not the case anymore.
Recently, One Million Moms received concerns about Hallmark airing a commercial from Zola.com in which two lesbians are shown kissing at the end of their wedding ceremony. Similar concerns from regular viewers are posted on an online complaint board for the Hallmark Channel.
One viewer commented on the board:
"Why would you show a lesbian wedding commercial on the Hallmark Channel? Hallmark movies are family friendly, and you ruined it with the commercial."
Another viewer wrote:
"Our family was watching a wonderful Hallmark movie based on a true story. It was late, but our daughter was up late with us. During the commercial break, there was a commercial from Zola with two women lip locking! Please Hallmark … we are fed up with having the gay agenda crammed down our throats! You are one of the few channels we thought we would not have to deal with this issue! Please remove this and any other gay, lesbian, bisexual, or anything else it is called from your channels. … We love you but won't keep watching with this type of ads."
Hat tip: BarrieJohn