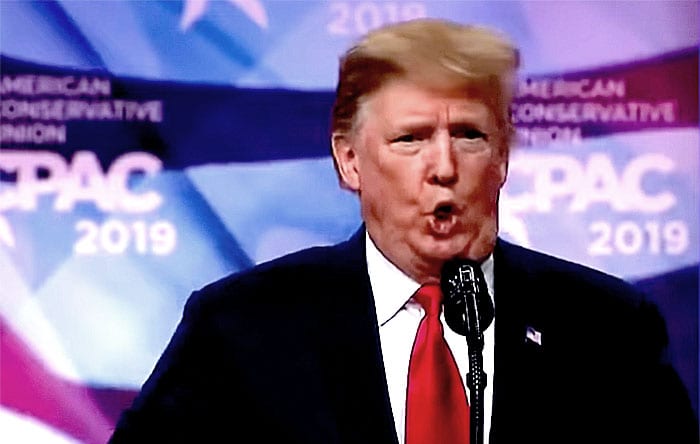 BACK in September 2019, Dr Chris Thurman wrote two op-eds for the The Globe Post. The first was entitled 'There's a Sociopath in the White House' and the second was headed 'Evangelicals Who Supported Trump to Gain Political Power Made Egregious Mistake'. The latter accused these evangelicals of 'making a deal with the devil'.
Evangelicals made a deal with the devil when they supported Trump. They promised to support Trump for president, even though they knew he is not a good person, in exchange for being dealt back into the political power game of determining the moral direction the country is headed. In doing so, evangelicals chose political power over Christian values.
Then, in a Facebook post on October 7, Thurman apologised for posting his op-eds on FB – and said he wouldn't do so again, at least for a while. He wrote:
I should have never allowed The Globe Post to title my op-ed in such a way that evangelicals were accused of having made a deal with the devil (literally or figuratively) to vote for Trump. I do not believe they did …
He added:
I can see now that my op-eds stirred up disunity in the body of Christ, something that we as Christians are never supposed to do. As the body of Christ, we are to be unified in loving and serving God and each other. My op-eds caused division and were hurtful to people that I deeply care about who deeply care about me. I apologize for causing disunity among my brothers and sisters in Christ and ask you to forgive me.
If his followers thought that would be the end of the matter and that Thurman would now shut the hell up they were dead wrong, for yesterday the Christian Post carried another of his op-eds – and this one's a real doozy!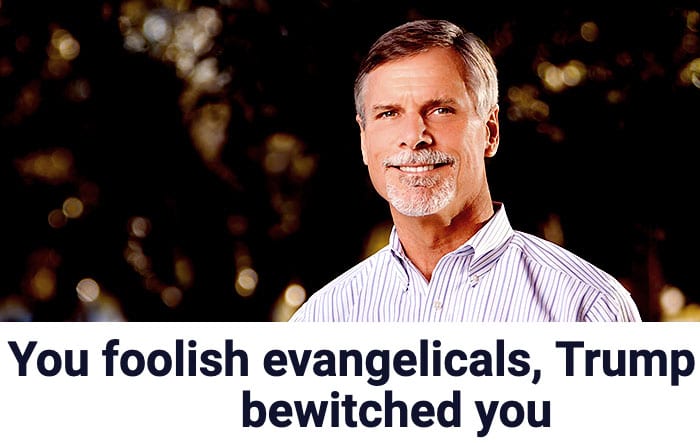 In it he says:
I believe evangelicals who support Donald Trump are being both blind and foolish to do so and that labeling them as such is not sinful but appropriate and necessary. By support, I'm not referring to evangelicals who voted for Trump in 2016. I'm referring to those evangelicals who continue to hold Trump up as a great leader, say he is God's chosen one for the presidency, applaud his appalling words and actions, ignore his glaring moral defects, and enable his dangerous presidency to continue by giving him their time, talents, and treasures.

As a Christian, I don't have much hope that evangelicals who enthusiastically support Trump will have ears to hear what I say in this piece. My personal interactions with enthusiastic Trump-supporting evangelicals have, in general, been unpleasant and involved very little willingness to 'Come now, let us reason together' (Isaiah 1:18). Nevertheless, I feel prompted to comply with two verses in Scripture, 'speaking the truth in love' (Ephesians 4:15) and 'If your brother or sister sins, go and point out their fault' (Matthew 18:15) when it comes to this matter.

He then identified the "Four Evangelical Enablers of the Trumpocalypse" as, from left, Ralph Reed, former head of the Christian Coalition and founder and chairman of the Faith and Freedom Coalition, Jerry Falwell Jr, President of Liberty University, Franklin Graham, President and CEO of Samaritan's Purse and The Billy Graham Evangelistic Association, Vice President Mike Pence.
Ralph, Jerry, Franklin, and Mike, my brothers in Christ, I believe you are being blind and foolish to support Trump. From my perspective, you are significantly misaligned with what Scripture says about how we as Christians are supposed to deal with someone like our current president. You got 'bewitched' by an exploitative, pathologically lying snake oil salesman, and your unrestrained support of Trump has not only turned off untold numbers of non-believers to the cause of Christ but brought great dishonor on Christianity.
Thurman then asks:
Is Trump Morally Ill Beyond Normal Standards of Human Decency? The simple answer is yes. Given how narcissistic and sociopathic Trump is, he fundamentally doesn't believe that the rules of moral behavior or social norms apply to him. That is the primary reason he has spent his adult life breaking one biblical commandment, federal law, and social norm after another. As much as people hoped Trump would take a turn for the better after becoming president, he has only grown more mentally and morally disturbed and defiant since assuming the powers of the presidency …

Trump is an incredibly arrogant person. Perhaps the most arrogant statement he ever uttered during his run for office was 'I alone can fix it' when referring to our country's many problems. Trump has said he is 'the chosen one,' done more in a shorter period of time than any other president, 'so great looking and smart, a true Stable Genius' and someone who knows more than anyone else about technology, money, taxes, ISIS, campaign finance, renewables, courts, steelworkers, real estate, construction, banks, trade, nuclear weapons, lawsuits and a myriad of other topics than those who are experts in these areas.

There is very little, if anything, that is humble about Trump. When questioned about whether or not he had ever asked God for forgiveness, Trump said he didn't think he had because he hadn't done anything bad enough to warrant God's forgiveness.

Another core aspect of Trump's moral pathology is his lack of compassion and empathy for other people's emotional pain and suffering. Examples of his lack of empathy for the feelings of others are too numerous to go into here but certainly include his abusive verbal attacks on people who disagree with him, his cold-heartedness about ripping children out their parent's arms at our southern border, and telling the wife of a soldier who was killed in battle that her husband knew what he had signed up for in becoming a soldier.
Thurman ends his VERY lengthy op-ed by quoting from one of the mental health professionals who contributed to The Dangerous Case of Donald Trump, psychologist John Gartner.
This is one of many of the statements in the book that evangelicals would be wise to listen to and act on: 'Trump is a profoundly evil man exhibiting malignant narcissism. His worsening hypomania is making him increasingly more irrational, grandiose, paranoid, aggressive, irritable, and impulsive. Trump is bad, mad, and getting worse. He evinces the most destructive and dangerous collection of psychiatric symptoms possible for a leader. The worst-case scenario is now our reality.'