MANY Christian HATE being reminded that Christmas was stolen from the pagans, and has bugger all to do with the birth of Jesus.
So when Franciscans International, a human rights group formed by various Franciscan orders, distributed a festive greetings card that depicted the naked Andean earth-goddess "Pachamama" alongside the "Blessed Virgin Mary", rumblings of discontent were bound to follow – and at least one "concerned Catholic" blasted off an email to FI Executive Director Fr Markus Heinze OFM, complaining of "sacrilege."
LifeSiteNews, which came into possession of the email, reported that Heinze brushed off the complaint by saying:
Regarding your accusation of the message of the Christmas Card, I don't want to go into details, I just don't understand why it you see it as a sacrilege to bring Mary together with the pagan symbol for mother earth while we are all used to put a donkey next to the newborn Jesus.

The donkey is the symbol for the pagans. And we do this because we believe that God came into our world in Jesus to meet all people including the pagans.

So the sacrilege is not to meet pagans, the sacrilege is when we don't meet them with respect as Christianity did in the past when they killed hundreds of thousands of indigenes and destroyed their land and culture.
Ouch!
Here's FI's original Christmas card: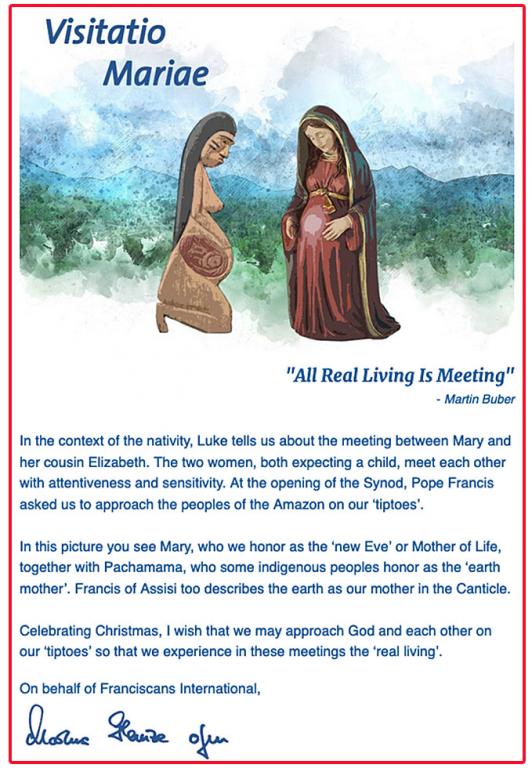 LSN
  seized on the complaint to remind its readers that Pope Francis blessed a Pachamama statue at an October 4 tree-planting ritual in the Vatican gardens kicking off the Amazon Synod. Several Pachamama statues were then displayed inside Santa Maria in Traspontina church near the Vatican.
This prompted 26-year-old Austrian Catholic vandal Alexander Tschugguel to remove them and toss them in the River Tiber.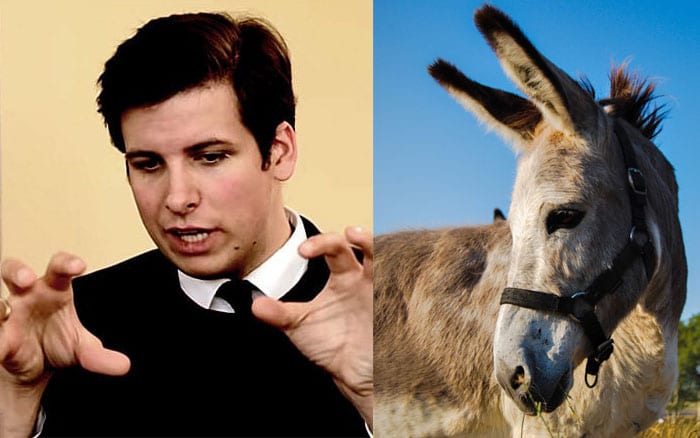 The later issued a statement in which he apologised as "Bishop of Rome" for the removal of the "statues of the Pachamama" from the church. He claimed that they were there "without idolatrous intentions."
Archbishop Carlo Maria Viganò then joined more than 100 other prominent Catholics in calling on Pope Francis to repent for his participation in the pagan ritual.
Meanwhile, in his Christmas message to readers, LSN's head honcho, John-Henry Westen, trotted out this nauseating old baloney:
Christmas is such a holy time, a time to celebrate the birth of the Messiah into the world. To kneel with the shepherds at the sight of the new-born babe and adore him in a manger wrapped in swaddling clothes recognizing Him as God and our King our Lord and Saviour despite His weak and frail appearance. We look to His Holy Mother as She cradles Him in a love beyond all telling and take Her example in giving our all to Christ whatever the cost.