TWO years ago Germany's bishops' conference 'expressed regret' over the country's decision to allow same-sex marriage – and it vowed to defend the 'Catholic understanding of marriage.'
But last week, in a move that sent Catholic traditionalists into a tailspin, the bishop's conference decided the Church's teachings need to be guided by science, rather than dogma – and that includes  a "reassessment" of its teaching on homosexuality and sexual morality in general, as well as the sacraments of ordination and marriage.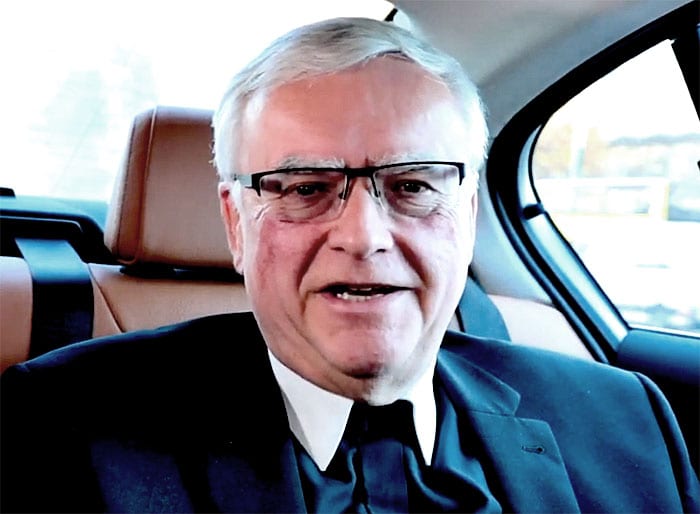 And Berlin's Archbishop Heiner Koch, above, Chairman of the Marriage and Family Commission of the German bishops' conference, went as far as to declare that the bishops had agreed that homosexuality is a "normal form" of human sexual identity.
The sexual preference of man expresses itself in puberty and assumes a hetero- or homosexual orientation. Both belong to the normal forms of sexual predisposition, which cannot or should be be changed with the help of a specific socialization.
Koch went on to insist that the Church must consider the latest scientific and theological insights on human sexuality.
According to a press release issued by the bishops, there was also discussion on whether the prohibition of homosexual acts by the Church's magisterium was "still up-to-date" – and whether artificial contraception should still be condemned by the Church for "both married and unmarried" couples.
The results of the "expert consultation" in Berlin will be fed into a two-year "Synodal Process" through the synodal forum on "Life in Successful Relationships – Living Love in Sexuality and Partnership",  which will begin its work in February 2020.
Koch, together with diocesan bishops Franz-Josef Bode of Osnabrück, Bishop Wolfgang Ipolt of Görlitz, Bishop Peter Kohlgraf of Mainz, as well as several auxiliary bishops from the Faith and Family Commission of the bishops' conference consulted with a number of invited medical specialists, theologians and canon lawyers during the event.
Calling for a "solid discussion supported by human sciences and theology" Koch and Bode said that Amoris Laetitia already provides for noticeable "developments" of both Church doctrine and practice, adding that a sexual relationship for divorced and remarried couples after Amoris laetitia "was no longer always to be qualified as grave sin," and that wholesale "exclusion from the reception of the Eucharist" of such couples could no longer be justified.
Koch said that the "Synodal Process" should must begin from an "unbiased" position on the Church's teaching and without fixed points of view, but rather an openness to taking into account "latest scientific insights".
All participants, according to Koch, agreed that "human sexuality encompasses a dimension of lust, of procreation, and of relationships. And since sexual orientation was to be considered unchangeable "any form of discrimination of persons with a homosexual orientation" was to be rejected, as was "explicitly stressed by Pope Francis" in Amoris laetitia.
Normally, when stories like these break, my first port of call to assess the degree of horror they generate is to visit Bill Donohue's Catholic League. But either he's not caught up with the German report, or has been stunned into silence. A search of his site for Archbishop Heiner Koch yields nothing.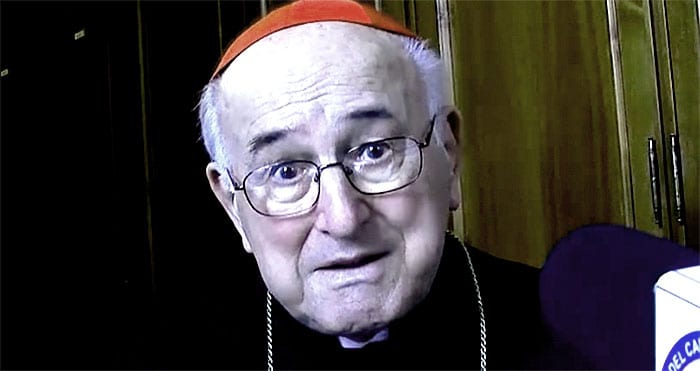 However, LifeSiteNews did find someone willing to condemn Koch and his crew: Cardinal Walter Brandmüller, above, who said the Catholic Church in Germany was going down the tubes.
A President Emeritus of the Pontifical Committee for Historical Sciences, Brandmüller warned that proceeding down this  path – one that  questions the Church's teachings on the celibate, male priesthood; homosexuality; and marriage – could lead to a "national church" without "nearly any ties to Rome."
The dubia cardinal stated that this would be "certainly be the surest path into the final decline" of the German Church.
One the other hand, Robert Shine of New Ways Ministry, wrote:
The Synodal Way could have ramifications not only for the German church, but for the universal one. While the outcomes of this two-year process cannot, and according to Archbishop Koch, should not be pre-determined, German Catholics could see significant developments.

If those participating truly listen to and learn from how the sciences understand human sexuality and relationships today, they can then incorporate such findings into theological reflection and pastoral practice, what could emerge as a groundbreaking moment for Catholic LGBTQ issues.
Hat tip: BarrieJohn