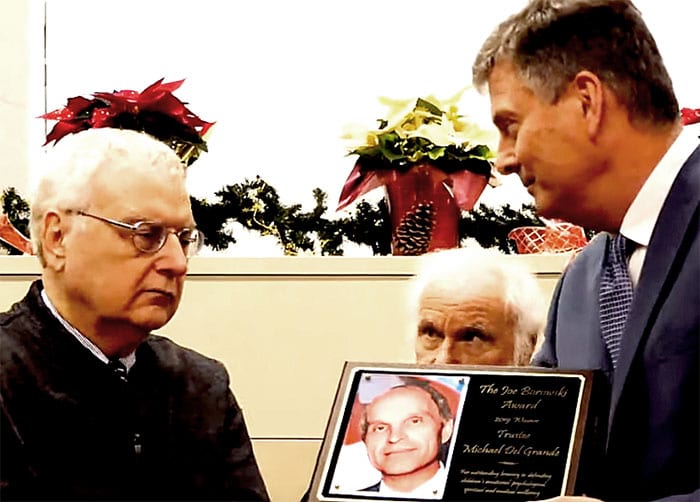 FOR using words like 'paedophilia', 'cannibalism' and 'vampirism' in a discussion about LGBT issues in education, Canadian Michael Del Grande, above left, has earned himself an award from 'family values' group, the Campaign Life Coalition.
Who is this imbecile?
Del Grande is a Toronto Catholic District School Board (TCDSB) trustee who made the comments toward the end of a six-hour meeting on November 7 where trustees eventually voted to amend the board's code of conduct to include broader protections for LGBT+ students.
Del Grand's reaction to the vote was to move an amendment at the meeting asking for other terms to be added to that list, including bestiality, pedophilia, cannibalism, auto-erotic asphyxiation and "auto-vampirism."
I'd like all these terms to be considered — after all, everybody's concerned [that] the right terms are used, it's important to have the terms.
Adding things like gender identity to the board's code of conduct amounts to a "slippery slope," Del Grande warned.
His mind-blowing display of hatred and bigotry caused an enormous outcry – but it pleased the Campaign Life Coalition to such a degree that it staged a ceremony to present the the despicable Catholic with something called the Joseph P Borowski Award.
The hate group said in a statement:
On Wednesday, December 18th, Campaign Life Coalition was pleased to award Toronto Catholic District School Board Trustee Michael Del Grande with the prestigious Joseph P. Borowski Award for his unwavering commitment to defending authentic Catholic teaching in separate schools, and 'for outstanding bravery in defending children's emotional, psychological, spiritual, and medical wellbeing.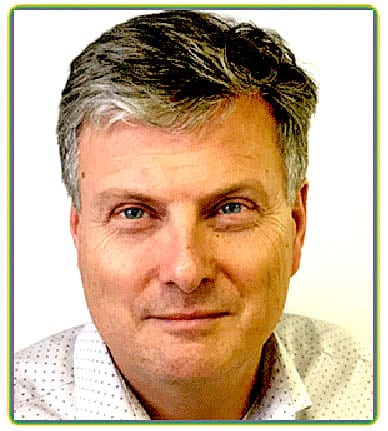 Said Jeff Gunnarson, President of CLC:
Out of all the recipients of the award in the past twenty years, there is no one more deserving than Michael Del Grande.

In the face of heretical opposition from Trustees Maria Rizzo and Markus de Domenico, who have been verbally bludgeoning Michael and distorting Catholic teaching, bringing division and scandal to the board; the onslaught of hit pieces by the media; and aggressive lobbying from the unions, Michael has stood firm in his obligation as a Catholic School Board Trustee to uphold the faith and to protect the 90,000 children enrolled in Toronto's Catholic schools. Thank you, Michael.
During the award ceremony at the Toronto office of Campaign Life Coalition with CLC staff, parents, and several clergy members from the Archdiocese of Toronto, Michael Del Grande was thanked for his courage in defending the faith and protecting children from gender ideology.
President Emeritus of Campaign Life Coalition Jim Hughes, who knew and worked with Joseph Borowski, applauded Michael for standing up for the Truth with integrity.
Said Jack Fonseca, Director of Political Operations for Campaign Life Coalition:
It is Campaign Life Coalition's duty to recognize the excellent service of Trustees like Michael Del Grande, and to continue to encourage him to stand up for the children. In the face of drive-by smears against Michael by anti-Catholic dissidents within the TCDSB and by the hostile media, we urge the Archdiocese of Toronto to join us in publicly supporting Michael, a 'good and faithful servant.'
The Joseph P. Borowski Award is presented to a politician who has demonstrated outstanding commitment to the cause of protecting human life and the family. Borowski was a Manitoba Cabinet Minister in Edward Schreyers' NDP government between 1969-1971, and an outspoken social conservative who did not compromise on his convictions. Following his political career, he was a pro-life spokesperson and activist.
After coming under fire, the Del Grande referred to his amendment as "hyperbole", saying in a interview with CBC News:
I wasn't serious about it. But where else does it end? Where else does it stop? … That was the point I was making.
Nicole Richard, who identifies herself online as a godmother to a transgender child who is enrolled in a TCDSB school, launched an online petition this week asking for Del Grande to be removed. Video of Del Grande's comments surfaced online again this week when she included a link in her petition.
The petition says:
In a shocking and out of touch display of unprofessional conduct, Mike Del Grande drew parallels between our LGBT+ youth and many horrible criminal acts, listing terms including but not limited to pedophilia, cannibalism and rape, requesting to add these terms (that are not protected under the The Code) to try to make an outrageous 'slippery slope' point.
When he was handed his award Del Grande insisted he would not stop denigrating gay people and transsexuals, even though he had been under "relentless attacks from the LGBT lobby and dissenting trustees" and was being "beat up".
I'm not going to lay down … I'm just doing what I've always been taught in my faith, [which] is to follow the cross.
Three Catholic priests present at the ceremony praised Del Grande for his stand.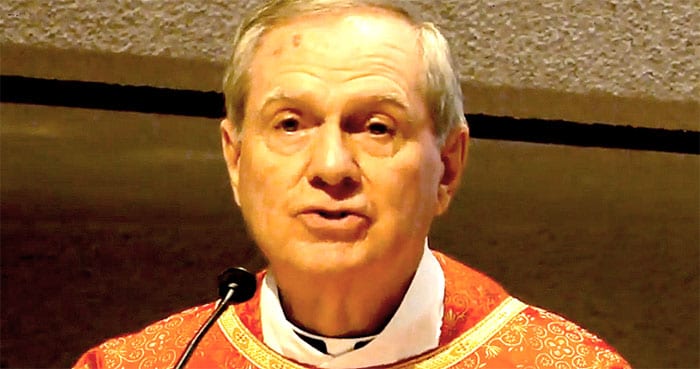 "God bless you, Michael," said Monsignor Ambrose Sheehy, above, chaplain of the Legion of Mary for the Toronto Archdiocese.
There comes a time when "we will have to stand up and publicly profess what we believe," said Sheehy, adding that "the noose is tightening" against those who defend Catholic morality.
That was echoed by Passionist missionary priest Fr Claudio Piccinini.
How does it happen that the Catholic school board can come up with something that is not Christian? Somebody explain it to me. If we fight the right battle, we know that we are going to win because we're not alone. Jesus is with us. The Holy Spirit is with us. We are talking about the Catholic Church here.
Hughes said:
We've been very careful about who we give the award to because they had to earn it. I can't think of any of those recipients that we've presented this award to over the years that's more deserving than Michael Del Grande.