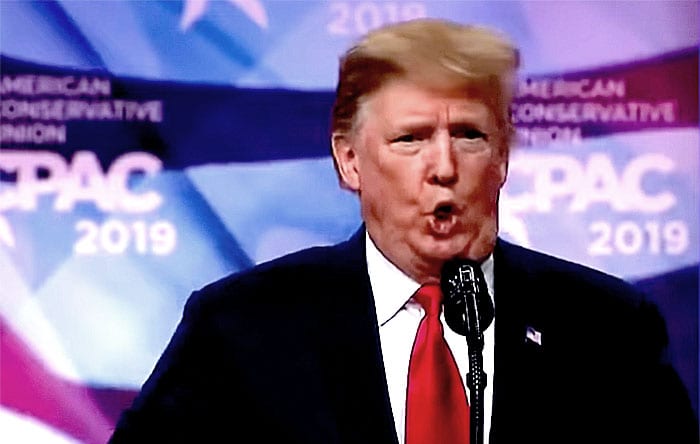 OUTRAGE has erupted among liberal American Jews in the wake of a New York Times report this week that President Trump plans to sign an executive order that will effectively classify Judaism as a race or nationality, not just a religion.
Trump's intention is introduce a federal law penalising colleges and universities deemed to be shirking their responsibility to foster an open climate for minority students. In recent years, the Boycott, Divestment and Sanctions – or BDS – movement against Israel has been active on some campuses, leaving some Jewish students feeling unwelcome or attacked.
According to Newsweek, Jewish groups have suggested the reported move is actually anti-Semitic, in that casts Jews as a separate nationality to all other Americans, and arguing it could stifle legitimate criticism of Israeli policies.
The Minnesota branch of the Jewish Community Action group described the Times report as "horrifying" on Facebook.
As American Jews, we will resist being defined as anything else. This is an empty, dishonest manipulation – the President wants to distract us from the truly violent white nationalism he has emboldened, and his own blatant antisemitism. We can't let it work.
The progressive Jewish If Not Now organisation said the reported executive order:
Is not about keeping Jews safe. It's just more antisemitism. The order defines Judaism as a 'nationality,' promoting the classically bigoted idea that American Jews are not, well, American.

Conflating criticism of the Israeli government with antisemitism is actually antisemitic because it implies that all Jews agree with, and are responsible for, Israel's actions.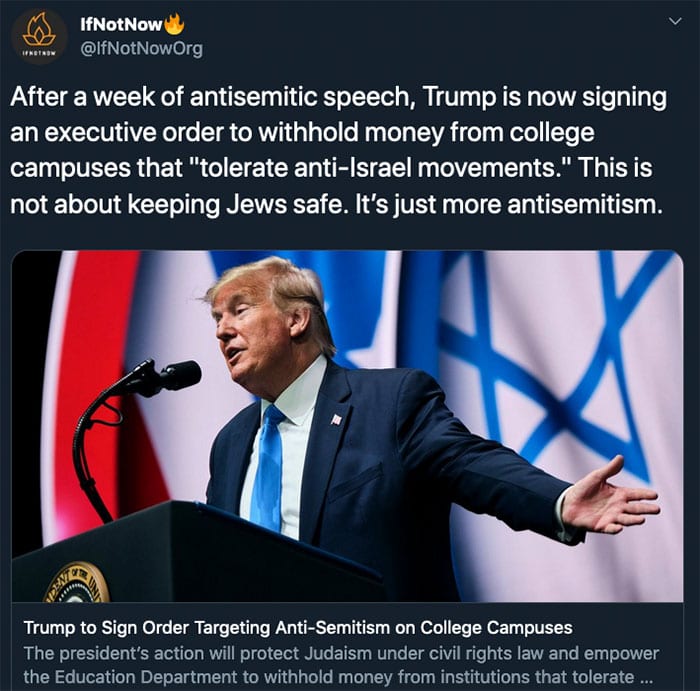 The liberal
J Street
group also condemned the reported executive order, with its President Jeremy Ben-Ami suggesting the move was about shutting down legitimate opposition to the White House and its far-right Israeli allies.
We feel it is misguided and harmful for the White House to unilaterally declare a broad range of nonviolent campus criticism of Israel to be anti-Semitic, especially at a time when the prime driver of anti-Semitism in this country is the xenophobic, white nationalist far-right.

It is particularly outrageous and absurd for President Trump to pretend to care about anti-Semitism during the same week in which he once again publicly spouted anti-Semitic tropes about Jews and money.
Last year J Street said in a statement:
At J Street, we strongly oppose anti-Semitism in all of its forms. We work to challenge ill-informed criticism of Israel and Zionism – including on college campuses, through the efforts of our student movement J Street U. We strongly believe that such criticisms can and must be treated as constitutionally-protected free speech – not banned and punished by Congress or the executive branch.

While we stand against the Global BDS movement, we also believe that labeling all critics of the Israel and BDS supporters as anti-Semites only undercuts advocacy for Israel and for peace. Pro-Israel students need space to freely engage with and respond to difficult issues and ideas on their campuses. They don't need Trump officials and university administrators to penalize students for their political opinions or to serve as the arbiters of what is acceptable debate.

We continue to urge Members of Congress and pro-Israel organizations not to support dangerous and misguided legislation that would hand further ammunition to the Trump administration for the suppression of free speech on campus – and that would do nothing to actually combat and reduce the real threat of anti-Semitism.
Hat tip: Antony Niall