TRUE story*: an American kid aged 4 is taken by his mum into a play area at branch of Chick-Fil-A before it abandoned its Christian values. There he loudly declared that Santa Claus and Jesus Christ aren't real. He compounds the offence by saying he is Jesus Christ! Mayhem ensues.

His mum wrote:
Chick-fil-A asked us not to return … I am apparently the lesbian mother of the second coming of Christ.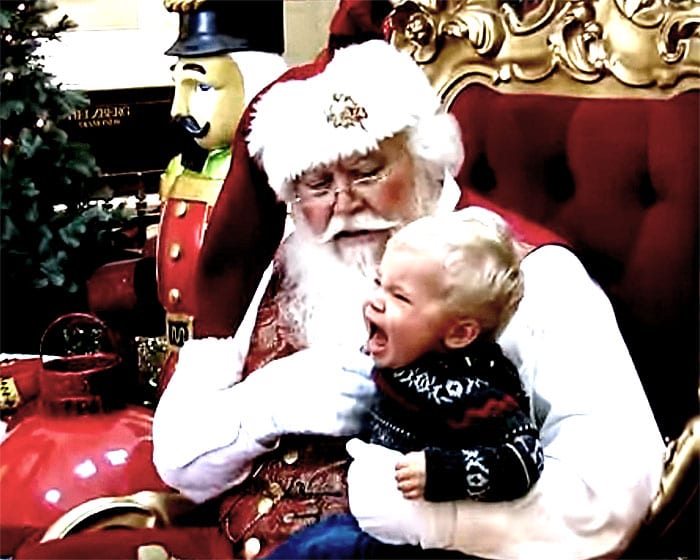 I was reminded of that incident when I learned today that Archbishop Sentamu School in Hull has been forced to apologise after its deputy head told pupils "there is no Father Christmas".
The comments were made during an assembly where pupils were asked to focus on Jesus this festive season instead of Santa
The deputy teacher is reported to have told pupils:
Christmas isn't a time for presents, parties or dinners. It is a time for remembering the baby Jesus and the miracle of his birth, because as we all know there is no Father Christmas.
The aunt of one boy is said to have been shocked:
He is only 11, and we were in the queue with his younger brother to meet Santa at a grotto, and he whispered to me that Father Christmas wasn't real. I asked him what he meant and who told him that, and he said a teacher had told all of the kids in assembly.

I didn't want to say anything too much at that time, because there were lots of children around, but he finally told me the whole story later on.
According to the woman, identified only as "Amy", her nephew had remained "tight-lipped and upset" by the teacher's comments, and he only spoke about what he heard days after the assembly.
He told me the teacher kept going on about Jesus, instead of Father Christmas, so I told him Christmas can be about whatever you want it to be.
I told him Father Christmas is magic and so is Jesus, and there's no reason you shouldn't be able to believe in both.

The school have no right to ruin the magic of Christmas for anyone.
Archbishop Sentamu Academy has apologised for any upset that has been caused, adding that the assembly in question was focused on the celebration of advent.
Academy principal Chay Bell said:
We as an academy are deeply sorry for any upset that has been caused. It was certainly not our intention to do that.

The collective worship over a week ago was focused on advent. As you would expect for a Church of England School our focus was on the birth of Christ and the second coming.

A colleague who carried out the collective worship said advent is about the arrival of Jesus and not Father Christmas.

We did have a concerned parent who contacted the academy and that colleague has spoken to that parent and apologised. It was certainly not intentional to upset any students.
* I discovered the Chick-Fil-A story here (scroll down to No. 62). Here's another corker from the Bored Panda site (No 52):
The priest stood up for the second time to speak at my grandson's Christening yesterday and as he began to speak my 5 year old son yelled, "Oh no, not again".