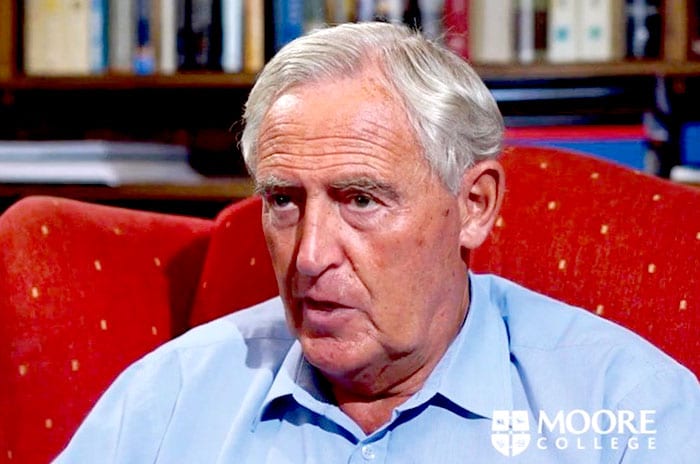 BACK in June we reported on the kinky behaviour of the Rev Jonathan Fletcher, above, a leading London evangelical who, among other things, would beat men on their bare butts with tennis shoes, and force them to give him naked massages.

When the goings-on at Fletcher's Emmanuel Church in Wimbledon came to light in the summer, there were flurries of lurid headlines concerning allegations that he "spiritually abused" vulnerable adults. But then all went quiet until this week when it was reported that Fletcher, 77, who was banned from preaching at the church 2017, may now face a criminal investigation.
His alleged victims are seeking legal advice to see if his behaviour warrants criminal charges.
Emmanuel Church, they claim, did not take their concerns seriously, despite their reporting of the abuse. One victim said:
We don't feel that we can go anywhere, basically. There's no one high up that we trust.
An Emmanuel Church spokesperson said an independent review has been commissioned into safeguarding and Fletcher, with alleged victims, is encouraged to participate.
Fletcher has denied he humiliated people or made derogatory comments about their appearance, and claims that "anything that happened was totally consensual and non-sexual" and "the punishments were a) consensual, and b) mutual".
He said he was "deeply, deeply sorry for anybody that I have hurt or harmed in any way", adding:
If I knew the individuals that I had harmed I would seek their forgiveness and ask to apologise.
In June this year, after an article exposing Mr Fletcher's preaching ban, Southwark Diocese confirmed allegations had been made around his potentially "harmful" conduct against "vulnerable adults who may be seeking his spiritual guidance".
At the time, Sarah Hall, the safeguarding officer and women's worker at Emmanuel Church, said:
We are appalled and saddened by what has been disclosed. We apologise to all those who have been affected. Whenever we have become aware of Jonathan Fletcher seeking to minister, and although it is not our formal responsibility to do so, we have taken such steps as we can to stop him.
The church also offered "independent pastoral and counselling support" to those who came forward and added it was:
Actively taking steps to identify others in need.
Fletcher subsequently admitted to inflicting sanctions on his prayer group including:
Going without chocolate, cold baths and school-type gym punishments.
In a statement he said:
Although at the time we definitely did not think we were doing anything wrong, I've seen since that it could have caused much harm both to individuals and to the reputation of conservative evangelicalism for which I am profoundly sorry.
In September this year, an Anglican Ink article signed by six people, pointed out that Fletcher had reacted to allegations by writing a letter to Evangelicals Now, and that the letter was:
His only public reaction to the allegations that he has been guilty of serious and chronic abuse of power over men who regarded him as their spiritual leader.

Jonathan Fletcher's response to the allegations is to seek to minimize them, and to feign astonishment that anyone should find his blatantly bizarre and abusive behaviour inappropriate. By this means he continues his self-deception and, drawing on the power of his previous reputation, pressurises others to share it.

He implies that he doesn't know who he has harmed, or how he might have 'unwittingly' harmed them. He asks his victims to identify themselves to him, and says that he wishes to 'beg their forgiveness' (although he does know who some of them are).

Then, with a frankly breathtaking misinterpretation of 2 Corinthians 2:5-11, he lays upon them a duty to forgive the harm that he himself refuses to acknowledge he has done.

In all of this, Fletcher prioritises his own reputation, and the reputation of what he calls 'the evangelical hierarchy.'

In his choice of language and his misuse of scripture, Fletcher doesn't seem to have recognized that it is 'time to come clean.' On the contrary, he appears to be trying to invoke what is left of his authority to suppress the voices of victims.
Fletcher was once heavily involved with sado-masochistic Church of England boot camps where homosexuals were horribly abused. He was one of a number of LGBT-hating evangelicals who ran the the notorious Iwerne Trust Christian summer camp.