THERE'S no pleasing some Christians.
Yesterday (Saturday) a piece of wood said to be from Jesus' manger arrived in Bethlehem from the Vatican – but it's reported that some are disappointed by its size.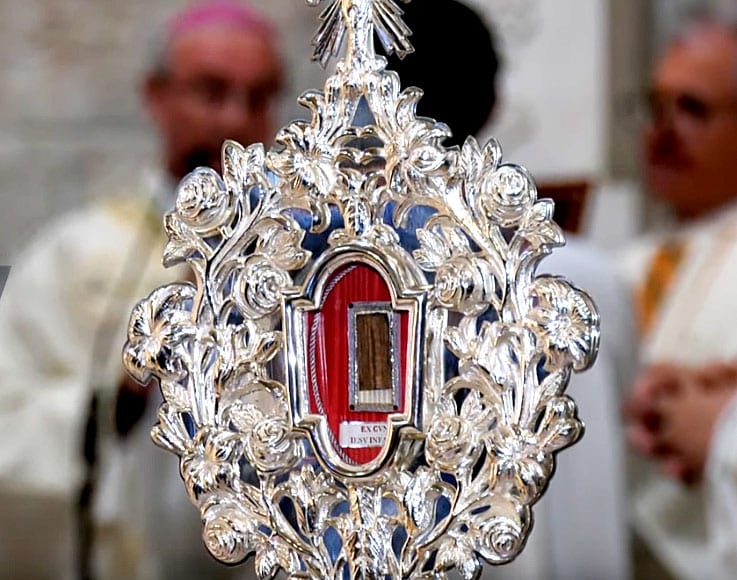 Said Sandy Shahin Hijazeen, 32:
It's a small piece, we thought it would be a bigger piece. When we heard that the manger is coming back we thought it would be the whole manger, but then we saw it.
The fragment, just a few centimetres long and encased in a silver-coloured ornamental table-top stand was unveiled to the public on Friday at the Notre Dame of Jerusalem Center, before it was taken to Bethlehem on Saturday.
It was once kept in the Basilica of Santa Maria Maggiore in Rome. It was handed over to the custodian of the Bethlehem church, who said it brought:
Great honour to believers and pilgrims in the area.
Brother Francesco Patton, the custodian of the Franciscan order in the Holy Land, said the relic dates back more than 2000 years and was sent to the Vatican in the seventh century. According to this report, he said Palestinian President Mahmoud Abbas had asked Pope Francis to borrow the entire manger, but the Pope decided to send only a tiny portion of it to stay permanently in Bethlehem.
A procession of marching bands greeted the relic as it arrived in Bethlehem. It was placed in Saint Catherine's Church, at the Church of the Nativity compound in Manger Square.
But not everyone voiced disappointment. Said Chris Gaicaman, 53, a Bethlehem homemaker, as she stood outside the church.
We are proud that part of the manger is back in Bethlehem because we feel that the soul of God is with us more than before.
Beneath a YouTube video of the the wood's arrival, one pissed of Christian wrote:
I cannot comprehend why Francis is giving away Holy Relics … its just weird. Few months ago, he gave a Holy Relic of St Peter away… its worrisome to a Faithful Catholic no matter what Rite one associates themselves with. JESUS+CHRIST, true G+D and true man, is KING of the Universe and HIS Kingdom has no end.
Another commenter reacted thus:
Maybe is is because he knows that they are shallow fakes? I mean, there were notoriously enough pieces of the True Cross floating around in Medieval times that they could have built an entire Cathedral out of them and several European Churches still have Christ's foreskin! I mean, people were ignorant and gullible in the past and apparently they still are now …