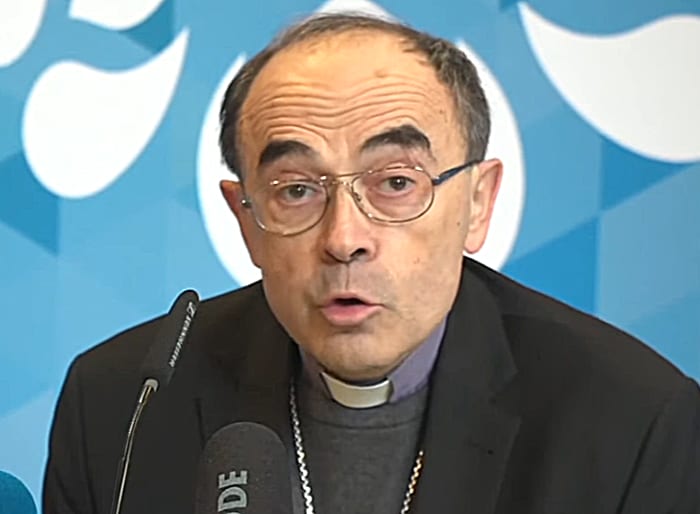 OUTRAGE is being expressed in France and beyond following news today (Thursday) that Cardinal Philippe Barbarin, above, Archbishop of Lyon, has won his appeal against his six-month suspended sentence for covering up clerical abuse.
Barbarin was convicted last March and given a six-month suspended sentence for failing to report abusive priest Bernard Preynat to the police.
Following the verdict, many took to Twitter to express their disappointment.
Tweeted @MiKohiyama, President of an association of victims of sexual violence:
It's a dark day for the victims of #Pedocriminality and for the fight against silence in the church.
Nicolas Gavrilenko, of the Union of Secular Families tweeted:
Were crimes committed? Yes, Preynat acknowledged it. Did Barbarin know? Yes, Preynat confessed to him. Is not reporting a crime an offence? Yes. Were the facts prescribed? No. Has Barbarin been sentenced? No. Shameful.
In a piece yet to be published by the National Secular Society which financially supported Barbarin's prosecution, NSS President Keith Porteous Wood commented:
This disturbing verdict appears to make church officials all-but immune from prosecution for failure to report knowledge of wholesale abuse by those responsible to them. The verdict also discourages reporting of abuse which allows it to continue and perpetrators to escape justice for decades – and sometimes for ever.
Research has shown that it can take some victims more than thirty years to make a claim. In the light of this, France's Mandatory Reporting law needs to be focussed on those in institutions as advocated by Mandate Now! and the statute of limitation for reporting needs to be removed. We will work with our sister organisation in France, Libre Pensee, to try to change the law to properly protect victims.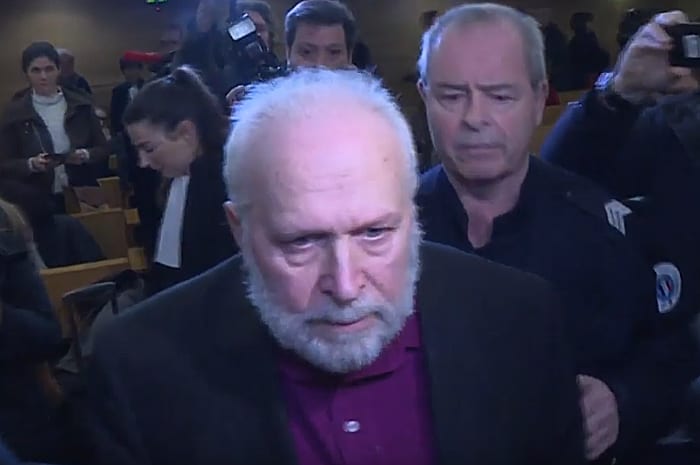 Preynat, above, the now-defrocked priest at the centre of the scandal,
described to a court at his trial earlier this month how he systematically abused boys over two decades as a French scout chaplain.
Preynat said his superiors knew about his "abnormal" behaviour as far back as the 1970s.
Had the church sidelined me earlier, I would have stopped earlier.
Preynat, now 74, faces up to 10 years in prison in what is France's biggest clergy sex abuse trial to date. He's suspected of abusing around 75 boys, but his testimony suggests the overall number could be even higher. A verdict is expected in March.
The case against Barbarin hinged on a 2014 discussion with victim Alexandre Hezez, who told the cardinal about the sexual abuse he had suffered in the 1980s by Preynat during scout camps. Hezez felt the priest should no longer lead a parish.
A court had initially ruled that Barbarin, "in wanting to avoid scandal caused by the facts of multiple sexual abuses committed by a priest … preferred to take the risk of preventing the discovery of many victims of sexual abuse by the justice system, and to prohibit the expression of their pain".
But the legal battle is not over just yet for Barbarin. Just a few hours after the verdict was announced, the plaintiffs said they are challenging the ruling before France's Court of Cassation.
Lawyer Jean Boudot said:
The appeal was filed. The interpretation made by the court of appeal seems to be completely questionable in law.
When Barbarin first came to trial he offered his resignation to Pope Francis. But the Pope refused Barbarin's offer to quit, saying he wanted to wait until the appeals process is complete.
Despite his acquittal today, Barbarin said he will tender his resignation again.