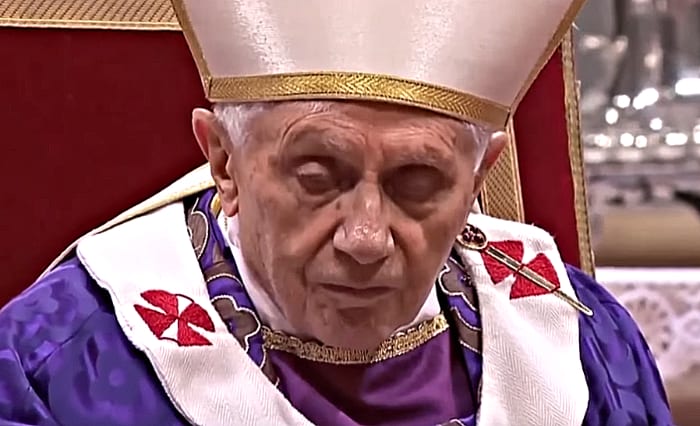 IN what is seen as a move to whip 'liberal' Catholic leaders in Germany back into line, alt-Pope Joseph Aloisius Ratzinger, above, has established a new foundation to train journalists to get the orthodox 'Catholic voice' better heard in that country.
It appears from this Church Militant report that the 92-year-old Pope Emeritus's recently-established Tagespost Foundation for Catholic Journalism (TFCJ) – which is seeking $500,000 in funding – was set up to counter the actions and utterances of leaders regarded as being way out of step with the Church's orthodoxy.
One person who welcomed the move – Juliette Aurora – is quoted as saying on social media:
Thank you, Pope Benedict, for trying to save Catholicism in Germany. Their Cardinals and Bishops have gone round the bend.
Another – Mary Murray – wrote:
God bless Pope Emeritus Benedict! We can be sure of the Faith when he speaks. I am confused with Pope Francis at what he is saying and sees happening in the Catholic Church.
Some even called for Benedict's return to the Chair of Peter. Brian Millar insisted:
Pope Benedict needs to take back the seat of his rightful office and place. Francis needs to go, this is very clear,. Time to usher in Pope Benedict once again, God bless him and give him strength to do so!
The Foundation is named for Tagespost ["Daily Mail"], a Catholic weekly newspaper for politics, society and culture published in Würzburg. Key staff of the publication are members of Opus Dei, the Catholic organisation noted for its commitment to orthodoxy.
The newspaper is often labeled "right wing" or having "right-wing tendencies." So when Benedict XVI named his project TFCJ, it was viewed by many as a signal of his desire to see Catholic journalism performed from a more orthodox perspective.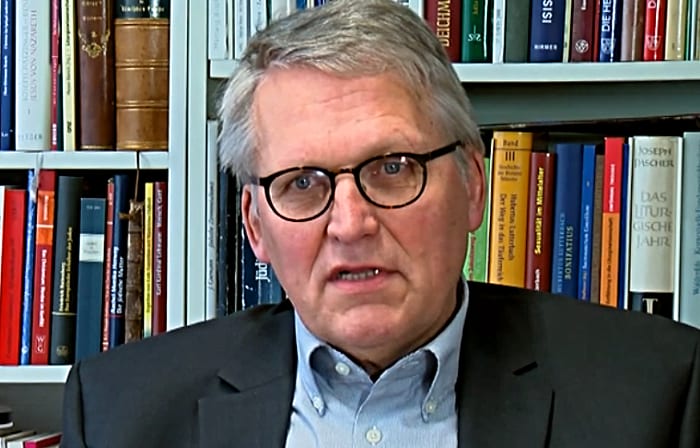 Thomas Sternberg, above, President of the Central Committee of German Catholics, criticised Tagespost and an unnamed Austrian website, saying they were nationalistic and "hard-minded." Sternberg's "unnamed" Austrian website is kath.net, an independent online magazine with stated loyalty to the Magisterium.
The Tablet reported that the Association of Catholic Publicists in Germany said in a statement that its members were astonished that Ratzinger considered it right to promote Catholic journalism by establishing a private foundation within one single publication.
It said that, as a former Archbishop of Munich, Ratzinger must be aware of the the existence of the more established body, the Institute for the Promotion of Aspiring Journalists, based in Munich. It was founded in 1968 after the Second Vatican Council and is financed by the German dioceses.
The association found it "more than strange" that the Pope Emeritus:
Was entrusting significant financial resources to one single publication bypassing the institute and thereby the bishops' conference. The association hopes that the new foundation is really concerned with promoting Catholic journalism and not supporting the self-promotion of a single publication and its understanding of Catholic public relations.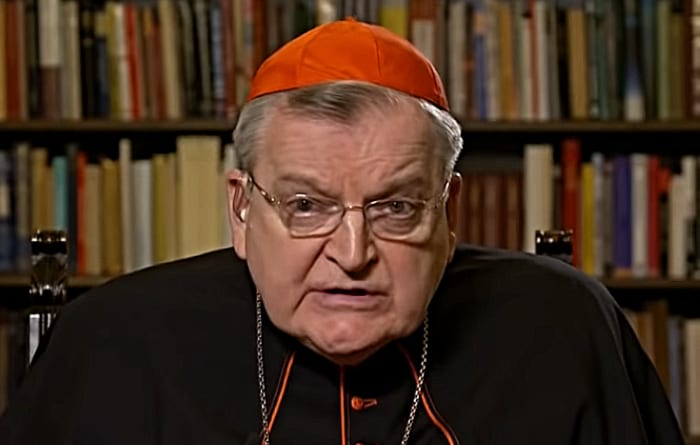 German clergy have been called out by other prelates for leading the Church astray. In the September issue of First Things, Cdl. Raymond Leo Burke, above, held German bishops directly responsible for the heresies promoted at the Amazon Synod:
A number of the great proponents of the thrust of the Amazon Synod working document are German bishops and priests. And certain bishops in Germany have taken an unusual interest in this Amazon Synod. For instance, Bp. Franz-Josef Overbeck of Essen has said that 'nothing will be the same' after the Amazonian Synod process; the Church will be so completely changed, in his view.
Supported by German taxpayers, German bishops are uniquely well funded. They have been heavily promoting the concept of synodality, the idea of fraternal collaboration pushing toward changes in Church doctrine.
Cardinal Burke responded to the German bishops' strategy for change:
The German bishops believe that they can now define doctrine, which is false. Otherwise, we would end up with a whole group of national churches, each with their own preferences regarding doctrine and discipline. The catholicity of the Catholic Church is exactly what's at risk.
He added:
The Catholic Church is a church that has one Faith, one sacramental system, and one discipline throughout the whole world, and therefore we've never thought that each part of the world would define the Church according to particular cultures.That's what's being suggested in this working document of the Amazon and in Germany.
Supporters of Benedict XVI's journalism foundation express hopes that his initiative has the effect of encouraging more young, orthodox voices to enter the Catholic conversation.
Hat tip: Keith Porteous Wood