RIGHT now, around 100 people are using one of Premier Christian's News' newfangled 'prayer panels' to ask God to iron the ever-increasing wrinkles out of Graham's upcoming visit to the UK.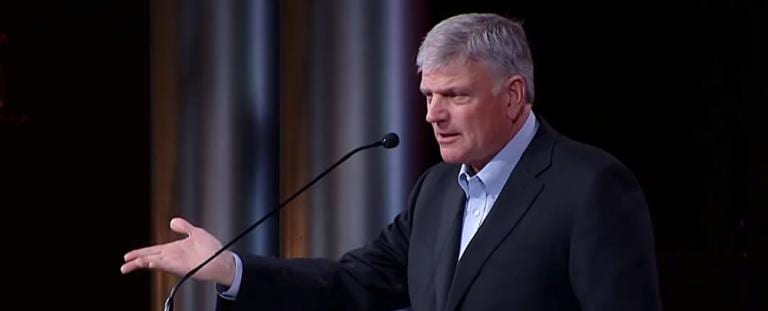 They are reacting to a Premier report today that the anti-gay and Islamophobic hate preacher has been "dealt a blow" by having his planned mission in Liverpool cancelled by the ACC conference centre.
The panel reads:
Father God, we thank you for the ministry of Franklin Graham. We know that there are many who oppose him but we know that you have used him and are continuing to use him for good all over the world. We pray for a resolution in this situation. Amen.
He was due to visit the ACC on June 12 but the venue blew him off because of:
The divisive impact this event is having in our city.
A petition was launched against his visit, while the city's Anglican bishop Rt Rev Paul Bayes has spoken out against him.
Concerns relate to Graham's links to comments previously made about homosexuality and Islam which have been deemed "hateful".
Most recently Graham warmly congratulated the Church of England for stating that sex belongs only within heterosexual marriage, and that sex in gay or straight civil partnerships "falls short of God's purpose for human beings". The statement last week has been described as "staggeringly stupid" and thousands are claiming that the church has turned itself into "a laughing stock."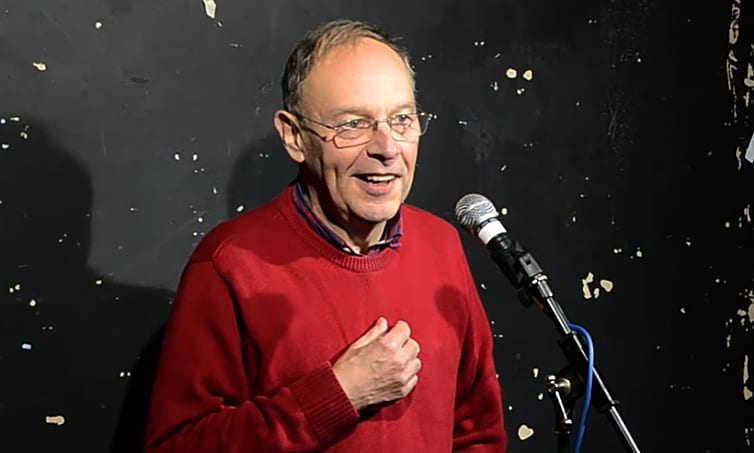 In a letter to the Guardian, my long-time friend Keith Porteous Wood, above, President of the National Secular Society, wrote:
The Church of England's position that sex belongs only within heterosexual marriage highlights the need for church and state to go their separate ways. The church's heartless, discriminatory and repressive stance will only accelerate its decline in public support and relevance – and the state should respond accordingly.

An organisation claiming that so many have no right to a sexual life should have no official ties to the state, no automatic right to seats in our legislature and no role in running state-funded schools.
But back to the Graham. In a statement, the ACC said:
Over the past few days we have been made aware of a number of statements which we consider to be incompatible with our values. In light of this we can no longer reconcile the balance between freedom of speech and the divisive impact this event is having in our city. We have informed the organisers of the event that the booking will no longer be fulfilled.

We are proud to represent all communities and will continue to move forward with our aim as a business to drive profile, major events and economic impact for Liverpool City Region.
With his UK tour just months away, the booking of London's O2 Arena is also in doubt.
More than 8,400 people have signed a petition calling on event organisers cancel the O2  event. The petition says:
He persuades audiences that LGBT+ people don't deserve to have families. He stands on stages in huge arenas warning people of the consequences of being gay, threatening impressionable young people with the 'flames of hell'.

In short, he spends a lot of time and money telling the world that our love is a sin and encouraging those who want to hurt us. And now he is coming to the UK.
Asking signatories to help "send a clear message to this US hate monger that he is not welcome in London or the UK," organizers say:
If enough of us act quickly, we still have time to pressure the management of the O2 to cancel this hate event.
The petition is addressed to Alex Hill,  Chief Executive and President of AEG Europe.
Dear Mr Hill, Franklin Graham is due to appear at the O2 Arena in 2020. Graham is a hate preacher. His message is deeply divisive, encourages violence and has been condemned by UK Christian leaders.

London is a proudly diverse city and the O2 should not be a venue that amplifies and facilitates hate,. We call on you to send a clear signal that AEG takes LGBT+ equality seriously and to cancel Franklin Graham's event at the O2 Arena.

Graham has long been an ardent supporter of President Donald Trump's, speaking out in the President's defence in the face of criticisms from others within the evangelical community.
After the magazine Christianity Today, which was founded by the late Reverend Billy Graham in the 1950s, published an editorial calling for Trump's removal from office in December, Graham defended the president against the criticisms.
Trump offered his thanks to the preacher while speaking at the launch of the Evangelicals for Trump coalition in Miami. He said:
I appreciate everything that Franklin has done over the last two weeks. Right, he fought very hard for us.
Hat tip: BarrieJohn