WHEN cutting-edge technology is harnessed to promote the supernatural, and encourage folk to believe that prayer is more than mere wishful thinking, one can only roll one's eyes at the stupidity of it all.

Which is precisely what I did when I discovered that Premier – one of the many Christian sites I visit daily to cull material for the Freethinker – has had a makeover, and now features a "prayer panel" at the end of each of its news items.
For example, last Sunday it carried a piece about Prince Harry's departure from the Royal Family. It reported that:
American Bishop Michael Curry who delivered a memorable sermon on the 'power of love' at Harry and Meghan's wedding in 2018 has reached out to the couple after they announced they will no longer be working members of the Royal Family as of spring this year.
Beneath the report was this: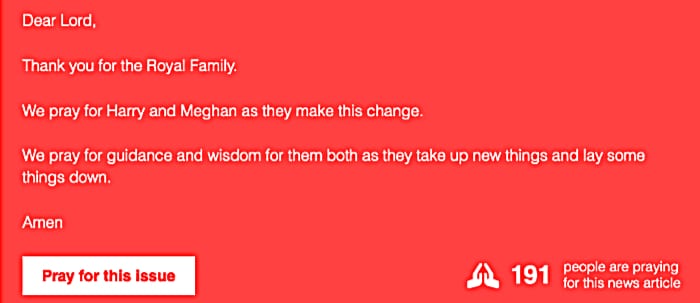 Today, it ruefully reported that:
Only 14 per cent of the UK responds to social media hashtag appeals to pray. According to a poll commissioned by Premier Christian News, only one in seven say they have ever prayed as a result of a #prayfor online campaign.
I couldn't suppress a chuckle when I saw the panel beneath, not least because "wisdom" is misspelled: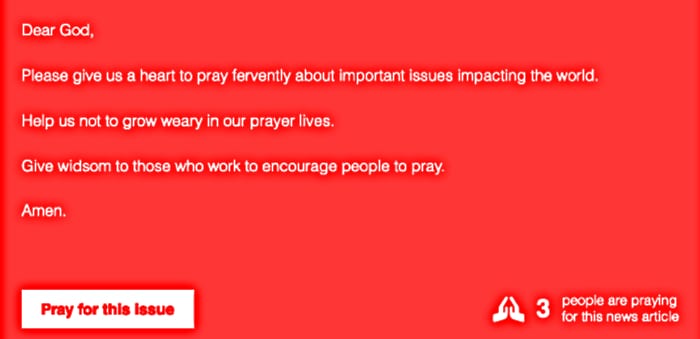 Another report today about racism on the Church of England has two people praying.  But one report which says that the C of E is holding to the line that "church teaching on marriage means sex should only be for a man and a woman within a marriage and not a civil partnership" has attracted a whopping great 58 prayerful people. The panel says:
Father, We pray for our church leaders, please help them to read your word and pray over issues they do not know how to resolve. Thank you for your word and your Holy Spirit that gives us discernment. Please help us to go to you for guidance. Amen. 
Christianity Today has more about these moronic panels:
Premier Christian News, a new website from Premier Christian Communications (which operates a group of Christian media channels), features faith-related news stories made unique because each concludes with a short prayer of response. The prayers operate as prompts – and a tracking mechanism – for prayer in a nation where Christians are less frequently falling on their knees to speak with God.
Unique it may very well be, but given that, in the whole history of humankind, no-one – not even dead-for-15-minutes pastor Christopher Wickland – has ever shown that prayer works, the whole "prayer panel" thing boils down to a silly stunt with which only the most stupid of Christians will engage.
Note that the CT report says that three in five British adults (57 percent) now say they never pray, up from 49 percent in 2017.