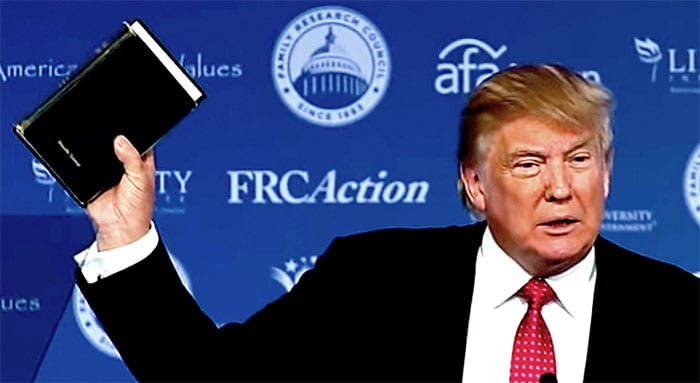 IN what has been described as a 'desperate' attempt to woo back faith voters, Trump told a Florida rally yesterday (Friday) that he'll soon be taking action to allow prayer back in public schools.
Doug Pagitt, Executive Director of Vote Common Good, a progressive Christian group, said the rally was:
Trump's desperate response to the realization that he is losing his primary voting bloc – faith voters.
Ahead of the rally, Pagitt wrote on the group's website that:
The rally is notable in that it follows closely on the heels of the Christianity Today editorial calling for President Trump's removal for office, which set off what some are calling a 'civil war' in the evangelical world. Clearly, the President and his advisers feel a display of force is needed to show their most reliable constituency is not wavering in its support.

The president can hold as many 'Evangelicals for Trump' rallies as he wants, but the reality is the community that was so critical to his election in 2016 is not as sure a bet for him as it once was – and may not be as strong as he needs it to be if he wants to win re-election.
Pagitt, above, author of Outdoing Jesus, added:
There are many reasons why people have lost their faith in Donald Trump. We are not telling people to stop being Republicans; we are asking Republicans to not vote for this one …. What we are trying to get people to do is to break a habitual behavior. It is hard to turn your back on your own choice. We don't think we can convince hardened Trump supporters to change their minds.

We are seeking to help those whose hearts and minds have already changed to match their actions with their convictions. What I saw in the Christianity Today editorial was that very thing.

Some evangelicals may be rallying for the president in Florida Friday, but there are many more who are starting to articulate what they've been feeling for some time: that they cannot and will not support the president anymore.
At the rally itself – staged at the King Jesus International Ministry, a "prosperity gospel" church that teaches that the faithful will be rewarded with health and wealth on earth – told round 7,000 adoring attendees:
We are defending religion itself, it's under siege. A society without religion cannot prosper.
In his speech, Trump mocked Democratic challenger Pete Buttigieg, the Indiana mayor, for having what he said was an unpronounceable last name, and told attendees Democrats were waging war against religion.
These angry radicals want to impose absolute conformity by censuring speech, tearing down crosses and symbols of faith and banning religious believers from public life.
He got an ecstatic reaction from the crowd when he promised to bring religion back into US schools. A clause in the US Constitution prohibits the government from promoting one religion over the other, which means public schools don't promote prayer or religious symbols.
Very soon I'll be taking action to safeguard students and teachers' First Amendment rights to pray in our schools. They [presumably Democrats, secularists, atheists etc] want to take that right along with many other ones.
Since 1962, the US Supreme Court has repeatedly ruled that prayers in public schools are unconstitutional. Social conservatives have been unable to pass a constitutional amendment through Congress that would change that. It is a matter of the government promoting an establishment of religion. The Supreme Court is also ruled that so-called "voluntary" school prayers are also unconstitutional, because they force some students to be outsiders to the main group, and because they subject dissenters to intense peer group pressure.