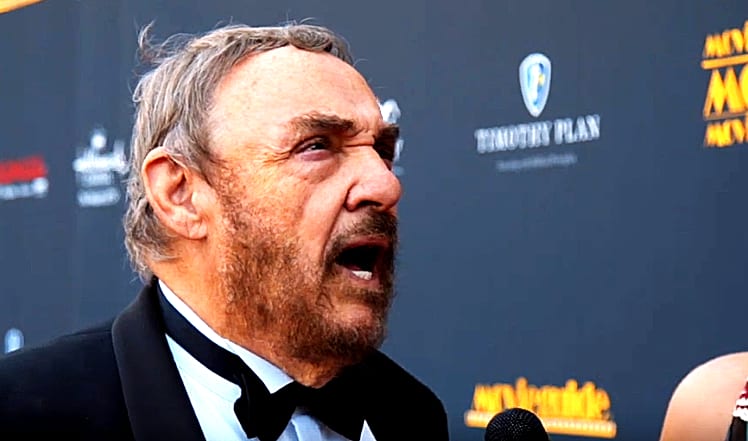 BENEATH the headline 'Atheists who see Christianity as good for society' the Christian Post reveals that Welsh actor John Rhys-Davies, above, best known for playing the dwarf Gimli in The Lord of the Rings films, strongly defended Christianity at last week's Movieguide awards ceremony, a celebration of piss-poor faith-based movies.
Rhys-Davies told the Christian Post:
We seem to forget that Christian civilisation has made the world a better place … We owe Christianity the greatest debt of thanks that a generation can ever have, and to slight it and to dismiss it as being irrelevant is the detritus of rather ill-read minds, I think.
Is Rhys-Davies, as the headline suggest, really an atheist?  Wikipedia describes him as a "rationalist" and a "skeptic" and also points out that the ardent Brexiteer one became a poster boy for the fascist British National Party for his anti-Islamic views.
He also garnered praise for his views in National Vanguard,  an American white nationalist, neo-Nazi organization based in Charlottesville, Virginia. (Way Back Machine link in the Wiki footnotes No 26).
The Christian Post reports that Rhys-Davies, who recently starred in an animated adaptation of Pilgrim's Progress and is the lead in an upcoming biopic of Saint Patrick, said he often finds himself sticking up for Jesus in his line of work.
Rhys-Davis is just one of many skeptics, atheists, and secularists of late who reject the rhetoric of Richard Dawkins and Sam Harris and recognize the immense good the Gospel has done for the world. Whereas the so-called New Atheists slandered Christianity as being backward and poisonous, a new crop of unbelievers see it as beneficial, beautiful, and maybe even in some limited sense, true.
As for Movieguide, I love it because it's a great resource for finding top class films. If Movieguide uses the the word "abhorrent" – as it frequently does to describe a film – you can be sure that it's well worth watching. In
2018 I wrote a piece pointing out that Movieguide went on the warpath against the Kevin Hart comedy
Night School.
It warned that the movie contains:
Irreverent portrayals of a Christian chicken restaurant patterned after Chick-fil-A … Teddy's job at a restaurant called Christian Chicken has him wearing a chicken suit while holding a sign out front that says its food is 'heavenly', and yelling 'Honk once if you love chicken, honk twice if you love the Lord!'

There's also a scene where he tries to break free from taking part in an employee prayer circle. This scenes [sic] and the restaurant's overly happy Christian boss sometimes appear to be mocking Christians.
But a 2017 that really sent Movieguide into outrage overdrive was the highly-acclaimed The Shape of Water, which it described as "a vile lust story."
The underlying worldview in the movie is that our sexual impulses aren't something that should be suppressed or rebuked, but instead should be lived out totally and openly. This is no surprise coming from [Guillermo] del Toro since his last movie centered around an incestuous relationship between a brother and sister.

This is absolutely abhorrent and detrimental to society. Add on the fact that The Shape of Water has extreme violence, strong foul language, and lots of political correctness, it's one of the worst movies in recent years, a movie that every viewer should want to avoid.
The Shape of Water was named one of the ten best films of the year, was considered one of del Toro's finest since Pan's Labyrinth, and it won numerous awards.