CLAIMING that homosexuality and gender ideology is 'running rampant' in the Austrian diocese of Feldkirch, a Catholic father of six, identified only 'NN', is being sued by the diocese for non-payment of church taxes.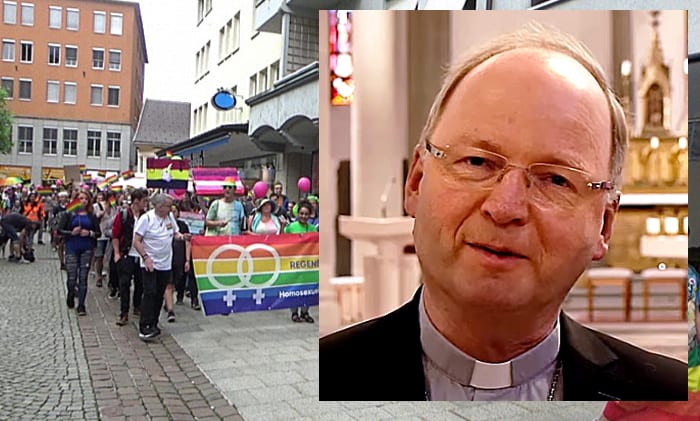 It appears the man's problem with the Feldkirch Catholic leaders began in 2017 when the diocese, headed by "radical" Bishop Benno Elbs, inset above, participated in a Christopher Street Pride in Bregenz, the capital of Vorarlberg in Austria.
The diocese sent two representatives, the deacon Johannes Heil and the lay employee Edgar Ferchl-Blum to the event. Ferchl-Blum runs the diocesan Center for Marriage and the Family. The epresentatives carried banners and flags with the slogan "Rainbow pastoral".
NN argues that that the diocese over-emphasises he pastoral care of homosexuals. According to "NN", the gender ideology has also taken over the diocese.
On the other hand, Christian associations such as Teen Star – an international programme that promotes sexual abstinence – receive no support from the diocese.
The Church tax has been criticised in Austria for many years. Most recently, according to LifeSiteNews, Rudolf Höfer, professor of Church history at the university of Graz, slammed  the tax in an opinion piece published by Austrian newspaper Die Presse.
It still remains to be explained what is terrible about the year 2019, when 67,583 people, an increase of 15 percent compared to 2018, have chosen to leave the Catholic Church and thus freed themselves from a coercive Nazi law, signed by a war criminal executed in 1946.
The man's first hearing in court took place on Tuesday, February 18. The diocese "remained firm and did not want to hear theological objections and reasons" for his refusal to pay the the  €400 he is said to owe.  The next hearing is scheduled for March 31.
In Austria, the Church tax (Kirchenbeitrag) is 1.1 percent of a person's income. A Catholic employee making €35,000 per year would have to pay the Church €385.
From Wiki:
Every recognized religious group in Austria can collect church tax at a rate of 1.1%, though currently only the Catholic Church makes use of that opportunity. Church tax is compulsory for Catholics in Austria. This tax was introduced by Adolf Hitler in 1939. After World War II, the tax was retained in order to keep the Church independent of political powers.