AMERICA desperately needs more Christian lawmakers who will, among other things, put Bibles back in schools.
That's the belief of Republican Arkansas State Senator Jason Rapert, founder of the National Association of Christian Lawmakers (NACL). So convinced was he that his views would be shared by others that he launched a poll on Twitter at the weekend asking if the US would be better off with more Christians in elected office.
It went horribly wrong. A massive 94 percent at the last count responded with a resounding NO!
Below is a very unhappy Rapert blathering at length on YouTube about the hijacking of his poll by "highly organised" members of the Satanic Temple, LGBT communities, atheists and all those who "hate Christ and Christians."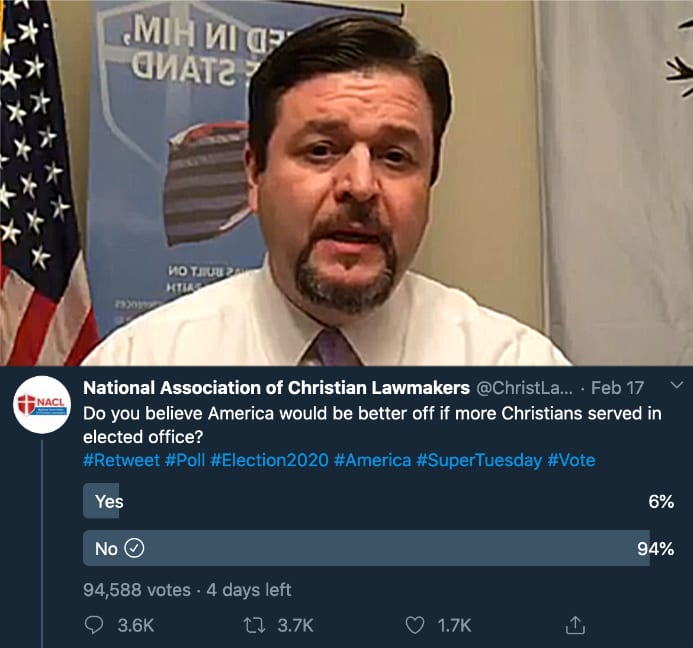 Claiming that his poll had been staggeringly skewed by enemies of Christianity, Rapert pleaded with his supporters to visit Twitter to redress the balance. So far it's not worked.
According to the Huff Post, Congress is overwhelmingly Christian, far out of proportion with the people they represent. A Pew survey last year showed that the Senate and House are almost 90 percent Christian, compared with 65 percent of America as a whole.
One in four Americans now considers themselves atheist, agnostic or "nothing in particular," a position publicly held by just one member of the current Congress, Senator Kyrsten Sinema (D-Ariz.), who lists her religion as "none". Rep. Jared Huffman (D-Calif.) describes himself as a humanist, while a handful of others haven't acknowledged a faith or lack thereof.
The NACL was started last year by Rapert, who warned about the rise of witches in a recruitment email. It's not clear how many members the group has, but its board of advisers includes a number of current and former elected officials, including former Arkansas Governor Mike Huckabee.
An attempt to raise $500,000 via GoFundMe stalled at less than $20,000, more than half of which came from a single anonymous donor.
The NACL says its mission is to:
Bring Lawmakers Together in Support of Clear Biblical Principles. Our nation is on the brink because of leaders who have capitulated on our convictions for far too long.

Meeting regularly to discuss and debate major issues, proposing model statutes, ordinances and resolutions for introduction in jurisdictions to address major policy concerns from a Biblical worldview. NACL offers a unique national forum for local, state and federal elected officials to address the major issues of our day.
As for Rapert himself, he's a 24-carat twat – and deeply homophobic. This from Wikipedia:
Following the U.S. Supreme Court's ruling in Obergefell v. Hodges that legalized gay marriage, Rapert stated that the Court's ruling was unconstitutional. Rapert encouraged public officials "to refuse to comply with an unjust ruling that violates religious freedom and states rights".
In 2019, he twice attempted to fire a teacher from Conway High School, due to her sponsoring of the Conway Gay-Straight Alliance.