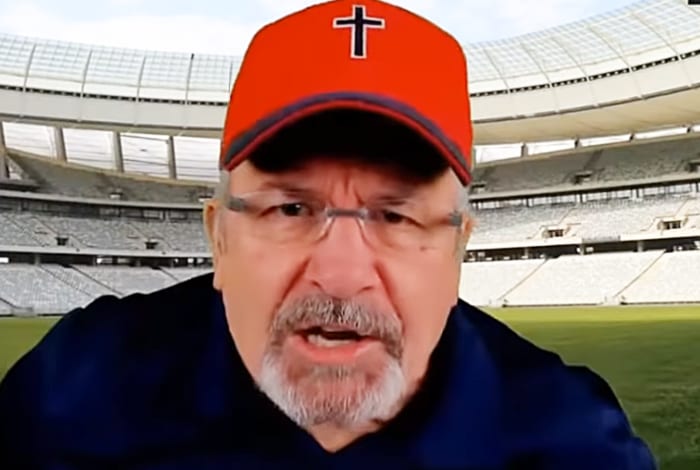 DAVE Daubenmire, a far-right Christian commentator, above, claimed in a video that he had been put in danger of hellfire by watching a Super Bowl halftime show at the weekend – and he believes he has a strong case for suing the National Football League 'for about $867 trillion.'
What sparked "Coach Dave" hysterical rant on his "Pass The Salt Live" webcast was a performance featuring Latin pop artists Shakira and Jennifer Lopez. The pair, according to The Christian Post:
Danced with lots of hip-shaking and were at points barely clothed around stripper poles.
Daubenmire screeched:
Would that halftime show, would that have been rated PG? Were there any warnings that your 12-year-old son – whose hormones are just starting to operate – was there any warning that what he was going to see might cause him to get sexually excited?

I think we ought to go sit down in a courtroom and present this as evidence of how whoever [put on the halftime show] is keeping me from getting into the kingdom of Heaven.

Could I go into a courtroom and say, 'Viewing what you put on that screen put me in danger of hellfire'? Could the court say, 'That doesn't apply here because the right to [produce] porn overrides your right to [not] watch it'? Yeah, well, you didn't tell me I was gonna watch it! You just brought it into my living room. You didn't tell me there were gonna be crotch shots!
Daubenmire declared that the performance was a blatant example of anti-Christian discrimination because he should be able to watch the Super Bowl without having to see things that conflict with his values.
That's discriminatory against the value I have in my house. You can't just do that. I wanna sue them for about $867 trillion.
Right Wing Watch reports that Daubenmire appears to be quite serious, as he posted a follow-up video on Facebook saying that he is looking for a lawyer who will file a class action lawsuit against Pepsi, the NFL, and his local cable company on his behalf.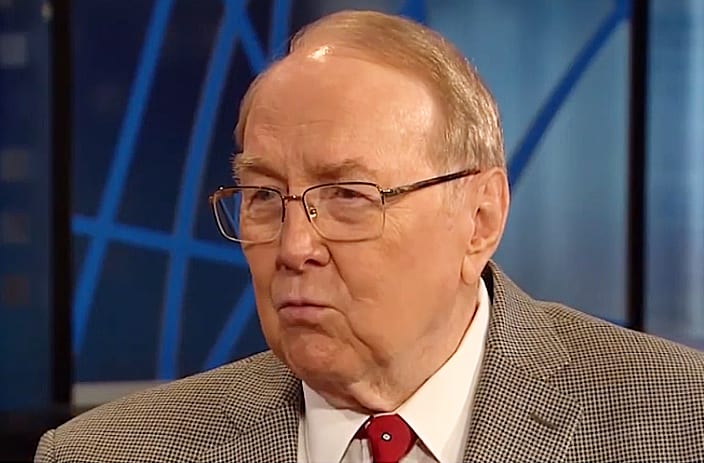 "Coach Dave" was not the only one to express horror over the NFL performance in Miami. Evangelical leader James Dobson, above, founder of Focus on the Family, said:
On Sunday, Fox Sports and the NFL offered up a sexual smorgasbord, and the halftime show was the main course. Let me be clear: pole dancing, sex simulation, and crotch shots are not a celebration of Latino culture; they are a celebration of our hypersexualized culture. I regret the need to be so graphic, but have we collectively lost our minds? Objectifying women – whether they willingly participate or not – is wrong. Failing to oppose such an affront to women is equally blameworthy.
Dobson asked:
Parents, are you content to allow your children to be swept into this abyss? How many of you sat open-eyed and close-mouthed as your children partook of this sex-saturated show? How many of you are allowing your children to adopt an unhealthy and dishonoring view of women and sexuality? The Bible proclaims that we are fearfully and wonderfully made in God's image, created for relationship with our Creator. That message isn't coming from our society… is it coming from you?

We should demand better from the NFL, networks, sponsors and entertainers. But may God help us if we don't first demand more from ourselves as parents and as citizens. We have the truth and we must stand for it.
Evangelist Franklin Graham, according to The Christian Post, also stuck his oar in. Commenting on his Facebook page on Sunday, he noted that he did not expect the world to act like the church, but the nation nevertheless should have the decency to protect children during prime time television.
We see that disappearing before our eyes. It was demonstrated tonight in the Pepsi Super Bowl Halftime Show – with millions of children watching. This exhibition was Pepsi showing young girls that sexual exploitation of women is okay. With the exploitation of women on the rise worldwide, instead of lowering the standard, we as a society should be raising it. I'm disappointed in Pepsi and the NFL.
Graham has also made lawsuit noises over eight venues which tore up booking contracts for his UK tour this summer.