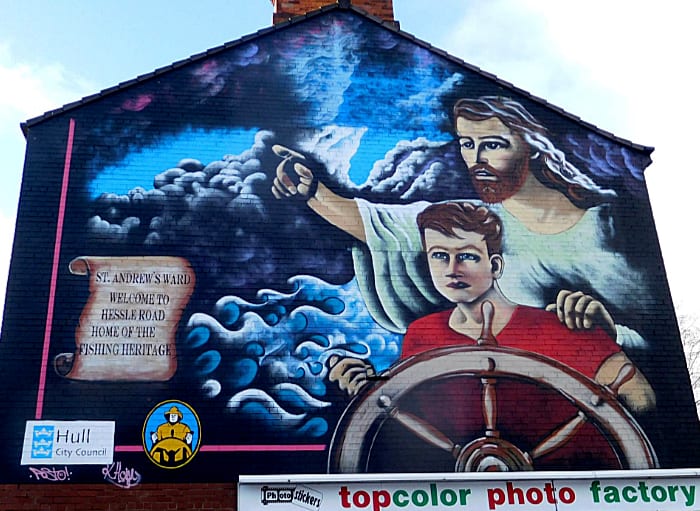 WHEN a woman in the city of Hull spotted the mural above she assumed that, because one of the lad's hands is behind him, he must be fondling Jesus' dangly bits. And somewhere in the dark clouds are 'demons'.
For starters, that's not Jesus. It's St Andrew who's the patron saint of fishermen.
According to HullLive, the image is one of a series of "stunning murals" painted on buildings across Hessle Road in 2017 by local artists and Belfast pair Mark Ervine and Kev Largey.
The project was instigated by Hull Bullnose Heritage Group, who were given the financial backing of City of Culture and Hull City Council.
While the murals have largely been greeted with enthusiasm and positive feedback, one woman – Rose White – has now come forward to say she has been shocked by the "subliminal" messages.
White contacted a local media outlet with her cock-eyed fantasies (no pun intended).
I'm interested as the artist seems to be as addicted to subliminal images. The artist painted the steering person with one hand behind back as though fondling Jesus's genitals? Is that supposed to be an allusion to claims that Jesus was homosexual?

And the demon face on the left shoulder? And the many demon faces in clouds?
White has called for drastic measures to be taken.
I think that this mural needs painting over or at least all the demons need obliterating.
A better solution would be for Ms White to have her eyes tested, and urgently seek psychiatric help.
Hat tip: Vanity Unfair