AN unqualified naturopath teamed up last Wednesday with a disgraced televangelist to flog a product to  'cure' a variety of viruses, including the coronavirus.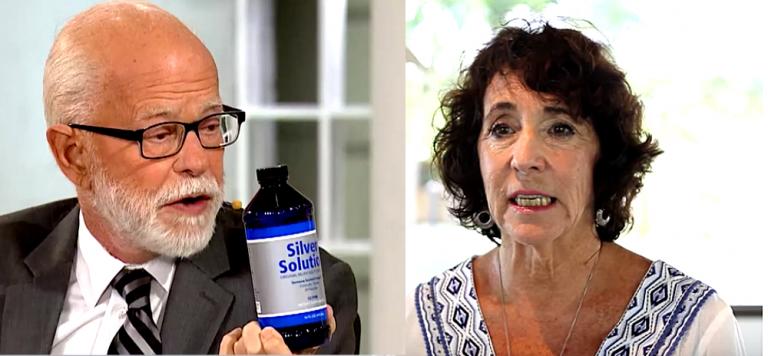 The guest on Jim Bakker's show was "Dr" Sherrill Sellman who dropped into his studio to help him shift bottles of  Silver Solution for a "donation" $125 "or more".
Now here's a thing: Dr JoAnn Yanez, Executive Director of the Association of Accredited Naturopathic Medical Colleges (AANMC), told Newsweek that Sellman has not met the educational standards that the organisation requires.
Sellman "is neither a graduate of an accredited naturopathic medical program, nor has [she] obtained a doctoral level degree from a program recognized by the US Department of Education," Yanez wrote in a statement to the news outlet. "[Her] online profile mentions graduating from the Trinity School of Natural Healing (AKA Health), which is not accredited and confers 'degrees' not recognized by any governmental institution. 'Graduates' of these programs are not considered licenseable [sic] medical practitioners."
Yanez further requested that Newsweek reiterate that Sellman is not a graduate of any institution accredited by AANMC.
Newsweek contacted Sellman via her website for further comment and clarification but did not receive a reply before publication.
According to its page on Bakker's website, Silver Solution is a product that:
Works faster, longer and more efficiently than other silvers to support your immune system.
Information on the website does not state how the product is to be used. The label states that the solution contains deionized water, but no other ingredients.
However, similarly marketed products also include colloidal silver which according to the National Center for Complementary and Integrative Health (NCCIH) provides no known health benefits. Writing for Gizmodo, Ed Cara said:
To be clear here, there's absolutely no evidence that taking colloidal silver will keep you safe from the new coronavirus, nor "boost" your immune system. Chronic doses of silver, on the other hand, will build up in the body and cause your skin to turn permanently grayish-blue, a condition known as argyria. Ingesting it can cause side effects including argyria, or discoloration of the skin or other tissue, and poor absorption of other medications by the body.
Bakker is an evangelist who has made headlines in the past for his involvement in a scandal in which he paid a church secretary "hush money" to keep quiet about an alleged rape. He was also convicted on felony charges. Bakker is noted for his unswerving support for Donald Trump. He has repeatedly defended the President against criticism, and he stated in 2017 that there would be a second American Civil War if Trump were to be impeached.