LAST Tuesday there were chaotic scenes in the Virginia House of Delegates when Rev Robert Grant Jr, in delivering an invocation, began railing against homosexuality.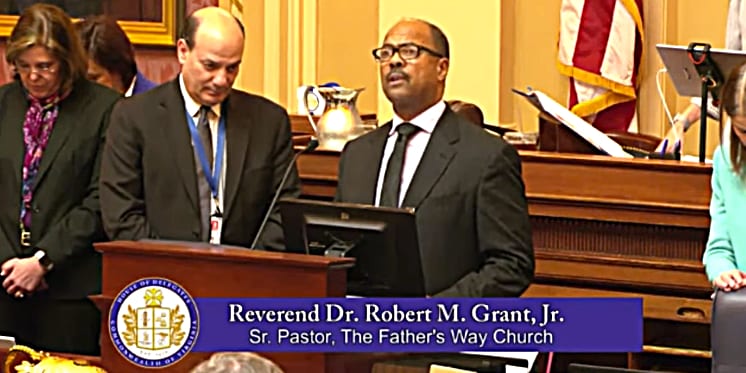 A number of lawmakers walked out of the house when Grant unleashed a seven-minute homophobic diatribe on the House floor.
Grant, of the Father's Way Church in Warrenton, Virginia was stupidly invited to give the opening prayer for the legislative session. Stupid because prayer should have no place in ANY political arena, so the legislator who invited him – delegate Michael Webert, a Republican – was much to blame for the chaos in the house as the pastor.
After warning House members they were at risk of suffering God's wrath for not following the words of the Bible, Grant began targeting same-sex marriage. He ranted:
Marriage is to join a biological male and a biological female in holy matrimony, not to provoke the Almighty God. Without laws to protect traditional marriage, Virginia will be reduced to increased fatherless children and welfare victims and homelessness, a tax burden to us all!
As he was speaking, someone called out:
Is this a prayer or a sermon?
Undeterred, Grant went on:
I pray that this chamber will uphold the Virginia family. That the bills and laws being passed will always protect the Biblical traditional marriage as God instructed the first man and the first woman in the Bible. That the two shall be one flesh. That the man and the woman shall be fruitful and multiply. We should never rewrite what God has declared!
Many Democrats began walking out of the sermon, and even some Republicans started moving to the back of the chamber to get as far away from Grant as possible. Eventually, Speaker of the House Eileen Filler-Corn abruptly ended the madness by banging her gavel and breaking into the Pledge of Allegiance.
Speaking to a local media outlet afterwards, Grant said:
I think that the statehouse belongs to all the citizens. And all the citizens have a voice. If it's my turn to have a voice, and I am a pastor, what do you expect from me? If you don't want to hear what a pastor has to say, then don't invite one.
Outrage over Grant's words was bipartisan. Delegate Luke Torian, a Democrat said:
It was totally disrespectful to all of us, all of us in this House.
Delegate Matt Fariss, a Republican, added:
I don't know if he was ill-instructed or didn't realize what he was here to do. This wasn't the place or the time to do all of that. This is a time we need to be working together and not being divisive.
But evangelist Franklin Graham, whose planned tour of the UK lies in tatters, yesterday came galloping to support Grant, saying on Facebook he "loved this guy" and he believed Grant was:
A guy who's got guts for Jesus. Democrats in the Virginia House of Delegates treated this African American pastor with contempt. Rev. Dr. Robert M. Grant, Jr., was invited to pray and he took a stand for life, marriage, and biblical principles.

They didn't want to hear the truth. But what Pastor Grant said was truth. He's right – these are crucial times. He urged lawmakers to honor God's laws and be aware of His judgment. I just love this guy.
Meanwhile Graham is insisting that his UK summer tour WILL go ahead, despite having his booking contracts torn up by a number of venues because of his hateful anti-gay and anti-abortion sermons. What's more it will be bigger and better. He told Premier his views aren't different to most Christians.
I believe the Bible teaches that marriage is between a man and a woman. That's the Church of England's position. I think Her Majesty the Queen, that's her position and it's the position of the Church, pretty much worldwide. This is what the Bible teaches and that's what I believe.
Addressing the "friendly fire'" which has seen numerous church groups speak out against him and those who traditionally would have supported his visit – such as the Evangelical Alliance and the Archbishop of Canterbury – refusing to give their public support, he said:
That's certainly their right to do that. But at the same time, by telling people not to come, sometimes that encourages people to come and I hope that's the case.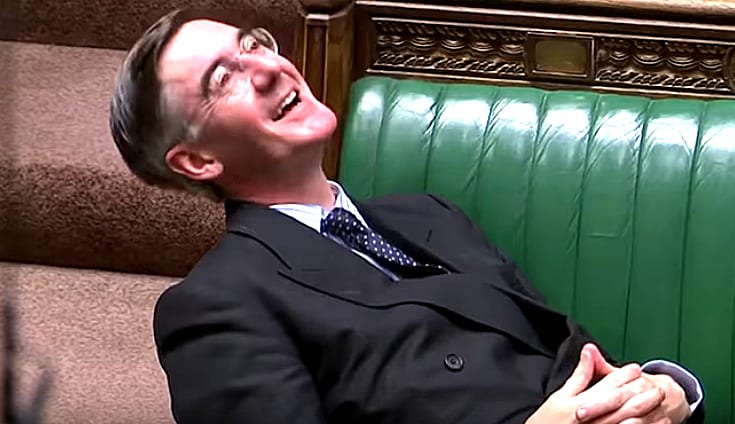 He has the support of the contemptible Leader of the House of Commons Jacob Rees-Mogg, above, an upper-class Catholic twit who has spawned six kids with ridiculous names, including Alfred Wulfric Leyson Pius.
The deeply homophobic "Greasy-Smog" said in this report that the "no-platforming" of Graham is an example of:
A particularly disagreeable modern trend. The UK has robust protections for freedom of speech and freedom of religion and the price of living in a free, plural society is tolerating views and beliefs we disagree with or are even offended by.

This is fundamentally important. It is a sad truth that many people who tout themselves as being liberal are only liberal about what they like and are very intolerant of views they disagree with.