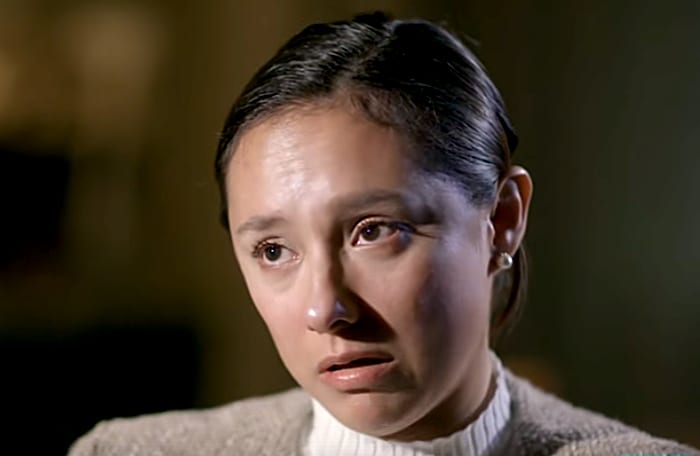 SOCHIL Martin, above, claims in a lawsuit launched last Wednesday in California that she was groomed from the age of nine to serve as 'an erotic dancer and sexual servant' to leaders of La Luz Del Mundo, a Mexico-based Pentecostal movement that claims 5 million members.
Martin alleges that her aunt and a foster mother groomed her to be sexual slave first to Samuel Joaquín Flores, the church apostle and leader, who died in 2014, and later to Flores' successor, Naasón Joaquín García, the church's current apostle.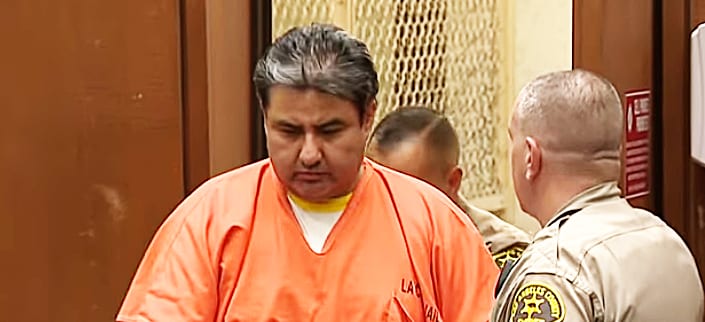 García, above, was arrested last June and charged with sex crimes involving minors. He has denied the charges against him and is awaiting trial in California. Bail was set at an historic high of $50-million.
The lawsuit states:
This case is about a lifetime of manipulation and abuse of a young woman perpetrated by sexual predators and the global institution built around and for the protection of those predators.
At a news conference in Los Angeles, Martin, 33, who grew up attending a La Luz Del Mundo church in LA, detailed the sexual abuse she says she endured within the church.
By the age of nine, I was taught by my own family and community that my eternal soul depended on me sexually pleasing La Luz Del Mundo apostles. For nearly 22 years, I was made to work for, travel for, lie for and give my body to an organization that saw me as nothing more than a source of profit.
Martin related how parents and the church community taught young girls that:
God wants them to please their apostles.
The lawsuit alleges that over a period of 22 years, Martin was:
Raped dozens of times, and endured numerous severe beatings, causing physical, emotional, and mental injuries that afflict her still today.

Throughout, she was taught by LDM's leaders that her only value and chance at salvation lay in serving the sexual whims of the two Apostles, which at times included forcing others to have sex with children.
The suit also alleges that Martin was forced to spend at least 30,000 hours working for the church, without pay, to promote its activities.
Martin was not the only victim, the lawsuit alleges.
Both before and after she escaped from the organization, she witnessed or learned of hundreds of other children and young women subjected to sexual abuse at the hands of the LDM leadership, often in horrific circumstances.
Other church members were also required to perform extensive volunteer service to the group.
Church leaders, including the so-called Consejo de Obispos (or Council of Bishops), allegedly supplied victims to the apostles in order to gain their favour, the lawsuit claims.
The suit lists 11 claims for relief, including sexual battery, conspiracy, trafficking and enforced labor. It also claim that Martin has:
Sustained damages, including physical injury, severe emotional distress, and economic losses.
After Martin left La Luz Del Mundo in October 2016, the lawsuit alleges that the church tried to buy her silence and then began to harass and threaten her and her family.
Attorney Joshua Robbins said the lawsuit is not just a human rights case dealing with sexual abuse of children, but also a case about organised crime.
La Luz Del Mundo is a massive global organization that for decades has systematically exploited its members in ways that are not only gross violations of human rights, but are also federal and state crimes and it's been happening right here in our backyard.
Robbins said the church took part in "insidious human trafficking operations" that coerced parents to give up "their own children to be raped and abused by the leaders of the organization."
These schemes have gone on for many years. They've involved at least dozens of participants and thousands of victims. They've been directed from the very top of the LDM organization.
But Jack Freeman, a minister who has been with the church for 28 years, said he "completely rejects" the allegations and thinks they were timed to disrupt the organisation's "Holy Supper." Last week's celebration, which he described as the church's biggest US event of the year, drew tens of thousands of worshippers to the Pomona Fairplex. He said:
It is not about abuse. It is not about this fantastic story she's come up with. It's about attention and trying to interfere with the holy event the church is doing.
Martin has urged other victims of La Luz Del Mundo to step forward and tell of their abuse.
Watch Martin being interviewed in this video: