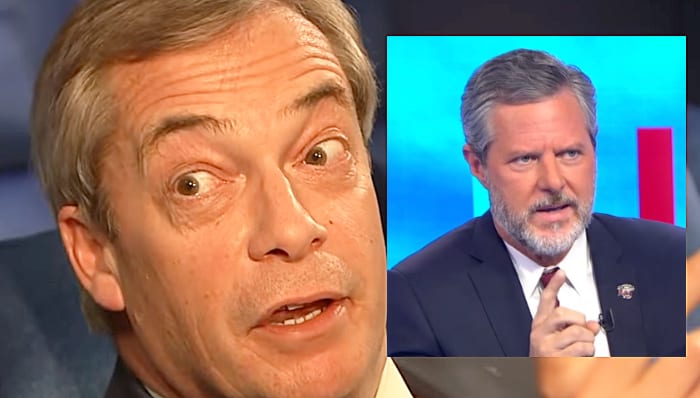 LIBERTY University's President Jerry Falwell Jr, reportedly reeled off a number of lies about assassination attempts on the life of Nigel Farage when he presented the dangerous xenophobe who engineered Brexit with an honorary doctorate.
PinkNews reported that at yesterday's event to honour Farage, Falwell Jr:
Delivered a speech in praise of the ex-UKIP leader littered with abject falsehoods.
The fundamentalist university chief claimed that there have been several plots to murder the politician, saying: "They tried to kill him once. The same person who tried to kill him then became his pilot and crashed the plane, trying to kill him."
Farage was involved in a plane crash during a 2010 election stunt, but it was ruled an accident and the pilot was cleared of any wrongdoing.
Falwell went on to claim, again falsely, that Farage and his family "was chased out of a pub and had to run for their lives" due to another an attempted murder attempt.
Farage was confronted by peaceful protesters at a pub in 2015, but there was no suggestion of any attempt to harm the politician.
In fact the worst that happened to Farage during the Brexit campaign was getting hit with a milkshake thrown by a man who was later found guilty of common assault.
Addressing Farage, Fallwell continued:
They call you Nazi, fascist, homophobe, xenophobe. The same thing they call conservatives here.
Speaking at the university, Farage praised its "amazing faith and optimism", hailing:
The liberties of free speech and democracy that you are enjoying, and which I believe President Trump is going to make even better for you. If you want to be free people, you've got to be able to live in liberty, you've got to be able to determine your own futures. You cannot take these freedoms for granted, and you have to fight for these freedoms every day of your lives.
Pretty ironic, as there is precious little liberty to be found at the Virginia university.
Kate Plummer, writing for
Scram News
, pointed out that Liberty is a private evangelical school which  insists that:
Sexual relations outside of a biblically-ordained marriage between a natural-born man and a natural-born woman are not permissible at Liberty University.
In effect, Plummer wrote:
This means that gay relationships can be punished at the university, even through expulsion. Liberty is also legally represented by anti-LGBT group Liberty Counsel and has been rated as one of the worst American campuses for LGBT rights.
The university's honour code stipulates that: "lewd lyrics, anti-Christian messages, sexual content, nudity [and] pornography," are not permitted on- or off-campus.
Plummer added:
Perhaps most ironically, given Farage's own intimate relationship with the bottom of a beer glass and a fag, the university bans the possession of alcohol and drugs (including tobacco).

And Jerry Falwell Jr … has also displayed dodgy behaviour in the past.

The son of Reverend Jerry Falwell, a TV evangelicalist, Falwell ran into trouble last year when leaked emails revealed he referred to a student as 'emotionally imbalanced and physically retarded' and called the school's police chief a 'half-wit'.

Falwell, also has some pretty extreme views on gun control. Last month, he said he would call for 'civil disobedience' if the Democrats tried to place further restrictions on gun ownership.

During his speech, Farage tried to bring his stale man of the people routine state-side, complaining that he – who lives in a £4 million townhouse – has far less money than his banker chums.

Farage also waxed lyrical about his best friend Donald Trump, saying he was 'excited' that Brexit would bring 'our nations much closer together.'

While this is the only university degree Farage has ever gained, the record of Liberty University would tempt any normal person to hastily expunge it from their CV.
According to a statement issued by Liberty, Farage said:
I haven't finished with just getting the United Kingdom out of the European Union; I won't settle until I get the whole of Europe out of the European Union.
Hat tip: BarrieJohn