OMM stands for One Million Moms, a nutty US outfit which forms part of the anti-gay hate group, the American Family Association.
Its name suggest it has as army of followers, but it reportedly comprises just ONE individual, a conservative Christian prodnose called Monica Cole.
Cole's main mission in life is protect youngsters from the LGBT "agenda", and in the past has targeted Disney for attempting to "normalise" the "LGBT lifestyle."
Last year, Cole called for a boycott of Toy Story 4, stating that the House of Mouse "blindsided" families by subtly including LGBT characters and undertones in the film.
Cole – dubbed "One Meddling Mom" by LGBT advocacy group GLAAD –is gunning for Disney again, this time over its new animated series The Owl House, which she claims is "evil" and "demonic".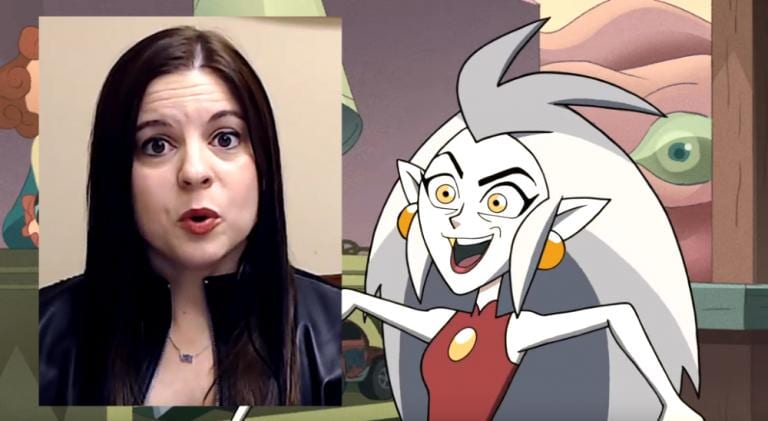 Cole, above right, says it portrays witchcraft in a positive light and accuses Disney of introducing children to "to a world of demons" while inundating their minds with:
Secular worldviews that reflect the current culture.
The new series follows a teenage girl named Luz, who discovers a portal to a demon realm and battles the forces of evil.
Cole's campaign webpage (not loading at the time of writing, possibly because of demonic influences) reads:
The show makes light of Hell and the dangers of the demonic realm. Even the previews and commercials include such content that makes it difficult for families who watch Disney Channel to avoid the evil content completely.

The first episode is more than enough for most Christian families to realize that 'The Owl House' … is not a cute, funny show. [R]ather [it is] an extremely dangerous one.
Deborah Bunting, an op-ed contributor for the Christian Broadcasting Network, has written that:
The Owl House is so beyond Cinderella it's not even funny. The show tries to portray witchcraft as a positive tool to fight evil. That's similar to what real-life witches have been promoting over the past few years as they've been putting hexes on President Trump and others in order to fight for their beliefs.

Folks, if you think this latest "Owl House" show is just "fantasy and fun," think again. Over the years, Disney has gone farther and farther into the darkness of the spiritual world that opposes the living God, coming up with programming and characters that lead the vulnerable into that dark world of deception.
In 2017, Cole launched a petition opposing a Disney XD series that showed several gay characters kissing.
She's now launched a petition against The Owl House, but that too is not working.
Pesky demons at work again, huh?