How about that Harvey Weinstein, huh? Found guilty on two counts, in spite of all his lawyers could do to convince the jury his victims were just scheming sluts trying to exploit him for the fame and the sweet sweet cash.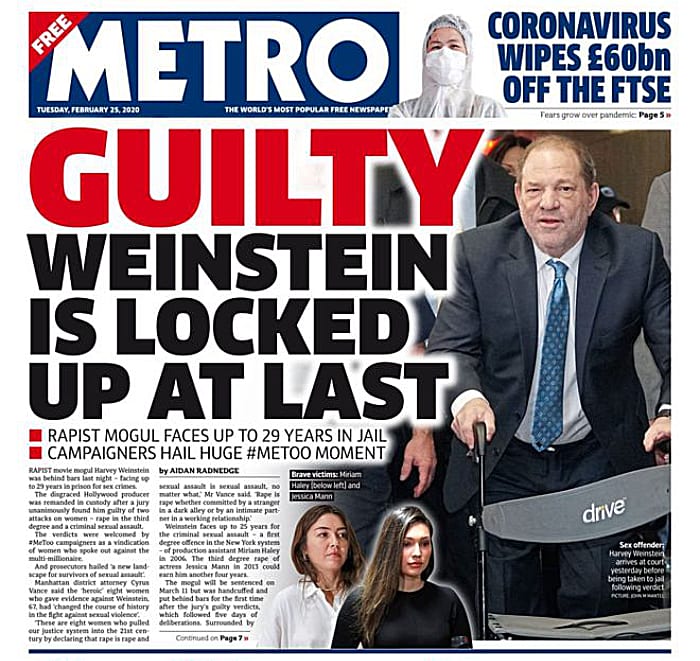 The Guardian's Ed Pilkington wrote about Weinstein's high-powered Chicago lawyer Donna Rutunno a couple of weeks ago, and the way she was going about defending her client.
What is so striking about the defense that Rotunno, 44, is spearheading is how conventional, retrograde, it is, almost as though the #MeToo movement [had] never happened.
It was the revelations in October 2017 that Weinstein had spent huge sums to silence several women accusers that sparked the #MeToo movement. Not that you'd know that when Rotunno cross-examines one of the six women testifying that he sexually assaulted them.
Well of course you wouldn't: as lawyers for the defense would be quick to remind you, it's not the job of the defense to remind jurors that their clients tried to silence witnesses. That's how the adversarial system of justice works: each side goes all out to defeat the other, and no tactic is ruled out as long as it's legal. That's how it works, and how it works can be horrific. I expect lawyers would tell me the alternatives are worse, but I still reserve the right to object to what we have.
Last week, Rotunno reduced one of the two main accusers in the trial, who alleges she was raped by Weinstein in a New York hotel in 2013, to uncontrollable sobbing during a total of nine hours of relentless grilling over two days. On the first of those days, the presiding judge had to halt proceedings after the witness suffered a panic attack.
Rotunno had been firing questions at her like bullets, ending each query with a shotgun "Correct?" "You were manipulating Mr Weinstein so you'd get invited to fancy parties, correct?" "You wanted to benefit from the power, correct?" "You wanted to use his power, correct?"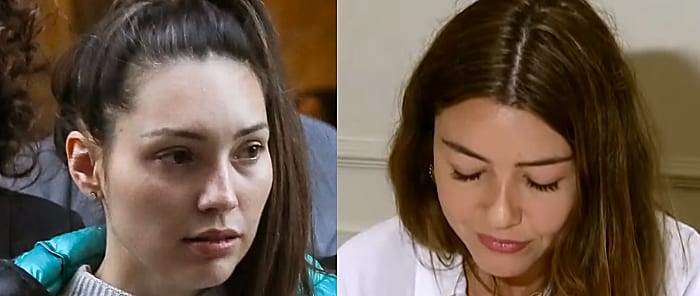 The lawyer has to defend her client, that's the job…but on the other hand if her client is guilty and you are the victim, it seems grotesquely unfair that you should be pelted with insulting accusations in court as the price of reporting your rape.
The lawyer self-identifies as the "ultimate feminist", but again you wouldn't know that from her courtroom posture. She has deployed all the old shibboleths that have been used over decades to discredit sex crimes accusers.
The witness was after the money, she was a serial liar, she may not have wanted sex with Weinstein but she did it anyway to get on in the film business – all those arguments and insinuations have been used by Rotunno and her henchmen.
"It's the nature of the job," says the lawyer – and the torturer, the quack doctor, the priest, the hedge fund manager, the advertising executive who flogs cigarettes to teenagers, the pimp, the groomer, the guy who parks a lorry full of dead immigrants and flees into the night.
Rotunno, who began as a prosecutor but then switched to defending men accused of sex crimes, has a formidable record. She has represented 40 male defendants in sex crimes trials, and lost only once.
But what works in Chicago may not necessarily go down so well in front of a jury composed of seven male and five female New Yorkers, all of whom have been soaked in the shifting gender dynamics of #MeToo.
"In a place like New York, with more liberal people friendlier to #MeToo, they may not respond well to a woman lawyer attacking another woman witness who is clearly hurting and in pain," said Michelle Simpson Tuegel, a former criminal defense attorney who now represents victims of sexual assault. "Nine hours, uncontrollable sobbing – it seems like torture."
And so it proved, though the jury did not convict Weinstein on all the charges.
He did what he could to terrify the women into silence from the outset.
Weinstein was back near the height of his powers when he heard that reporters were snooping around allegations of rape and sexual assault that had long been simmering.
In response he used the full breadth of his connections, money and ruthless self-interest, to try to quash them. He hired lawyers, private investigators and even an intelligence firm founded by ex-Israeli spies called Black Cube, which counter-investigated the reporters who were investigating him.
He also leaned on longstanding relationships at NBC News and tapped relationships at other media outlets, including David Pecker, the now notorious head of the National Enquirer who also kept secrets and killed stories for Donald Trump.
But it was too late. In October 2017 Ronan Farrow at the New Yorker and Jodi Kantor and Megan Twohey at the New York Times wrote explosive articles on the allegations of Weinstein's abuse, and the stories could no longer be killed.
There is cautious optimism among Weinstein's casualties.
"The beginning of #justice. More to come, my sisters," said actor Mira Sorvino, who was one of dozens of women to accuse Weinstein of sexual misconduct. Sorvino believed for years she was blacklisted by Weinstein after she rejected his advances in his 1990s, which the Lord of the Rings director Peter Jackson confirmed in an interview after the reports on Weinstein's abuse by the New York Times and the New Yorker in October 2017.
It's a job, people. Lawyers defend their clients by any means necessary, and producers punish women who say no by systematically not hiring them. A job is a job is a job.
"Gratitude to the brave women who've testified and to the jury for seeing through the dirty tactics of the defense," tweeted actor Rosanna Arquette, one of the first and most prominent actors to go on the record with her story of sexual assault by Weinstein, in a hotel room in the early 1990s. "We will change the laws in the future so that rape victims are heard and not discredited and so that it's easier for people to report their rapes."
Don't hold your breath though.